Words Bob Sblendorio and Jacob Cetnar,   
Photos by Thomas Sblendorio
"Bring me home a 1st place trophy" were the last words spoken to Walt Cheney while at his dying mother's side. And with that, he went out and won at the Argyle Pull for a Cure in Argyle, NY in 2014. Unfortunately, his mother passed away while he was there racing for that trophy. For that event, Walt said, "there was no way anything less than first place was going to happen."  Additionally, he won the Truck Pulling Championship in 2014, and started a cancer awareness race team "Pull for a Cure" to fund cancer research and awareness. Walt's mother was his biggest fan!
When the Apex team met with Walt and his fiancé Amber, they shared a story from the day before. They attended the 2017 Smoke & Speed Magazine Breast Cancer Benefit Event in Connecticut. It was a dirt drag racing and truck pulling event with many different classes of each.  For the Street Class, the final drag race came down to Walt against Amber…really?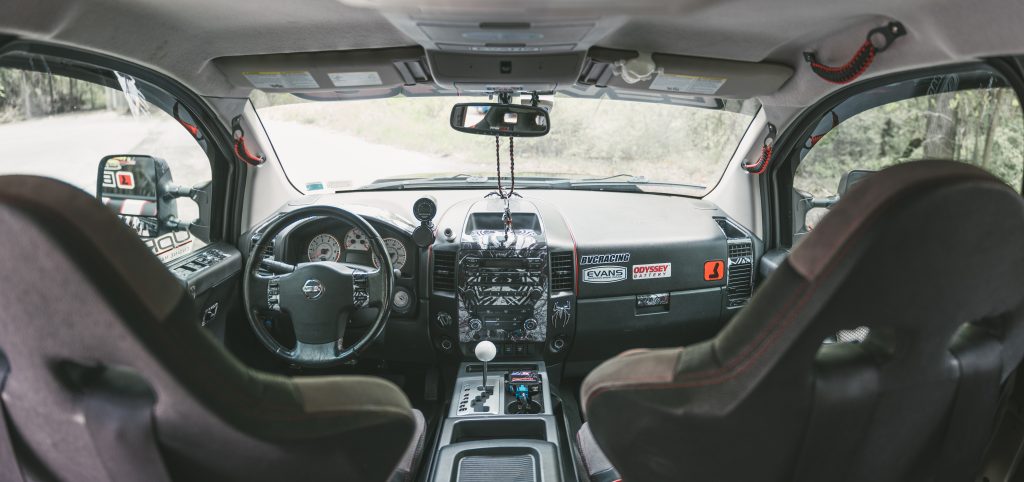 Walt just completed building this truck specifically for Amber, with pink graphics, and now he was racing against her in the final race. Amber stated emphatically to Walt, "don't let me win, I'm going to earn the win!"
It doesn't get more exciting for Team Venom and the fans than this.  Amber, in her newly built 2004 Chevy Silverado, known as "Havok," against the veteran racer in his 2010 Nissan Titan, known as "Venom," in the final!
And the winner was: Walt!
It was Amber's first dirt drag race and she learned a lot. Both drivers are very competitive and it should be fun to see how the season of racing unfolds with the newest addition to Team Venom.
Start in Racing
Walt grew up in a family that did a considerable amount of physical work, like logging, working in saw mills, and "fixing things." His brothers started drag racing trucks and doing truck pulls when Walt was a young kid. The racing required much work to fix and constantly modify the trucks to be able to compete. As a result, Walt was hooked to racing at an early age.
For Walt to build his first truck it required a cab swap, a different engine, and other modifications. He was young and it was necessary to have some mechanical skills, which he learned from watching his father and brother do similar work to their trucks.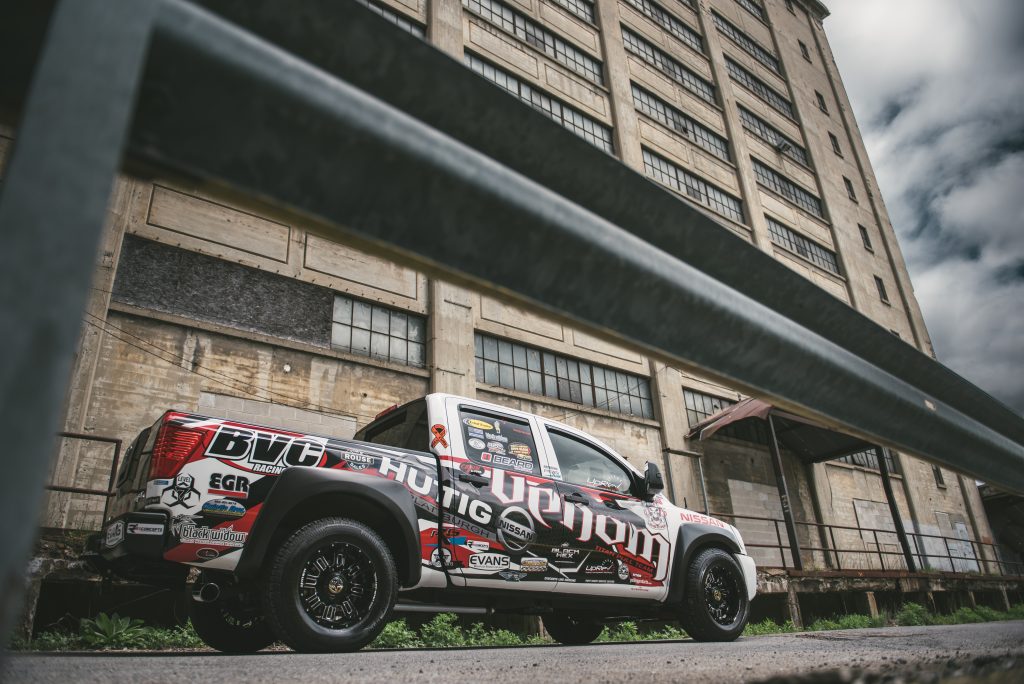 At 18, he started to compete in truck pulling and got his first win too.  He was very proud of that first win at such an early age.  
When he's not fixing or modifying his truck, Walt works as the Head Mechanic at the local school in Port Henry, NY, a small town near Lake Champlain.  Driving the truck to work and all the articles in the local newspapers creates a lot of "buzz" at school. Walt says, "I can see it in their eyes, when the kids are checking out the truck. I'm just a low budget guy from a small town, it's humbling to me to be a role model to them."
Team Venom Racing
For 2017, Team Venom consists of three trucks: Walt's truck Venom; Havok, which will be driven by Amber and Walt's three sons (Trevor, Jordan & Hunter); and Black Widow, a 2016 Nissan Titan XD diesel, driven by Alex Cheney Jr, who is Walt's oldest brother.  He joined the team last year and, in 2016, already has won two truck pull championships in his first year!  Alex, an army veteran, influenced Walt to start racing years ago, and Team Venom is excited to have Alex as part of the team.
Walt competes throughout the Northeast in the street legal class of truck pulling and dirt drag racing. To be street legal is particularly challenging, because if something breaks at an event, getting the truck fixed to drive home can be a big problem. The sleds generate a minimum of 25,000 to 30,000 lbs of force and typically up to 50,000 lbs ––  so there are tremendous forces involved in truck pulling.
In drag racing, Walt's truck Venom, currently holds many world records, including: Fastest Titan in the ¼ mile and the Fastest Titan in the ⅛ mile. His website has all of the records listed and it's impressive: www.venomtruckpulling.com.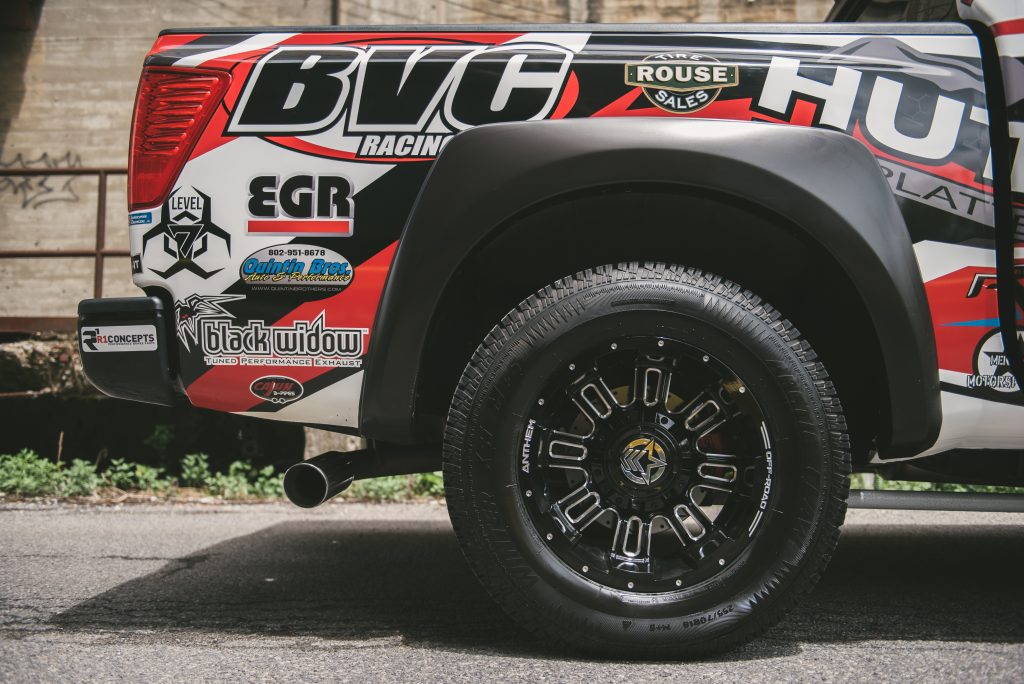 Sponsors
To compete and accomplish all the world records, the wins, and the championships requires a lot of help. In many cases, this help transcends the traditional sponsorship relationship, and for Walt, he has made a lot of close friends too. He has over 60 sponsors to make that truck go, and they are all listed on his website.  Some of them include: UpRev for the tuner support; Huttig Nissan in Plattsburgh, NY; Level 10 Transmission; BVC Racing in Plattsburgh for the wraps.
To find where Team Venom will be racing next, check out their website.  They compete throughout the Northeast, drag racing and pulling 50,000 lb sleds…with a street legal truck!
Venom Nissan Titan Truck
With Ford, Dodge, and GM full size trucks severely outselling the Titan for over 10 years, it is easy to overlook it as a worthy competitor. Contrary to its lack of popularity though, the Titan was actually a revolutionary truck for its time. Back in 2004 when it came out, the Titan was making 317 horsepower, 385 lb-ft of torque, and had a 5-speed auto transmission. It took many years for Ford, Dodge, and GM to make trucks with comparable specs. As a result, unlike many Titan owners, Walt saw this potential in his 2010 crew cab Titan and decided to turn it into something more.
The trucks lowered stance, severe rake, anthem off road wheels, and eye catching wrap make Walt's Titan turn heads going down the road or track. What's really awe inspiring about the truck though is what's inside. With the help of his sponsors, Walt has taken this already stout platform and turned it into a beast on the racetrack. It took many years of design, building, and research, due to the lack of aftermarket performance parts available for Titans. As a result, when describing most of the modifications done to the truck, phrases like "custom", "handbuilt", and "one-of-a-kind" are necessary.
Having had the opportunity to dirt drag race with Walt in Fonda NY, I have seen him and his truck in action both on and off the racetrack. It's quite impressive seeing him beat more powerful and costly trucks with great consistency and ease. After the races, multiple competitors came to talk to him, amazed at the Titan's performance.
It struck me after the races that Walt achieved the impossible. He took a truck that in most eyes barely exists and turned it into the truck that steals the spotlight at every race. I look forward to seeing what's next for the world's fastest Titan!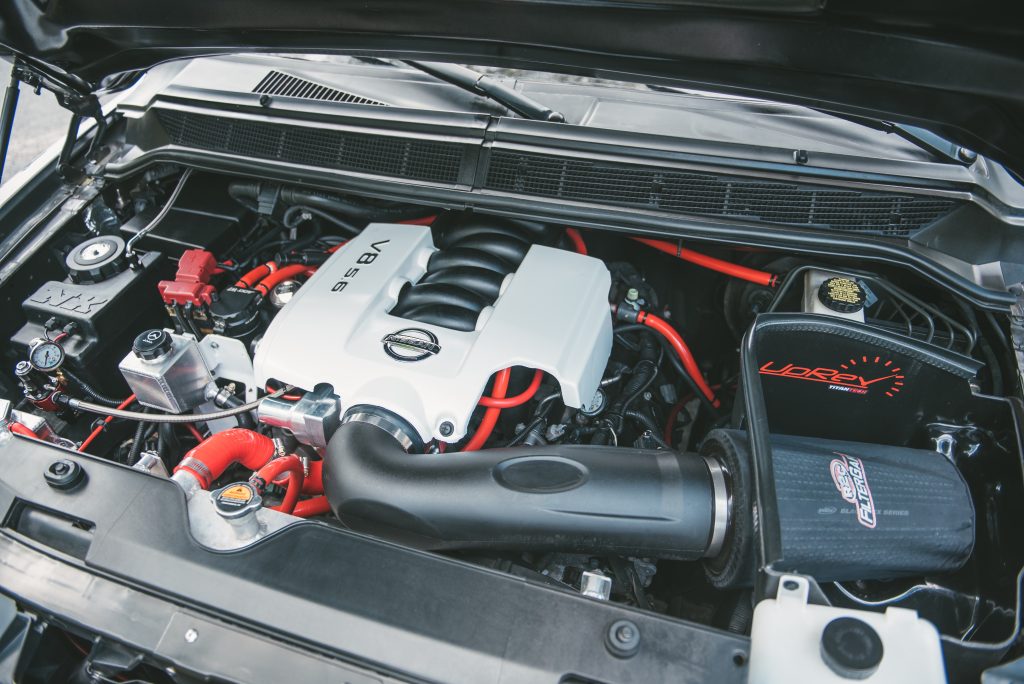 Under-the-Hood Specifications:
Stock 5.6L Nissan VK-56 engine block

Custom Venom 102mm intake built by Peak Speed

R2C intake tube and air filter

JBA long tube headers

Fully custom Cajun 3" header back system to a Magnaflow "cat back" exhaust

Nitrous Express full SAFE wet jet with 102mm plate system

Full engine tuning by Randy Baker at UpRev

Custom 3 core aluminum radiator

Custom dual electric fan setup provided by The-Fan-Man

Electrical grounding kit provided by Jacob Warren

Evans Waterless Coolant

JC Alternators high amperage alternator

Custom Venom Racing power steering

Custom Venom Racing coolant reservoir

Stinger Performance coolant hoses

Air conditioning delete
Transmission
Full bulletproof build by Pat Barrett from Level 10 transmission

Custom stall converter and valve body

Fully built front and rear differentials with parts provided by Drivetrain America
Suspension/Wheels
Fully custom radflo coilovers and shocks, rear Trac bars, custom rear spring setup

PRG products throughout chassis provided by Greg Gagnon

R1Concepts brakes

Anthem Off Road wheels

Tires provided by Rouse Tire
Body
BVC racing vinyl body wrap

Open Wide Performance dual ram air hood

Various EGR USA body accessories