Walter Miller and Automobile Memorabilia
---
Are you looking for advertising information on a '57 Chevy you just acquired?  Check with Walter.  Would you like to get original dealer sales literature about a Fox Body Mustang your son just purchased?  Check with Walter.  You just brought home a Porsche Boxster and would like a nice poster of it to hang in your garage, again check with Walter.
I'm referring to Walter Miller of Syracuse.  Walter has been in business for over fifty years buying and selling automobile literature, posters, advertising items and so much more to make his collection the largest in the world.  At any point in time, Walter has over two million pieces of automobile memorabilia.  However he does not stop there, Walter also has similar information about motorcycles, trucks, and even farm tractors.
Walter's fascination with cars and literature started when he was five years old by cutting out automotive ads from local newspapers and magazines.  By ten years old he would help in his father's "Charles Chips" business by delivering chips and talking to the local farmers asking them for their used magazines.  At the young age of 14 Walter purchased his first car, a 1936 Plymouth.  By the ripe age of 16, Walter was taking his magazines and newspaper ads to local flea markets to sell which in turn helped him purchase more of the same.  During his college days he would spend his spare time collecting then selling automotive ads at local car shows and flea markets only to reinvest his profits for more automotive related literature.
1985 marked a milestone in Walter's career.  This is the year he purchased a building on the east side of Syracuse to house his ever growing collection of automotive literature.  Since then his odometer has not stopped as his collection has been growing by miles and miles.  Walter has also driven forward to keep up with the times.  He started selling at flea markets, then car shows, then moved on to advertising in many of the automotive related magazines.  Walter did business by phone, mail, then fax and finally through his website.  Currently the majority of his business is done through eBay and Amazon which also includes many overseas customers.  With over two million items available for sale he has information about most of the automobiles built in the U.S. from the turn of the century to the 1930s.  From the 1930s to present, his collection contains information on every automobile built in the U.S. along with hundreds built in Europe and Asia just to name a few countries.  His offerings include original dealer sales brochures, posters, showroom items, photographs, owner's manuals, postcards and much more.  Currently Walter has twelve employees to help him with his business of scanning and listing his items on the internet sites for sale, handling the processing of incoming orders, packing, shipping, inventory control and replenishment.  He has over 400 filing cabinets with category numbers and letters in order to keep him and his pit crew well organized.
Some of you may remember one of Walter's endeavors in downtown Syracuse, "The Museum of Automobile History."  This was open from 1996 to 2003.  There were over 10,000 pieces of automotive history on display there, everything related to the automobile for the past hundred years and then some.  Walter also has a large vintage collection of Onondaga County related items second only to the Onondaga County Historical Society.  Walter's collection also consists of original sales posters, license plate frames, clocks, sales awards, as well as local newspaper advertising from many past and present dealerships.  His collection also contains many of the original posters and advertising signs from the local "Syracuse Area Dealers Association" shows of hundred years ago.  Other collectables include original pennants and posters from the automotive racing at our local New York State Fairgrounds that date back well over ninety years.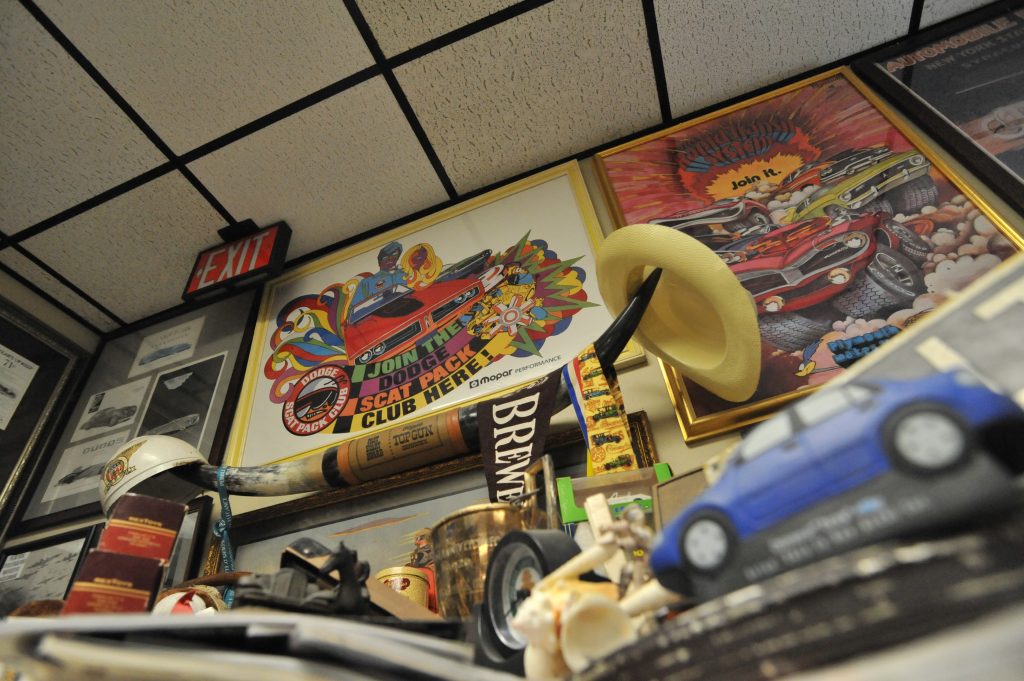 Walter is not only the largest collector of automobile related items in the world, but he is also the owner of several unique and rare automobiles. His collections includes a Peerless automobile and a 1939 V16 Cadillac of which only thirteen were made and currently two are known to exist.  Twice Walter was accepted to enter an automobile in the Pebble Beach Concours d'Elegance show in Carmel, California.  This show only takes two hundred of over one thousand applicants.  Walter brought his 1928 Chrysler Imperial LeBaron to the 2014 show.  Jay Leno was at the show doing a segment for his then new TV show "Jay Leno's Garage."  Walter's interview with Jay Leno can be seen on youtube.com at "Jay Leno's Garage:  The Ultimate Car Week" or on Walter's automotive literature website: autolit.com.
To summarize, anyone looking for original literature from Alfa Romeo to Zephyr's, check wit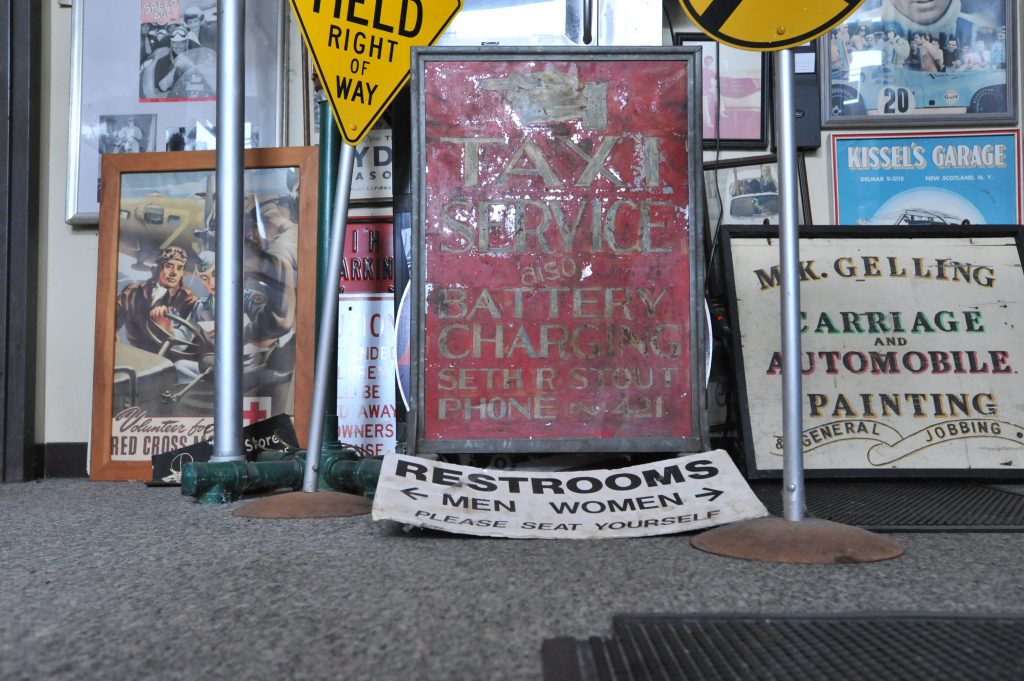 h Walter.