We have featured all kinds of cars in the first four issues, but this is the first time we've had an opportunity to get a peek into the "Rat Rod" scene. We headed out to Griffiss Air Force base in Rome, NY to meet up with Pete and Rebecca Wilcox. Pete and his wife drove their 1940 Make Model EF from Oriskany Falls for the photo shoot. Remember this is a rat rod, so the comforts that we are used to in our everyday automobiles are not the standard in most rat rods. The weather wasn't ideal for an outdoor photo shoot or even a drive in a 1940's tow truck without heat.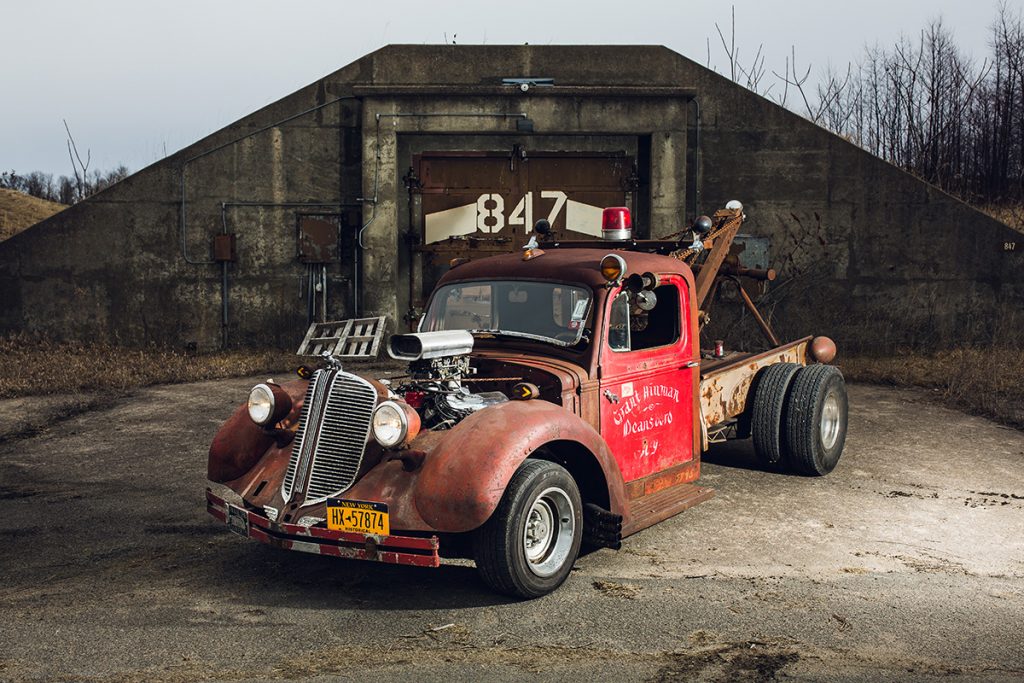 Staff photographer Chris Penree placed Pete's truck in front of an old bunker on the Air Force Base. This was a perfect backdrop for the one of a kind tow truck. When you first see this awesome looking truck, you think what is it?  I'm not sure if it is a Ford, Chevy, or even a Dodge. I would have never guessed it started life as a Mack Truck.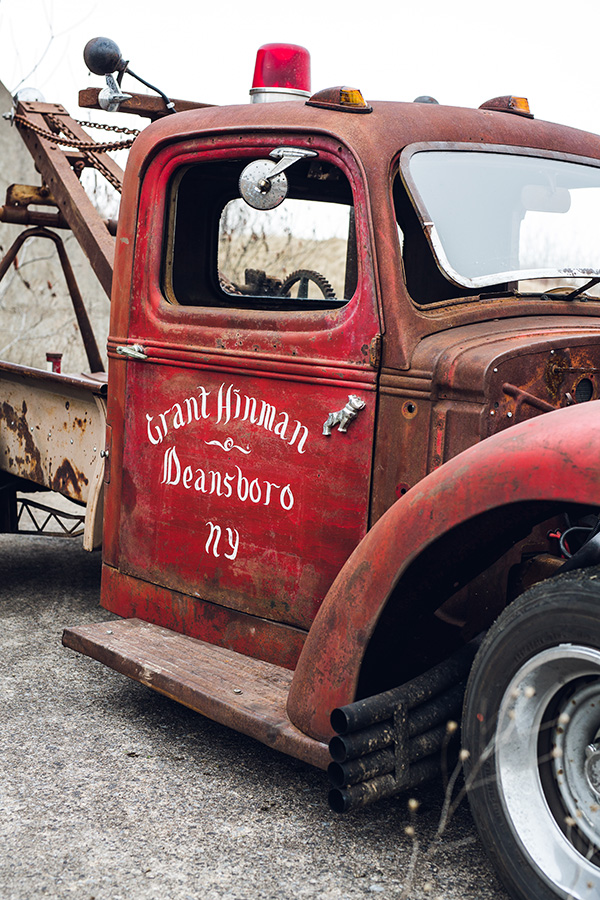 The EF Model Mack was originally a Central NY produce truck. Pete's wrecker used to run up and down the East Coast delivering produce. Four years ago Pete found this two ton truck sitting in a field with no doors on it, and looking pretty rough. This is just what he wanted for his rat rod build. One thing that worried Pete was the missing doors. He knew that it would be almost impossible to find doors for a rare truck like this. Luckily for him the present owner of the truck removed the doors and stored them inside hoping to sell them to someone that was restoring one of these gems. Both doors were in great shape, with the original red paint holding strong despite being 70 years old. Not only did the doors have the factory paint, they also had the highway decals required at the time still legible from the late fifties.
After purchasing the truck, Pete hauled it home to start his nine month project.  Pete is a fabricator at Steve's Restorations & Hot Rods in Frankfurt, NY (featured in the Winter 2015 issue), so tackling a project like this was right up his alley. One of the first things he needed to do was to roll the truck on its side and remove the rotted out wooden floor. Wilcox then fabricated a metal floor pan for his future tow truck. I asked Pete why he chose to build a rat rod instead of a high dollar shiny hot rod. Pete told me that with owning a truck like this he doesn't have to worry about it getting scratched or damaged whenever he drives it. This way he can just drive it to a show, park it and enjoy himself for the day without the need to babysit the truck. We have all seen guys at shows polishing their sweet rides with some high tech polish, but Pete uses used motor oil to preserve the patina that graces his truck.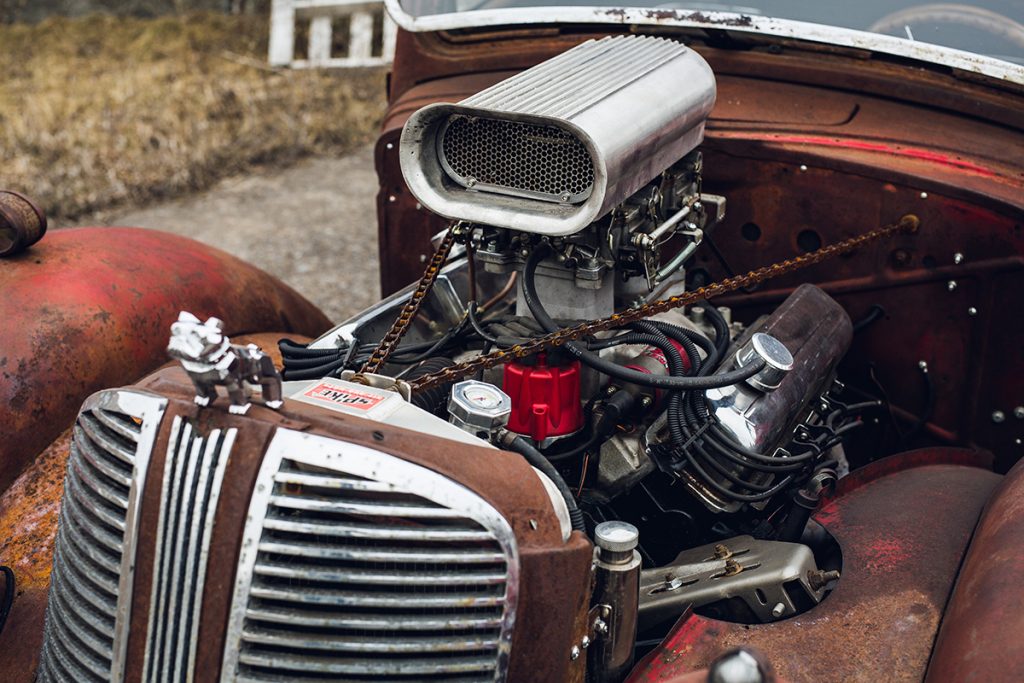 Throughout the build Pete was always looking for odd parts from different makes of cars and trucks that he could incorporate into the build. For instance, he found the 1938 Dodge Brothers grille in a friend's flower bed. Behind the Dodge grille is a 390 C.I. Ford with two four battle carbs atop a tunnel ram intake. He had to make custom headers for this power plant. The exhaust dumps out right behind front wheels. The Mack cab is channeled over a 1931 Ford frame with a Chevy truck front end. A Dana rear end (from a Stroehmann bread truck) turns the four rear wheels, Pete welded up the spider gears, making it a full posi rear end. Pete was telling us that when he makes a sharp turn he leaves four nice black marks on the pavement behind him. Keeping the rear end inline are a set of 60's Lakewood ladder bars that hang down under the Studebaker box.
Atop of the 1947 Studebaker box is a handmade wrecker boom that can pick up a vehicle. Pete was saying at one show he hooked up to another rat rod. He said a crowd formed around his truck to check out this unique site. Everywhere you look on the truck you see things that make you ask yourself "what is that part off from?", like the roof I noticed two chrome pieces that I have seen before. Come to find out they come off a hood of a 57 Chevy. Above the driver's side door is a 1916 Model T horn that still works. Pete has an old ambulance light on the roof for his safety light. It's things like this that make rat-rodding its own unique style of building.
The front bumper is from a 1930 Ford bent in the middle to match the Dodge grille.  Another cool original item on this truck are the arrow front turn signals that are on top of the front fenders. In the rear of the truck Pete mounted 1930's headlights with Oshkosh lenses for the truck's tail lights. The original gas tank was mounted under the passenger's side seat. Pete removed the tank because it was pretty rusty inside. He then cut off the original filler tube and mounted it to the floor of the box. Under the box is a modern day fuel cell attached to the "old school" filler tube.  
As far as the interior of this one of a kind truck, there are a lot of things to look at as well. Pete and his wife Rebecca sit on two beer kegs that have been cut down to make cool looking seats. The extra-long shifter is equipped with a Miller Light beer tap handle for smooth shifting. Original white working gauges fill the all steel dash. Pete also has the original toolbox that was standard equipment with the truck back in 1940. When driving a long distance without heat, A/C, or even a radio shows how much you love your creation.
Pete wanted to make the Syracuse Nationals his debut show, but came up a few weeks shy of finishing it by then. After he completed the build he debuted it at the Brookfield Wheel Days show, and won the staff choice award for the event. Not a bad showing for his first rat rod build. Since then the truck has won numerous awards and is a fan favorite across the state.
I asked Pete if he built it to enjoy for a while and then sell it, or if he would own it forever. He said he will never sell this truck. It's a one of a kind rare truck never to be sold. Pete's next build is a 1946 International truck, sporting a 6" chopped top. We are excited to see this piece when it's done.
The Wilcoxes participate in shows throughout the summer, so look for this truck at a show near you. Stop by and say hi to Pete and Rebecca, and spend some time admiring their machine.
Rat rods are growing across the country at a fast rate. These things are cool to look at and are really a piece of art. Pete was telling me that one of the reasons for the popularity of these vehicles is that someone can build one for less than it cost to buy a used car now days. He said he has about $8,000 in the entire build. You can't even come close to building a high end hot rod for that now days. This helps get the younger generation into the scene at an affordable price.
Story: John Zachary
Photos: Chris Penree