1969 Ford Mustang Mach 1 Restomod
---
The 1969 Ford Mustang Mach 1 is one of the most desirable Mustangs you can find, and mostly because of its iconic body lines. The fastback styling added another level of muscle to this great muscle car. Although the looks mean business, the sad truth is 1969 performance (even Mach 1 performance) isn't even close to what today's muscle cars can muster. The old cars don't handle, run perfect, stop or accelerate like today's GT's, GT350's and GT500's.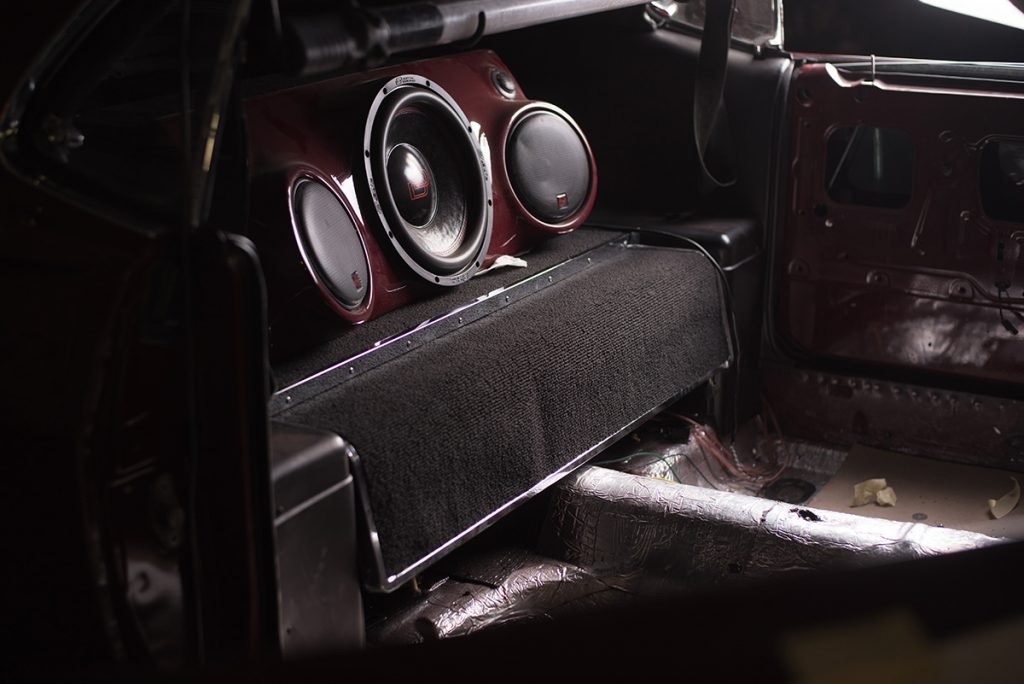 So while many classic car purists may scream in anger that their beloved 1969 Mustang has been restomodded – I say to each their own! If you're not familiar with the term restomod, it simply means to mix modern technology and performance with classic aesthetics. AKA jamming new parts into a gorgeous old car. I personally love the concept of getting great performance out of great looks, however I do understand that the purists may enjoy the retro feel of original equipment.
Tucci Hot Rods of Marcy, NY is well known for creating award winning restomods and hot rods. Their work has covered many a magazine cover and they are no stranger to making the seemingly impossible, possible. When a customer approached them with this burgundy Mach 1 they wanted to update the car with modern technology and even include some of the newer generation Mustang's interior components for the ultimate hybrid of old and new.
The factory drivetrain was a 351 with an automatic. Tucci ended up sourcing a Coyote 5.0 from a 2015 Mustang GT and its 6 speed manual MT82 transmission that was attached to it. The newer engine offers rock solid reliability (not to mention 430+hp) and the new transmission will allow for maximum fuel efficiency and straight line performance. It wasn't easy getting the much bigger dual overhead cam mill in the older car's engine bay. They ended up cutting the shock towers and capped them to clear the new motor. This allowed them to retain the stock coil over mounting points. The headers also needed to be fabricated from scratch to hug the block as much as possible.
Not only did the 2015 GT offer up its heartbeat, but it also donated its other internal organs. The entire center console has been retro fitted to work in the older car. We loved the retro styling of the '15 mustang already, it's even cooler in a '69.
Along with the added power from the Coyote, Tucci added a full Ride Tech suspension system, Baer brakes, a Pypes exhaust system, Budnik wheels and Falken tires. With these updates this car should handle and sound as good as it looks. Stay tuned for an update on Project '69 Restmod in our next issue!
Story: Justin Palmer
Photos: Thomas Sblendorio