Cantech Automotive – Not Your Ordinary Garage
---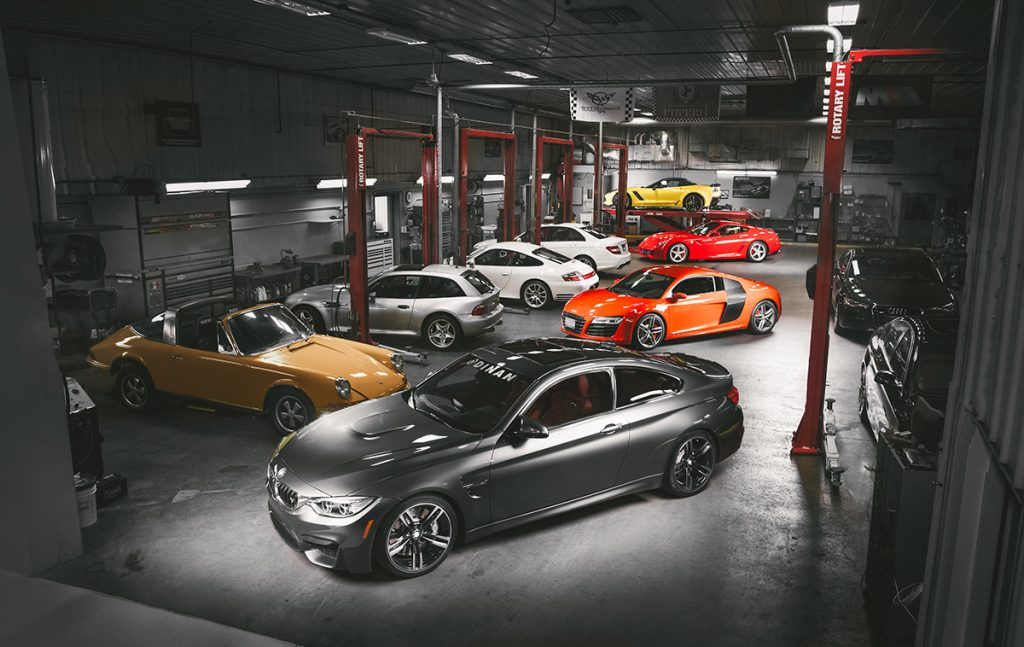 For most car enthusiasts, trusting someone else with your pride and joy can be a bit unsettling.  Be it your show car or daily driver, finding the right shop to take care of your automotive needs can be somewhat of an undertaking.  We took some time to visit Cantech Automotive of North Syracuse to see what their shop is all about.  They've become extremely notable in the area for being THE SHOP for high end super cars, but what most don't know is that they have the tools and know how to service just about anything.
The humble beginnings of Cantech started in August of 1993 when owner Rocco Cannata Jr. was just 24 years old.  "My father helped me buy three lifts and an engine analyzer, and the rest is history" Rocco says explaining the early days.  In the beginning, as with all small businesses, it started out slow and there were days when Rocco was just waiting for work to come in.  But he didn't falter from his vision, and through his perseverance, the relationships built with vendors and having the right staff, he has grown into a booming automotive shop.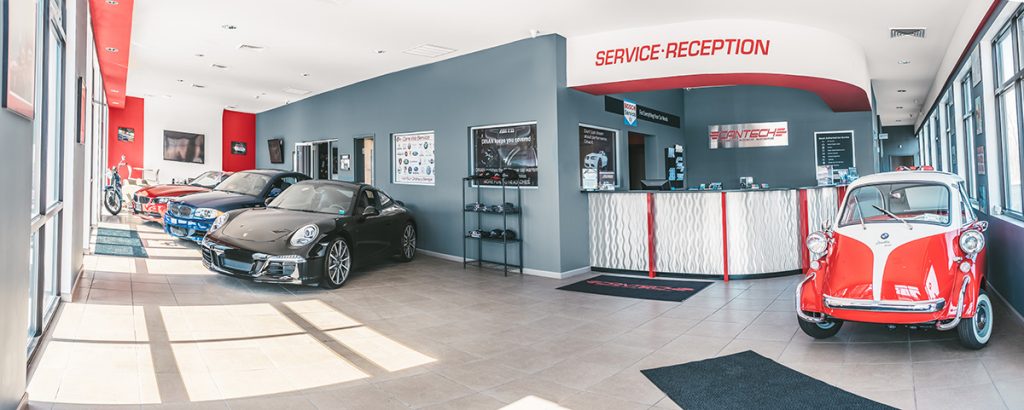 Since then not only has the business grown, but also the building itself. The first addition was an extension to the shop area and just last year an addition to the front and side of the building were built, adding a beautiful front end that proudly displays the Cantech logo.  The final result is a 14,000 sq. ft. building with plenty of lifts, an awesome in-ground alignment rack perfect for any performance car, a closed off room for any job that requires a clean and private environment, and any other piece of high end equipment you'd expect to find in a shop of this caliber.
Cantech has grown over the last 22 years steadily and now employs five technicians, a Service Manager, and a Sales Specialist.  With a focus on European automobiles, BMW, Mini, and Porsche being some of the most popular, they are also well equipped to handle a Ferrari or Maserati with their Leonardo scan tool and a Ford or Dodge with their VARUS by Snap-On.  Cantech has eight different factory scan tools to help diagnose any problem they may be presented with.  When asked if he knows of any other shop with so many scan tools available Rocco's answer was simple, "No, the investment is staggering."
To add to that reputation and "fix it right the first time" attitude, when Dinan, the BMW performance specialists, sought out a new dealer for the CNY area they approached Rocco and offered him the product line.  When Rocco asked if they needed to visit the facility and meet him they said "No, we checked out your reviews and your website, you are exactly the kind of facility and business we are looking for!"  That is a testament to the hard work, staffing, and customer service that Rocco has always strived to achieve.
For all the VW, Audi, and Porsche fans, chances are you've heard the name APR and are familiar with their famous performance products and tunes.  Cantech is the only APR dealer in Syracuse authorized to perform these services and offer their product line.  It's another notch on their belt in terms of the services they offer to European auto enthusiasts.
Customer service is a huge part of any successful business endeavor.  Rocco has put his all into this business and knows that he wouldn't be here if it wasn't for the great customers he has had over the years.  That is why he hired a previous BMW Service Manager/Director with 20+ years of experience in the service business that knows how to handle the kind of clientele that Cantech sees on a daily basis.  And new for 2016, Rocco has added an experienced salesperson to the staff to assist in the extremely high quality pre-owned cars that Rocco offers for sale.  With this addition and the new showroom that opened in the winter of 2014, Cantech is poised to make another leap forward and become the place to go for all your vehicle needs, whether it is service or that next daily driver!
Attention to customer service is only half of the equation.  Rocco is a technician by trade, so when it comes to technicians in his shop he makes sure they have the right aptitude and attitude.  Each technician is chosen to make sure they would fix the car as if Rocco was repairing the car himself.  Rocco states, "When a customer drops off their car, it is our duty to look at, repair it, and get it back to them as soon as possible."  This partnered with the excellent vendor relationships that were made over the years allow Rocco and his staff to get the right parts the first time.  But on those rare occasions when the wrong part or a damaged part arrives, they have the ability to get the correct part the next day.  This helps to add to the technician's efficiency with the overall result being a car repaired quickly and correctly.
Rocco also likes to point out that sometimes this can be forgotten, so he says "If I take the keys to your car for two days, then who is bringing you to work?  Who's bringing you home?  Who's giving rides to the kids?  That's what our customers are doing right now, we have their transportation and we cannot let them down."  This is the kind of attitude and outlook that has helped make Cantech successful for over two decades, which their customers will reiterate to you for sure.
The shop is always filled with high end vehicles on a typical work day.  Cantech has proven themselves for years as the only shop in Syracuse to be trusted with vehicles from Ferrari, Maserati, Jaguar, and Lamborghini and are known as Porsche and BMW experts on top of that. The Cars and Coffee events Rocco holds during summer months are a great representation of the types of cars that are serviced at the shop. Enthusiasts come out for a morning to check out other neat and exciting cars and converse with like-minded people. It's really a great way to kick off a weekend day cruising with your friends. Rocco says he loves holding the events, "when all the club guys participate they're a lot of fun to talk to, they're all just car enthusiasts."
I can't take all the credit. I've always had the vision, but I've been lucky to find the right people to help me execute this vision.
Through all of this growth and quality of cars that Cantech sees, Rocco has kept his humility, stating "I can't take all the credit.  I've always had the vision, but I've been lucky to find the right people to help me execute this vision."  
Cantech is a place you can really trust to take your car.  Like their tagline and motto says, "Not your ordinary garage. From Ford to Ferrari, we service them all."  For more information on Cantech Automotive, check out their Facebook page or their website, www.cantechautomotive.com.