When Tucci Hotrods was approached by a customer demanding a low, loud, and obnoxious ride — they delivered
If there is one thing Central New York based hotrod shop, Tucci Hotrods is known for, it's building award winning cars. Stop by their amazing shop at any time, and you will see the level of fabrication that goes into each and every build they take on. Average isn't their game. Tucci Hotrods prides itself on building high quality cars that run and function, as good as they look. And if they run half as good as this build looks … then that's a very good thing.  
This menacing machine started life as a stock 1931 Ford Model A 2 door sedan, on an original chassis. The car's owner approached Tucci Hotrods with a very clear vision of what he wanted the car to say. Low, loud and obnoxious were the words he used to describe what he had hoped the final build would feel like.  
To create the current low and aggressive stance, the body was chopped 5 ½ inches, and the chassis was fabricated to sit on the ground when lowered. This ultra low look was accomplished by stepping the front frame 8 inches, and the rear 19 inches. Each frame rail consisted of 4 separate pieces welded together, then metal finished to create a smooth one piece look. After the frame rails were fabricated, a series of holes were drilled in the front frame sections. Tubes were machined to be welded into those holes. Looking over the car, it's clear the frame itself is so beautiful it's almost a shame to cover it – a true combination of form and function.
A specially designed four link rear suspension was then created to hold a set of airbags to control vehicle height. The rear suspension is triangulated via a panhard bar. Everything connecting the rear end to the chassis was hand fabricated. A custom 9 inch Ford rear axle housing was fabricated to assure the rear wheels and tires would clear the side of the body.
The front suspension is where things get even more extreme. It began life as an off the shelf wishbone style dropped I beam front axle, which was originally designed to use regular coilover shocks. But not being satisfied with an off the shelf system, they engineered a totally custom pushrod cantilever front suspension, that houses 2 Fox Float air shocks from a snowmobile. The cantilever allows for the front shocks to be hidden inside the Track T nose. The shocks were then hooked up to the air ride system, to make the front fully adjustable. The air ride uses an Accu-Air E Level controller which is connected to a sensor on each wheel allowing a desired ride height to be selected. Not only does this unique feature help the car function better, it ended up being one of the signature pieces to the cars overall look.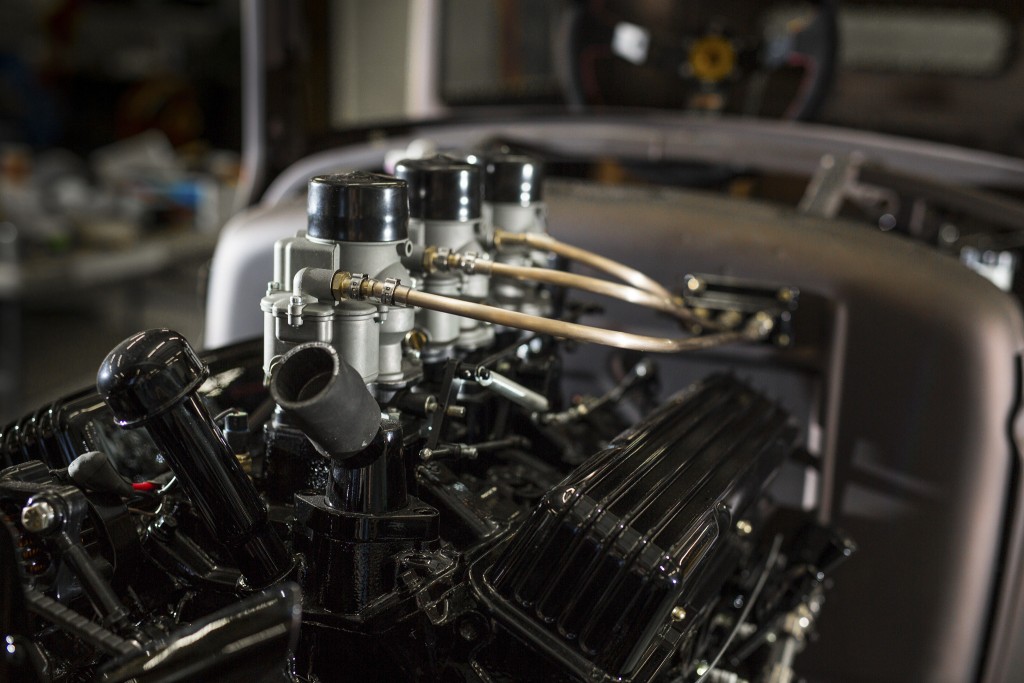 Next came the drivetrain. A 350 cubic inch small block Chevy, connected to 5 speed S-10 transmission sends power to the rear axle via a custom made drive shaft from Fleet Pride. They decided to go with a 4.11 gear ratio to wake up the small blocks performance even more. They then installed a tall shifter lever with modified linkage to shorten the shifters throw.
The owner of the car is a very tall man at 6'5″. To accommodate him, the floor was channeled 3 inches to get it as close to the ground as possible. The bead-rolled interior panels were fabricated to cover the four link rear suspension. Bead-rolling helps with the strength of sheet metal pieces and also creates a certain look. Due to the floor being so low, the tunnel that houses the drive shaft actually floats in the interior of the car, fully encapsulating the drive shaft. Flanges at either side of the tunnel makes it removable.
The dash is from a 32 Ford and was retrofitted into the 31 body. In the dash sits a set of Dakota Digital analog gauges. The steering column is a stainless Flaming River tilt column. It connects to a quick release mechanism with a custom Driven steering wheel. A custom clutch and brake pedal assembly was created to be hidden under the dash. The seat frames and window surrounds were designed by Dom Tucci Design and sent to Aquacut to be water jet cut. The seat bases were made by Bux Customs out of Pottstown, Pennsylvania. The gas cap is a one off piece by Crafty B.
Lighting comes from 1936 Ford rear tail lights and King Bee headlights with built in directional,  
and braking by massive Wilwood front disc brakes.
The car sits on Coker Excelsior radial tires mounted to large steel wheels measuring 5.5×17 inches in the front and 7.0×20 inches in the back, further adding to its overall stance.
To finish off this impressive build, it was then sent to Johns Auto Restoration in Rome and sprayed in  PPG "Tiger Eye" with a PPG flat clear over the top. The chassis was powder coated in a copper wrinkle finished. All other suspension components were powder coated gloss black. The wheels were powder coated "spanish gold". All powder coating was done by UltraCoat in Utica.
The final car is stunning and definity encompases the customers vision. It was featured in this years Syracuse Nationals and received a ton of attention, which comes as no surprise to us, as this is a truly unique machine.