Most would agree that this generation of RX-7 was one of the most beautiful. Even in stock form, it was a very capable car by 1994 standards, featuring a 0-60 time in the mid-5 second range and a 150mph top speed. It was also a very unique car, as it was powered by a 255 hp, twin-turbocharged and intercooled 1.3-liter 2-rotor Wankel engine.
When John Perez Sr. purchased this very much sought after style of RX-7 in 2005, he had more in mind than simply building a fast car. Like most father/son relationships, he and his son, John Perez Jr., had been going through a spell of communication issues. John Sr. knew if he could figure out a way they could do something they enjoyed together, a better bond could be formed. "Kids these days are so hard to get through to, you need to find some sort of baseline to communicate from. For us, it was cars."
But it wasn't easy, Perez Sr. worked 70 hour weeks to fund the build and most of the work was completed in his small one stall garage. "I wasn't formally trained as a mechanic, but I slowly learned on my own and eventually built up a good collection of tools. If I needed a tool, I bought it, and that's how I got to this point." said Perez Sr.
Perez Sr. found the 1994 Mazda RX-7 for sale in an Auto Trader booklet. It was listed by someone in the Air Force and the car was completely stock. Perez Sr. and Jr. soon started researching the availability of parts and planned out their initial build. The first setup included a HKS twin RS intake along with GReddy FMIC & Koyo radiator. Next, the suspension, carbon diffuser and Volk GT-C wheels were added along with RE Amemiya front bumper and side skirts. They ran that setup for a while until one day Perez Sr. blew the automatic transmission and the stock turbo leaked oil into the intercooler piping.
This prompted the second build. "The best way to find a car's weak points is to push it hard and break it… drifting happens to be a great way to do that!" laughed Perez Sr. This time they went with a much more robust 5 speed manual gearbox from a 1995 Mazda R1 RX-7 and a GReddy T78 twin turbo setup. With the increased power and torque, they eventually destroyed the rear end, and had to upgrade to Chromoly axles, 4.33 gears, GReddy diff cover and a Carbonetics LSD.
This setup lasted through two years of spirited driving and long trips to meets and shows, until finally the engine gave in. "When you build a custom car like this, things will break, and the only thing you can do is make those parts stronger and move on." And that's exactly what they did. The current setup is a beastly 815RWHP rotary powered by twin Garrett turbos, RX parts custom manifold, and all new ProEFI Complete ECU. The tuning was performed by Ray Wilson form PF Supercars and many of these parts were actually one-off pieces directly from Japan. Perez Sr. is always receiving offers for some of his one-off parts, but he would never sell them. He built this car as a labor of love and plans on keeping it for a very long time.
To finish the build, the car was sprayed in Fiji Blue Pearl. The final outcome is a truly striking RX-7. Upon start up, the powerful twin turbo rotary snarls to life and sounds pure race car, which is no surprise as it is running high octane race fuel with meth injection. The engine bay is spotless, every part perfectly cleaned, and great attention was paid to hiding unsightly wires or plumbing. The custom one-off Volk GTC wheels fit this car's stance perfectly, adding to the aggressive race car inspired theme. The interior looks straight out of a jet fighter, with dials and gauges neatly integrated into the dash and full racing bucket seats installed. The more you look the car over, the more you start noticing the subtle changes made. Carbon fiber bits and pieces in just the right location combined with built aluminum and chrome parts really set this awesome paint work off.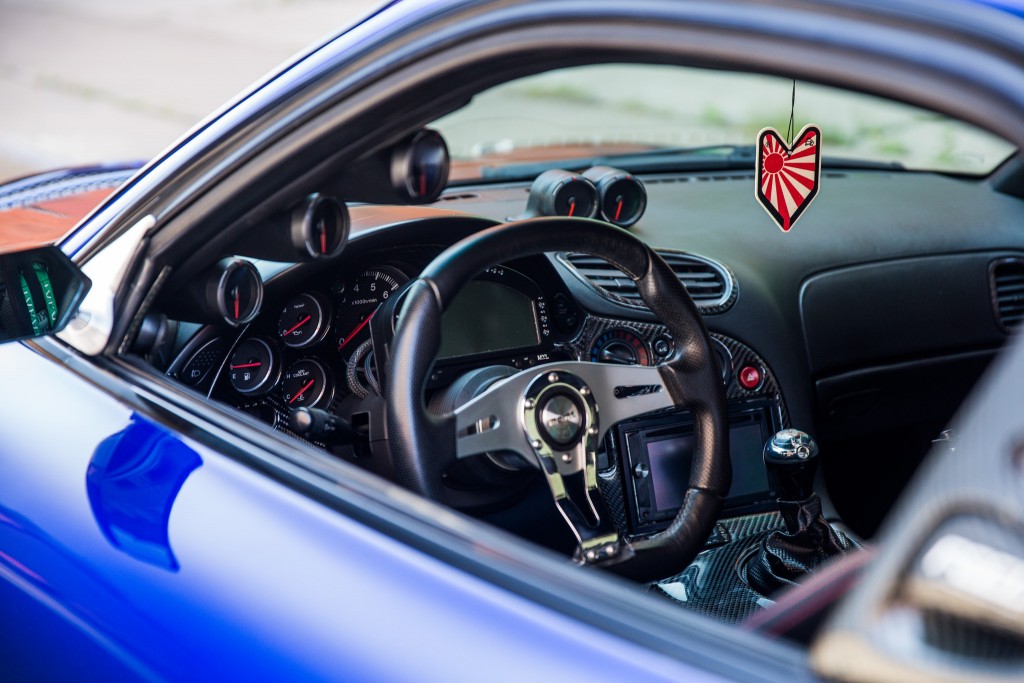 Perez Sr. plans to add a full race cage soon and watch his son race the car when he returns home from serving in the Air Force.
There is no doubt this is a beautiful build, but what's even more powerful is the bond it helped create between father and son.
Story by Justin Palmer
Photos by Chris Penree