Richard Aversa suffers from a rare form of Muscular Dystrophy which over time has begun to sap strength from the former Army reserve Drill Sergeants body. Although his body is slowly failing him, he remains passionate about his favorite sport, drag racing.  
This year marks his 50th year Drag Racing – the sport clearly runs in his blood. Walk into his home and the first thing you notice is his massive trophy collection and plaques proudly displaying the hundreds of wins under his belt. This guy is the real deal.
He started his passion for racing cars and motorcycles in the early 60's, as a young man. He was always tinkering with hotrods alongside his brother and father. During the blizzard of 1966, Richard along with his family decided to drive his father's brand new 2+2 421 HO Pontiac all the way to California, to check out the Winternationals in Pomona. They ended up having such a great time, they were instantly hooked.
Richard's dad began serious racing, while Richard worked as his pit crew, and eventually got to race class, while his dad would run the eliminator. His mother cooked for the crew and soon she was nicknamed "Evil Evie". Even to this day at the ripe old age of 93, she still attends car shows. It was a true family affair.
Richard while a member of the Army shortly after purchasing a brand new Pontiac Lemans, but he would still race during every free moment he had, and consistently win. He liked to race Pontiacs.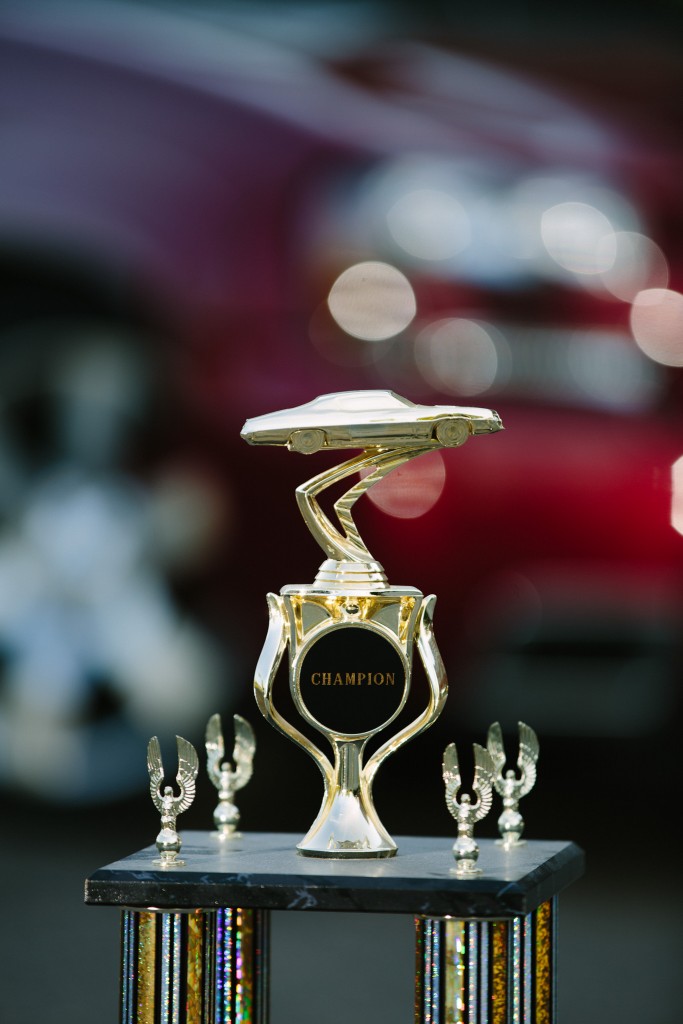 "The secret to winning drag races is consistency. I beat a lot of high horsepower cars by just being consistent. I also prefered to stay as stock as I could. All of my victories were in naturally aspirated cars .. many of which I ran on stock tires. All were street driven." This is how Richard eventually became known as "The Last Templar". He is old school, and proud of it.  
After working for the Electrical Union, Richard decided to pursue his passion for photography. "We all have a passion that we would love to do full time, but sometimes can't. While I love drag racing, I also love photography. I decided to go back to school and pursue it.
Richard left drag racing for a bit as he built his photography business, but in 2002 he returned with a '97 WS6 Ram Air Trans Am and his teenage daughter Samm as his mechanic winning the spring street championship and 2 years later he won the Street Money track title.
He stopped racing the Firebird because he had a hard time getting in and out of the car and bought his current 2007 Chevrolet Trailblazer. He drove it to three consecutive Street Trophy titles, running away with the points race and winning the first NHRA State Championship.
This isn't your average Trailblazer SS. At first Richard started out modifying the vehicle with  specially equipped hand controls to make controlling the vehicle more comfortable, he then installed a cam and heads to extract more power from the stock engine. Not satisfied with that, in 2013 he installed a 600hp fully forged LS3 stroked to 416 built by Golen High Performance Engines in New hampshire. It's a clearanced type motor with a high lift cam and a 11:5 compression. The car is lowered but still runs stock tires and is his daily driver. He installed a full race exhaust and headers to help this beast breath better.
I personally drove the truck to this photoshoot and I can attest, the good ol' butt-dyno definitely registered at 600+hp! She rips!
These days Richard still attends a few track days here and there when he can, with his favorite little racing buddy, 8 year old Laile Tejada. She loves cars, going to the track and racing RC cars against Richard. Richard hopes she will help pass on the Aversa drag racing flame.
Drag racing is more than a sport, it's passion. It's guys like Richard Aversa that prove if you put your heart and soul into something, it can be very rewarding.
Story by Justin Palmer
Photos by Chris Penree