Can R/C provide me with a racing fix in the off-season?
---
For the car fanatic, there are limited options when winter rolls around and that's a problem for me. My summer hobby sits in my garage patiently waiting for warmer weather and a track day. One of my buddies suggested I join him for race night at a local indoor R/C racetrack.
I wasn't even aware that there were active R/C clubs, let alone one in Rome, NY. I also thought R/C was for kids – it turns out I was wrong. The scene is big and it's serious business.
Kevin, my friend with an R/C hobby and a spare car, invited me to compete in a Thursday night race in the beginner's class. When I pulled into the parking lot for Wednesday evening practice it was quiet.
Upon entering CRC Raceway, there's an open track to your left and a hobby shop to your right, selling parts, spares and ready-to-run cars. There are benches surrounding the track where people work on their cars, and against the back wall is a raised standing area to give drivers a better view.
Kevin already had a couple of cars out and the equipment needed to prep them for practice. I was running a 1/10 scale electric short-course truck. It looked like a baja truck and was rear-wheel drive. He was also working on a similarly sized dune buggy.
I scoped out the track. It had a carpet surface and was marked out using plastic lane barriers that CRC actually manufactures for the industry. Most of the floor area was used to create the track, which snaked around with a few dead zones where marshals stand on race-night helping cars that get stranded or flipped over. Plywood jumps of various sizes were throughout the course.
Kevin explained the different classes of vehicles that run at CRC. During this stretch, January through April, was "Indoor Off-Road Season," which was the track I was looking at. Three different types of cars would run on race-day here: the short-course truck I was using, the buggy that Kevin was running, and the Stadium Truck which looked like a hybrid of the two.
During the summer at CRC they run on the much larger outdoor track, which was the pride of the operation and apparently one of the better outdoor tracks in the northeast. The cars outside are larger in most cases and run both nitro and electric. Outdoor season runs May to September, then in October things go back inside for the on-road racing season, without any jumps, and with slightly smaller cars. CRC actually manufactures World Championship winning 1/12 scale on-road cars, right here in Central New York.
Kevin handed me the controller. Pull the trigger to go, push it away to brake, and turn the wheel on the side to go left or right. I was immediately surprised by how powerful and sensitive the car was – they were a noticeable upgrade from the ones I played with as a kid. A slight squeeze of the trigger and it leapt into action and the steering was very twitchy to start with.
It was stop and go while I got used to the car, but I was quickly able to modulate speed with consistency, hitting jumps with enough speed to carry the gaps and land safely. It was, however, incredibly hard to get lined up for jumps without making numerous corrections or launching at the wrong angle, only to land on a boundaries or off the track entirely. You also have to be careful with the speed.  Carry too much speed into a sharp turn and you'll send the car into a barrel roll. The key to this sport was smoothness and I was lacking it, but  by the end of my third 10 minute practice I showed some improvement.
On race night I was surprised at how many people had shown. Every inch of the place was consumed by cars, toolboxes, and chargers. The track had now been changed, with the cars running in the opposite direction. There was also a large double jump on one of the straights that would require a commitment of both speed and straightness that made me nervous.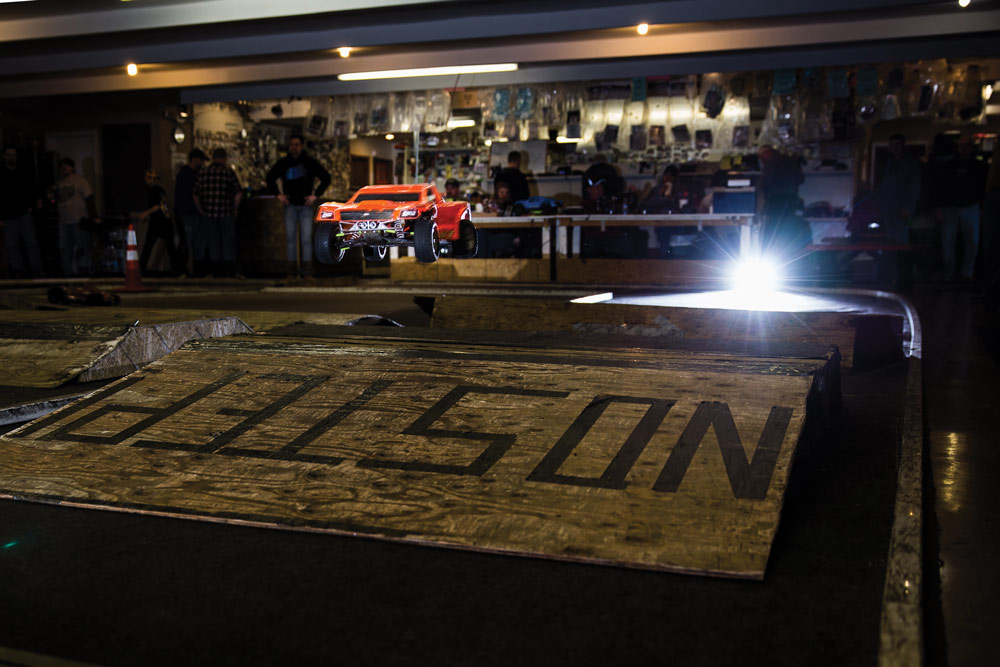 We sat right by the double jump and it was cool to watch cars leaping over the gap clearing about two feet of air. These cars were built to take punishment. Even when they go careening off the track or land upside down, the marshals just pick them up by the bumpers and flip them right-side up and off they go.
Kevin had paid ten dollars to enter me in the Sportsman (beginner) Class. There were six to eight drivers in each heat and, on this night, there were two Sportsman Class heats among the 13 heats for the various car types and skill levels. I would have two heats to prove my worth before the final.
It was time to qualify. Kevin dropped the car on the track.  I lined up in fourth position, and we were off. My hand was shaking from adrenaline and within two corners I was off the track. I was quickly flipped back on and was keeping up fairly well with the pack until my second lap when I lost control again. Suffice it to say I finished last.
It took about an hour to go through all 13 heats. The buggies seemed to run fastest. With their lower center of gravity they could corner faster. The quality of the driving in the upper classes was impressive. Some drivers were able to hit jumps and corners consistently and make it through the whole race without incident.
Most of the cars racing had about $500 worth of equipment running them. Cheaper, ready-to-run, out-of-the-box setups cost as little at $250 to get started. I'm sure some of the folks on the track had $1,000 plus into their vehicles.
It was time for my second heat and happily I was more successful. I stayed mostly right-side up, and while I wasn't the fastest guy on the track, I was one of the more consistent. At the end of the race I placed fourth of six. Unfortunately, even though I had beaten two other drivers, it appeared they had performed better in the first heat, so I was placed in the slower of the two final races in dead last place.
I stood on the stand for my final race. I started poorly with a few flips on the first lap, but soon I started to hit my stride. I was slow, but steady. I just had to wait for the back markers to make a mistake and I would gain their place. After five minutes were up, I was fourth out of six racers and that was it. I was officially the third slowest driver that whole evening, but I have to admit I was fairly proud of my rookie performance. It was a fun and challenging evening for sure.
I was pleasantly surprised. R/C is a far more organized and serious scene than I expected and the appeal is broad. Drivers ranged from early teenagers to retirees. It doesn't compare to driving a real car, although mastering the dynamics of braking, turning and smoothness certainly share some similarity. Next winter, if you're itching to drive, check out your local R/C scene, or, if you're on the east side of Central New York, check out CRC Raceway in Rome. With a call ahead, they can prep a car for you that you can rent for some track time.
I'm not sure I'm ready for the commitment required to be good at R/C racing. In the summer I have my full-size car to race around, but maybe next year, in the depths of winter, the bug will bite and I'll be back.