Utica native Duane Isenberg's 1982 Corvette is truly a labor of love with nearly every part literally touched by him over the last 12 years.
It's always refreshing to meet an auto enthusiast who is passionate about their car to the point that they want to do all of the work on it themselves. From the mechanical basics to a complete new paint job, this month's featured owner, Duane Isenberg did it all. With minimal investment, Duane has restored this 1982 Chevrolet Corvette to its original glory.
This story starts in the summer of 2003 when Duane was getting the itch to purchase a project car. He had been borrowing his friend, Al Taurisano's, '94 Vette and teasing his other friend who was doing a body off restoration on a '75. His friends all had hot cars that he helped work on in high school, but he never had one of his own; it was time for that to change. He had stopped by several Corvettes to look them over and to get an idea of prices.
Duane originally spotted his new project car, unknowingly at the time, while driving on Route 28. He saw the Corvette sitting in a driveway with a for sale sign on it, but didn't stop to look at it. After checking out several other Corvettes on the market, his daughter said that she thought she had seen one on the way to school. They hopped in the van and drove to the area where she thought she had seen the car. It turned out to be some other model. Since they were already driving around they decided to try to find the one Duane had seen by the road on Route 28. On the way up Route 12, they saw a two-tone blue Corvette sitting in front of a shop in Barneveld.
Duane called the phone number on the Corvette they found. When he and his wife met the owners, Nedra (Duane's wife) recognized the woman as a substitute teacher that sometimes worked at her school. After talking a little bit, he found out that this was the car that he'd originally seen along Route 28! The owner had bought it for his wife for their 25th wedding anniversary. The wife had suffered a stroke which hindered movement of her arm and she wasn't driving it much anymore. They were looking to sell.
He went for a test drive and decided this would be his new project car. Originally the car had been owned by a couple in their 60's and hadn't been driven a lot. This was the perfect car. After the paperwork, bank approval, and insurance, he purchased the Corvette on September 8, 2003. He paid $9,200. He asked himself how he could be so excited about spending that much for a 21-year old car with 60,000 miles on it and reminded himself that it was a Corvette! This was something that he could drive and work on.
The Corvette Duane Isenberg had purchased ran and drove, but it was not without its share of items that needed attention. Upon closer inspection, the interior was dirty, the carpet on the floor was soaked and rotten, the seat belt was gnarled up from being slammed in the door, the dashboard lens was cracked, but everything was there and could be replaced or cleaned up. It smelled like a fish fry inside.
The paint was sun faded and needed body work. Since the car sat a lot, many of the rubber seals and bushings needed to be replaced. The transmission was leaking, it shifted weird, and the heater core was bad. Overall, the things that were wrong appeared to be normal for a 21-year old car.
Fortunately for Duane and his mechanical ability, he was able to repair everything for the cost of the parts. This saved him a lot of labor costs compared to if he had hired someone to do the work. He did a rolling restoration on this car. Duane took care of the mechanical things first and then the cosmetic. This way he was able to continue driving it while it was being worked on.
The list of stuff that was tackled over time on this car is vast. The small stuff was addressed first like the sticking brake calipers, poorly working door latches, and bad front tires. Eventually the bigger things, such as the leaky transmission and heater core, were fixed so that this Vette was performing like it should.
Mr. Isenberg then decided to tackle the paint work by using it as a project car in the BOCES automotive body class he was taking. There, he was able to use the facility's tools and knowledgeable instructor to his advantage and complete the paint work himself for a fraction of the cost. He chose to stick to the original paint scheme of two-tone blue and was able to purchase factory matching paints for around $250. Things are much cheaper when you can do them yourself.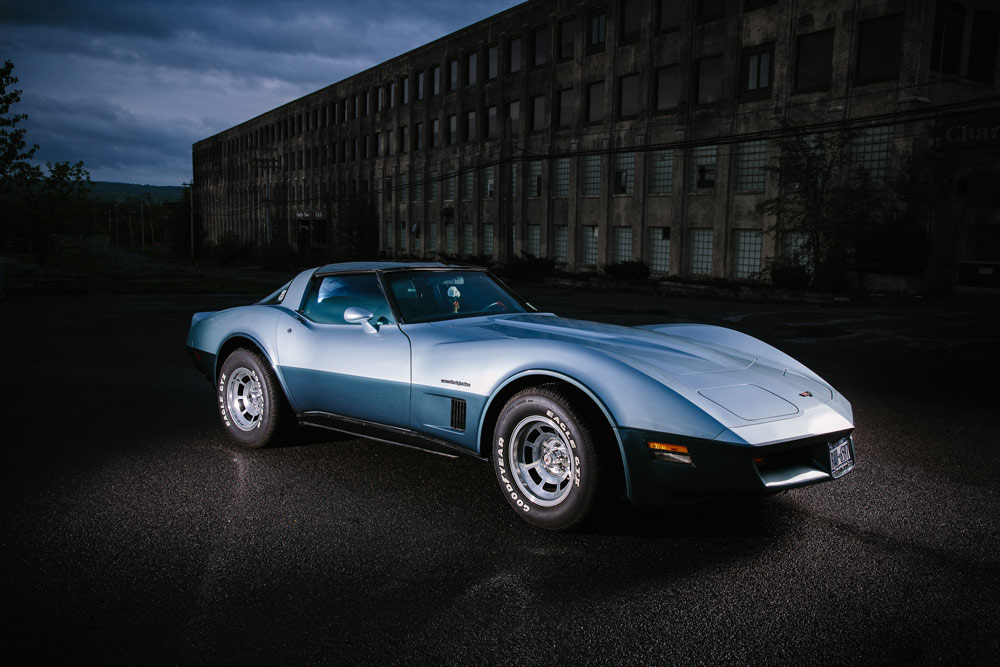 After completing the paint work to his satisfaction, the car was nearing its final glory. Some Mother's Aluminum Polish brought the wheels back to life and Duane also installed a new speaker system to modernize it a little. A project like this is never finished, but at least at this point it is running right and looking sharp.
Mr. Isenberg now drives this '82 Vette with pride knowing that his blood, sweat and tears had breathed new life into what could have been a dark future for this car if left untended. He has taken the car to numerous local car shows and cruise-ins and it fits right in with the rest of the Corvettes. Not many folks can say they have as nice of a ride and did all the work themselves.