'Most difficult antique bike endurance run in the world'
Words by Bob Sblendorio and photos by Robert Kenney Jr. & Steve DeCosa:
"It was an ass-kicker," is probably an understatement. How about riding for eight hours on a cantankerous 11-hp, rigid frame 1915 Harley-Davidson with no windshield, laboring up the "Going-to-the-Sun" road in Glacier National Park, battling constant headwinds, ascending 7,000 feet in elevation, crossing the Continental Divide, through fog, which turned to mist, then rain, then wet snow and snow at the top? Along the way, making any and all repairs by yourself? After surviving that day's ride, then having to work on the bike until midnight or 1:00 am, and  finally going to sleep…up at 6:00 am to do it all again? That's a typical day—of the sixteen grueling days—participating in the Motorcycle Cannonball Endurance Run. When 69 year-old Steve DeCosa referred to the event as an "ass-kicker"—it's definitely (not probably) an understatement.
The 2018 Cannonball was the third time DeCosa competed and endured this event. In 2014, he rode a 1927 Harley-Davidson from Daytona, Florida to Tacoma, Washington. In 2016, he rode the 1915 Harley from Atlantic City, New Jersey to San Diego, California, and rode the same bike in 2018 from Portland, Maine to Portland, Oregon. Why would anyone put himself through such a grueling event? Unwavering drive and passion, that's shared with his beloved Crew Chief…his wife, Joan! He gets results too: DeCosa was the Class III winner in both the 2016 and 2018 events!
Background & Rules: All of the bikes entered are antiques and must be pre-1929. In 2018, the Cannonball was billed as Portland, Maine to Portland, Oregon, 3,400 miles. In actuality, the grand finale was moved to the Skamania Lodge in Stevenson, Washington…not too far from Portland.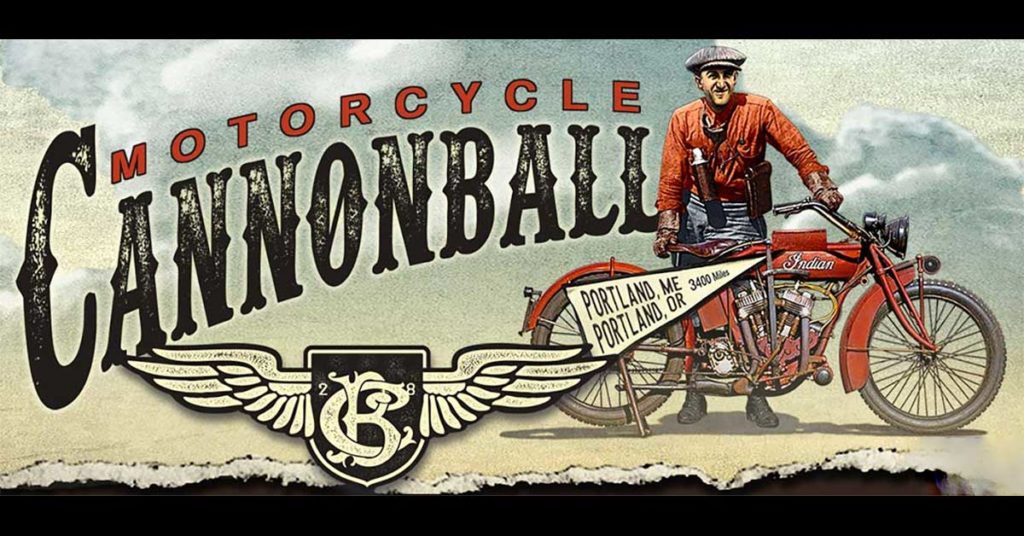 The route was on mostly secondary roads, through every imaginable terrain and weather condition. It's an every-other-year event, the next scheduled for 2020. There are three classes: Class I is single cyl, single speed; Class II is single cyl, multi-speed or multi-cyl, single-speed; Class III is multi cyl, multi-speed.
There were a total of 107 entrants competing in 2018, of which 45 achieved "perfect" scores. A perfect score means leaving in the morning within 45-minutes of the scheduled departure time and arriving, at the end of the day, again within a 45-minute window. Each day entails about eight hours of riding, with routes varying between 250-350 miles. Each rider gets 1-point for each mile completed, and then also 1-point for each minute late (leaving or arriving). If a rider leaves within the scheduled window in the morning and arrives within the scheduled time…that equates to a perfect score for that day. Furthermore, the scoring considers the age of the bike, with an advantage going to the older bikes. Also, there is a handicapping advantage for the older the rider. So yeah—a really old guy or gal driving a really old bike—is best for scoring.
The route, provided only a half-hour prior to each day's start, must be loaded into a scrolling device mounted on the bike. It's many pages long—with a ton of details about the route—with virtually no time to study. Also interesting, per the rules, is that support vehicles are not allowed to travel the designated routes; meaning riders have to make all the needed repairs by themselves with no team support. They have to carry all the anticipated spare parts they might need and the tools to facilitate the repair. These intrepid riders struggle mightily piloting a variety of machines, like: Harley Davidson, Indian, Henderson, Triumph, Norton, and Excelsior.
DeCosa had sixteen perfect scores, and with that won first place in Class III in 2016 and 2018. Impressive! The overall event winner in 2018 was Dean Bordigioni, of Sonoma, California, riding a 1914 Harley-Davidson, which is a single-cylinder/single-speed transmission motorcycle.
DeCosa explained that the Cannonball riders came from all walks-of-life and all share the same passion for riding vintage motorcycles.
"The Silent Grey Fellow"
The 1915 Harley-Davidson—referred to as the "The Silent Grey Fellow," —is a reference to the machine's relatively quiet running sound and the machine's color. DeCosa described his 1915 as "highly original," meaning it has the original frame, engine, and transmission.
The bike's "sweet-spot" for cruising is 43 mph, with a top-speed of 65-70 mph, but that's not sustainable for such a long endurance event. With a 2-gallon gas tank, DeCosa was able to go about 60-65 miles before filling up. The bike's gas tank is a split design, one side for gas and the other for oil.
Planning: By now you're probably ready to sign up, right? Well, it definitely requires a lot of planning, expense, physical training…and luck!
The support vehicle and trailer carried an extensive amount of carefully selected spare parts and tools. The team's Crew Chief was Joan, DeCosa's wife. His daughter, Alyson, was the Assistant Crew Chief. It's a family affair through-and-through, with each doing anything and everything. DeCosa was very proud to have an all-female pit crew.
Personal: DeCosa got involved with motorcycles about eight years ago, a passion that was simmering for a long time. It was his wife who lit-the-fire, so-to-speak, by encouraging his desire to get a motorcycle. So at 62 years old, he got his learner's permit, license, and purchased his first bike: a 2008 Harley-Davidson Heritage Softail.
DeCosa is a retired high school Industrial Arts/Technology teacher, beloved by students who would often come to work on their 3D modeling and CAD projects during their lunchtime and after school. He would challenge them, and the engagement by the students was infectious. DeCosa, who taught for 36 years, "loved it." He was also a Driver's Education teacher for many years, supporting the "Let's Not Meet by Accident" program, a reality-based trauma prevention program for young drivers. About one thousand students went through the program during his tenure.
Joan, his wife of forty-seven years, was a 7th grade English teacher having worked for 39 years before retiring.
What DeCosa's team, and the other teams did in this historic event as participants is certainly the envy of many. It reminded me of a famous quote by Henry Ford: "If you think you can, or you think you can't—you're right," emphasizing the mental and physical toughness needed for success in life, and is certainly fitting for this event.
1915 Harley-Davidson Model 11F
| | |
| --- | --- |
| Engine | 61 ci, V-twin, 11 hp |
| Drivetrain | 3-speed, with primary & secondary chains |
| Suspension | Rigid rear, front leading-link with coil springs |
| Brakes | Drum, double-acting, right foot lever |
| Ignition | Magneto |
| Headlight | Original acetylene-burning, DeCosa's is an LED |
| Top-speed | 65-70 mph, cruising speed 40-45 mph |
| Cost new | $275 (3-speed model) |
+++++++++++++++++++++++++++++++++
History: The Motorcycle Cannonball Endurance Run was named in honor of Erwin George "Cannon Ball" Baker, as a way to pay homage to his many exploits on motorcycles and automobiles in the early 1900s. "Cannon Ball" was a moniker given by a reporter in 1915 after Baker completed a cross-country race in an automobile in record time. In all, he made some 143 cross-country trips across the United States on early motorcycles…truly an amazing feat.
Fast forward to 2010, the first year for the Motorcycle Cannonball, which ran from Kitty Hawk, North Carolina to Santa Monica, California. The original concept for having the event was to celebrate old antique bikes by riding them, versus tucking them away in some storage garage or viewing them in museums. It was the vision and the passion of the late Lonnie Isam, Jr. of Sturgis, South Dakota who conceived the idea of riding with a group of friends cross-country as the best way to respect and honor the technology of these antique bikes. The event grew from there into a truly historic event. After Lonnie's passing, Jason and Lee Ann Sims, also of Sturgis, have taken up the helm and done an admirable job of continuing the heritage of the Motorcycle Cannonball.
+++++++++++++++++++++++++++++++++