By Nick Graziano and photos by Dalton Dobson:
   After a year of marriage, Central Square couple Pati and Scott Pearse were faced with a decision that would ultimately change their life.

Pati needed a new car, an affordable one, preferably, two.  One of Scott's German co-workers suggested he buy an old Volkswagen Beetle that he can purchase cheap and fix up: So, he did – a turquoise 1966 Beetle. More than 20 years after purchasing the Beetle, which they still own and use as a daily driver, Volkswagens grew to become an important part of their life.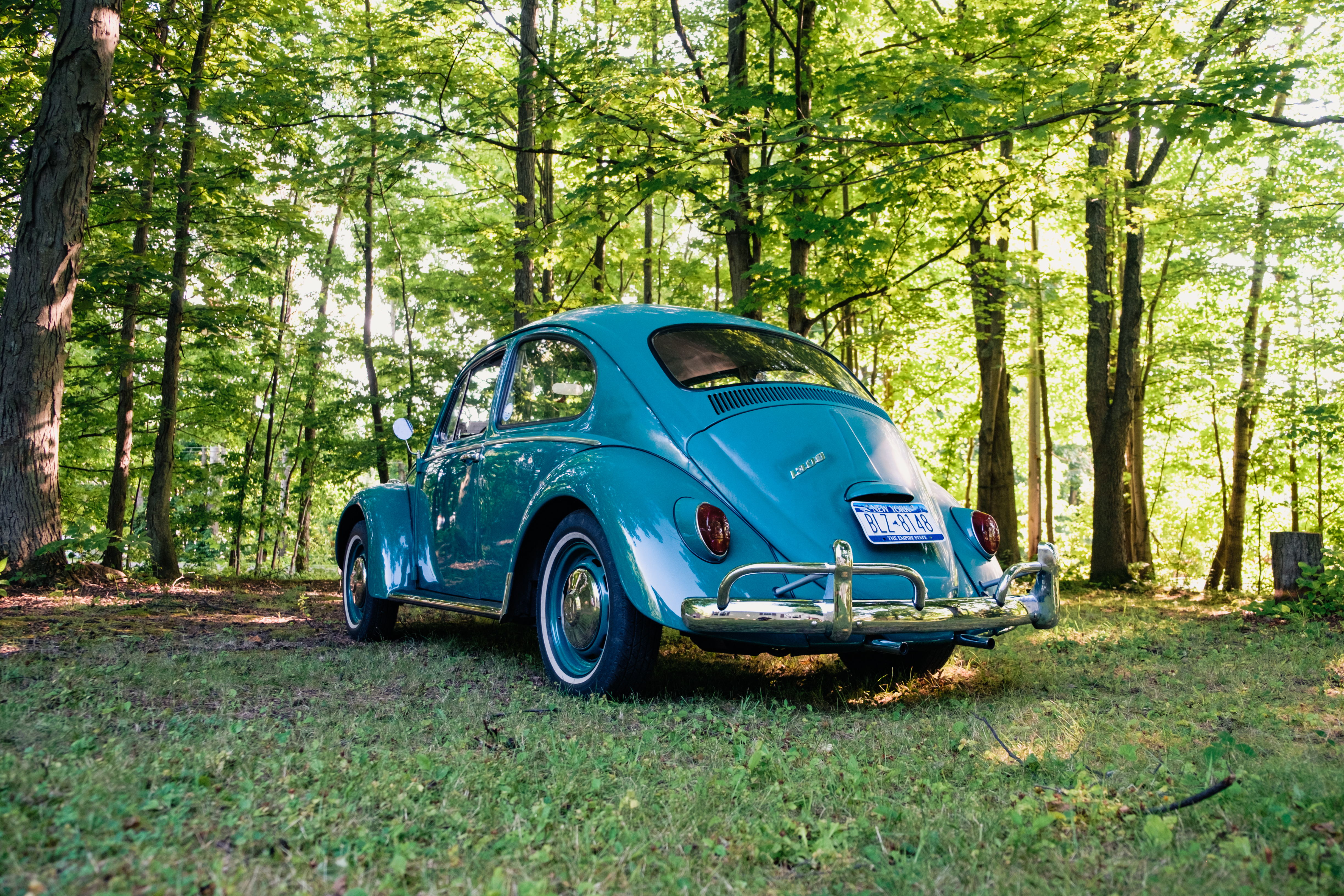 About three years after getting the Beetle, they purchased a 1964 Volkswagen Split-Window Kombi bus. And in 2008 they purchased a 1984 Vanagon Westfalia camper. Between the three cars, Pati and Scott said they have traveled cross county twice and met people who have become lifelong friends.  "The camper is my baby," said Pati, wearing a Volkswagen themed Hawaiian shirt and a Volkswagen necklace. "It's my favorite."  
In the camper alone, she said they've traveled to about 37 states, with more trips planned every year.  "The camper has brought us everywhere," said Scott, wearing a Volkswagen Salt City Car Show shirt. "It is one of the most important things in our life.  Skipping the hotel costs by sleeping in the camper has afforded them the opportunity to travel to places they would never been able to go to if they didn't have the camper," Scott said. They've been to Florida in all of their Volkswagens, however, the bus is given special treatment.
When they purchased the bus it was in rough condition. The roof was smashed in. The floor was smashed in. About every piece on it needed repair and Scott repaired each one himself.  "When I say everything, I mean everything," Scott said.  Most of it is self-taught. He's never taken a car to anyone for anything, he said. He's always done the work himself.  The panels, engine, various components, everything – minus the glass cutting. All made by Scott in his garage, which houses a selection of machining equipment that would make any mechanic jealous. Oh yeah, he built the garage himself too.

The building is about double the size of the Pearses' single-story house, and at times is Scott's home more than his own house. He said there's nights he'll be so focused on what he's working on, by the time he steps outside the sun has risen and it's time to get to work.  He's not alone in his work though, by his side every step of the way is Pati. "We do everything together," Pati said. No matter the project, she'll be by his side helping him work on it. Scott taught her everything she knows about cars. Even how to drive them. "There is no reason a woman can't help out with whatever," Scott said. He enjoys her company.  "We've always wanted to do everything together," Pati said. Scott and Pati also run their own small business out of the garage making cookie cutters – some, of course, Volkswagen themed – and various car parts. It helps provide some extra revenue for their Volkswagen adventures.

The bus took them about four years to complete, but the end result is a pristine pearl white bus. There was no wet sanding or buffing for the paint, either. The paint on the bus is as it was when it came out of the spray gun. It's a unicorn, of shorts, due to its unique build and beautiful appearance. "It looks like it did when it came off the showroom floor," Pati said. The engine is the original 1600cc engine, but with work done to it by Scott.  "It was a lot of labor," Scott said, but the time spent on it has made the bus a special vehicle to Scott and Pati. "They only take it out on special occasions," Scott said.
Before the bus, the Beetle needed a complete restoration, as well, which, again, Scott did himself. But since there was a more urgent need for it, that work was completed in just six months. It has its original 1300cc engine, but like the bus, it has been heavily modified for better performance. The same goes for the suspension components, making for a smooth ride.  Even though the Beetle is their daily driver, it still lacks power steering, power brakes, and has a cable run fuel gauge. "That just gives the car a timely feeling," Scott said. There are obvious areas of fade in the paint as it goes from glossy to flat, yet it almost adds to the appeal of the car. The Pearses' like the patina, as well.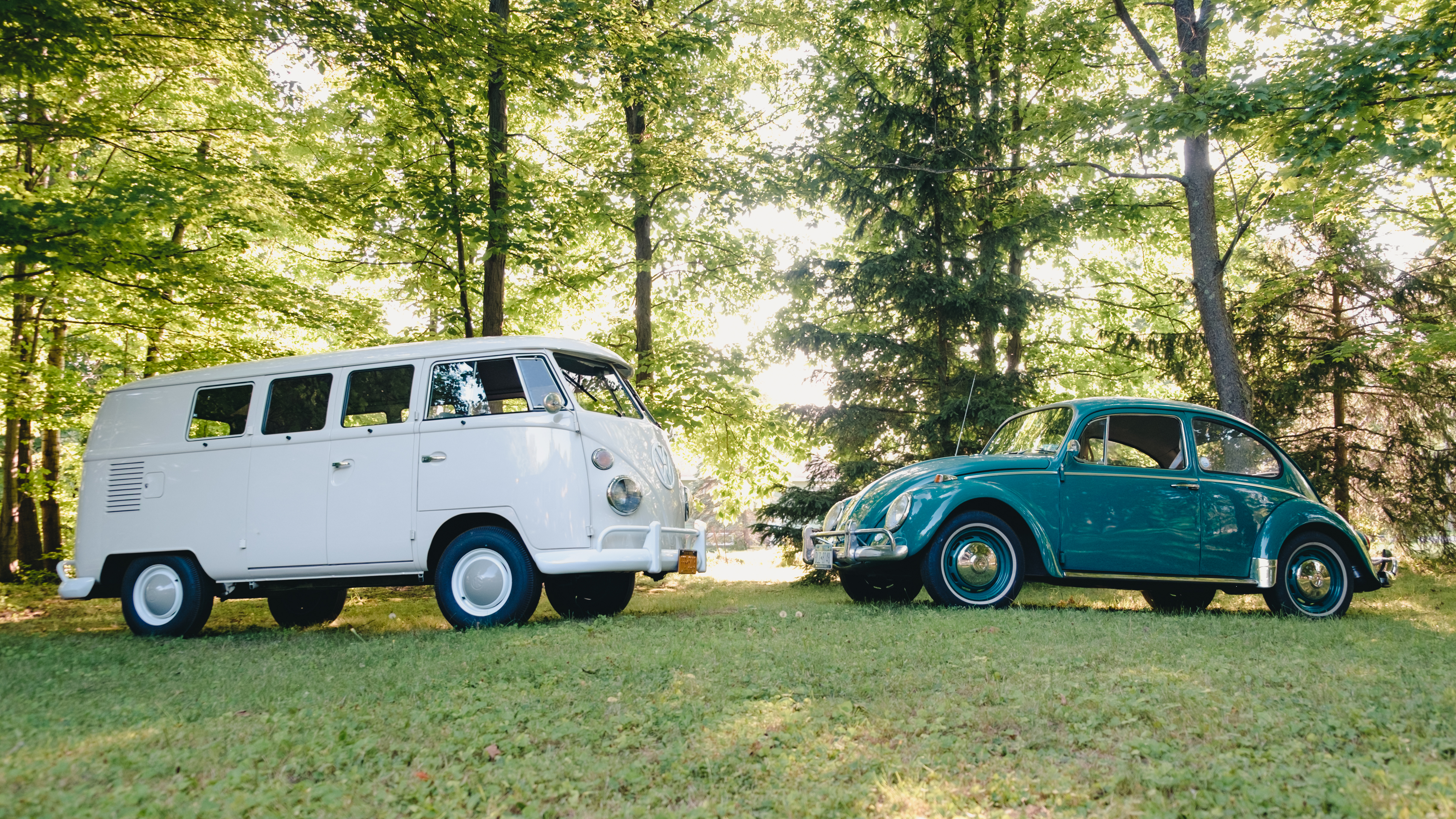 Not much work was needed for the camper, but Scott put a 2.2-liter Subaru engine in it, helping the camper get 25mpg, even with a kayak and scooter on it.  The couple frequently attends Volkswagen club car shows and events, particularly when there is camping involved. While their Volkswagens are capable of winning awards, that's not what they attend the shows for.  "We go to car shows to meet VW people and talk cars," Pati said.

They're not afraid to jump in and help a fellow Volkswagen owner, too. They towed another owner's Beetle that had broken down back to their house, the people stayed the night, and Scott got the car running the next day.  "You just meet so many different people," Scott said. "You may not see some for six months and you can talk with them like you saw them yesterday."

Through all the people they've been able to meet and all the places they've been able to travel, owning Volkswagens has created a lifetime of memories for Scott and Pati. "It all started from just needing a car," Scott said.