Local Legend – RAY KAPFER 1943-1996
---
I've always said that if you give two guys a couple of grocery carts they will figure out a way to race each other, and after the race is over, they will go in search of someone to help them make it "Go Faster"! That's what this story is about, one of Rome, New York's "local legends" of racing, the go-to-guy to satisfy your need for speed; Machinist, Drag Racer, and Engine Builder extraordinaire, "Ray Kapfer".
From the confines of his humble shop on Dix Road, just outside of Rome, Ray built some of the fastest, most reliable race engines to not only power their way down drag strips, but were great at making left turns in that "other kind" of racing as well.
Growing up in the 600 block of William Street in Rome with his dad and younger brother Ron, Ray started developing his mechanical prowess on bicycles. Always the innovator, Ray put a 20" wheel on his younger brother's 26" bike, assuring his young sibling that "you won't have to pedal anymore, because you'll always be going downhill!"
At the age of 15, he worked on his first "Hot Rod" ], a 1932 Model A Coupe.  Brother Ron recalls those times; "Ray was always good with his hands and always looking to learn. He loved the challenge of working on anything mechanical and always worked hard to improve it and to make it the best it could be."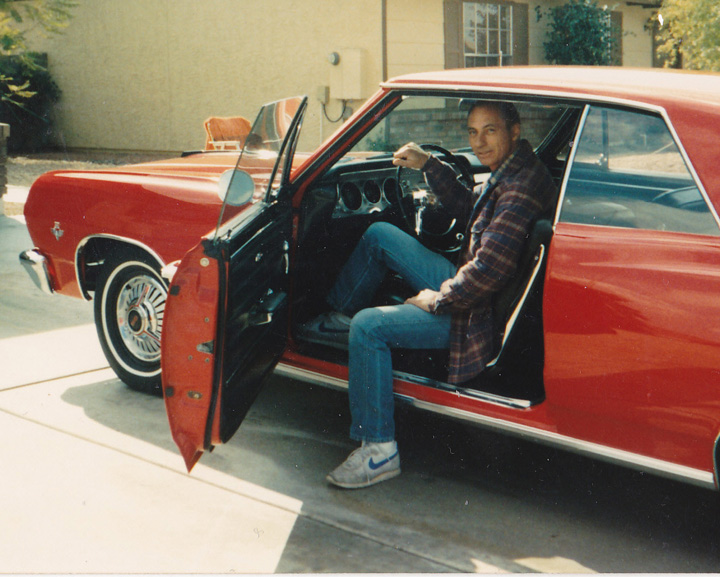 Ron then shared a little known fact about the big brother he obviously looked up to and revered. "Ray was good at everything he did; his name went into the Little League record books for hitting three homeruns over the fence in a single inning! His fourth time at bat, in his team's 22 run inning, hit the fence in the air," added Ron, recalling that special summer day at the Rome Cable Little League Field.
"Ray was also a prolific bowler," continued Ron who has done some very extensive research about his brother online. "His name appeared in the 'Alley Aces' column of our local paper nearly 20 times over the years, and I have found dozens of articles about his racing exploits. The internet has helped me tremendously to capture and preserve Ray's accomplishments, I'm very thankful for that," concluded the proud brother.
After high school, Ray joined the Navy with his neighborhood buddy Mario Spadafora. Mario recalls the early days; "Ray and I were buddies since the 4th grade when I moved in just up the block from the Kapfer's. We fooled around with that old '32 coupe in his garage for months. I did the grunt work, Ray was the brains," he laughed heartily, as he remembered the spray cans of paint they bought and the bare bones operation they had. As fate would have it, this same arrangement, years later, would be the beginning of Ray's involvement with the motorsports industry.
Ray entered the Navy as an Electrical Tech and was assigned to submarines. When he was transferred out of Subs, they put him to work running the hobby shop on the Newport News naval base. "Ray loved working on cars and was very good at it," proclaimed Mario, as he laughed, recalling the conversation he had telling Ray, "That's pretty good, I'm bouncing around the ocean n this 'Tin Can' and you're tinkering with cars! What the Hell!" (Author's note, Mario's ship was involved in the Cuban Blockade during the Missile Crisis of '62).
It was during his boot camp days that Ray met the love of his life JoAnne Shultz. They married on July, 20, 1963 in Waukegan, IL, a union that would bless them with two children, Debbie and Stephen.
Ray and JoAnne returned to Rome in '66 bringing with them a copper colored '57 Chevy, which Ray proceeded directly to re-power with a 427 cu in big block out of a wrecked Corvette he saw at Pettinelli's junk yard on Martin Street. It must have been one of the hottest grocery getters in town!
Ray went to work as a Machinist for the Pettibone Corporation and began developing import skills that would aide his engine building in the near future.
In 1968, Ray's longtime friend Mario purchased a well-known drag car called "Western Union", a bright yellow 2-door '57 Chevy from Alan Keys. They put a very basic motor in it and finished off the season as more of an experiment.
The next year they sent the motor to a shop in Long Island, but when it came back Ray was not happy. Mario explained, "Ray was very meticulous with everything he did; when we got the motor back he expressed his displeasure immediately and we took the motor back to Long Island and made them do it over. I believe that's what inspired Ray to start thinking about putting his own motors together," concluded Mario with a slight pause as he continued to talk about his close friend. "That was Ray, he had to have things just right, he was a very smart guy, but he never hid his knowledge. He always took the time to talk to guys that were having problems or who just wanted to learn, he was a great man, he was my best friend, nobody better."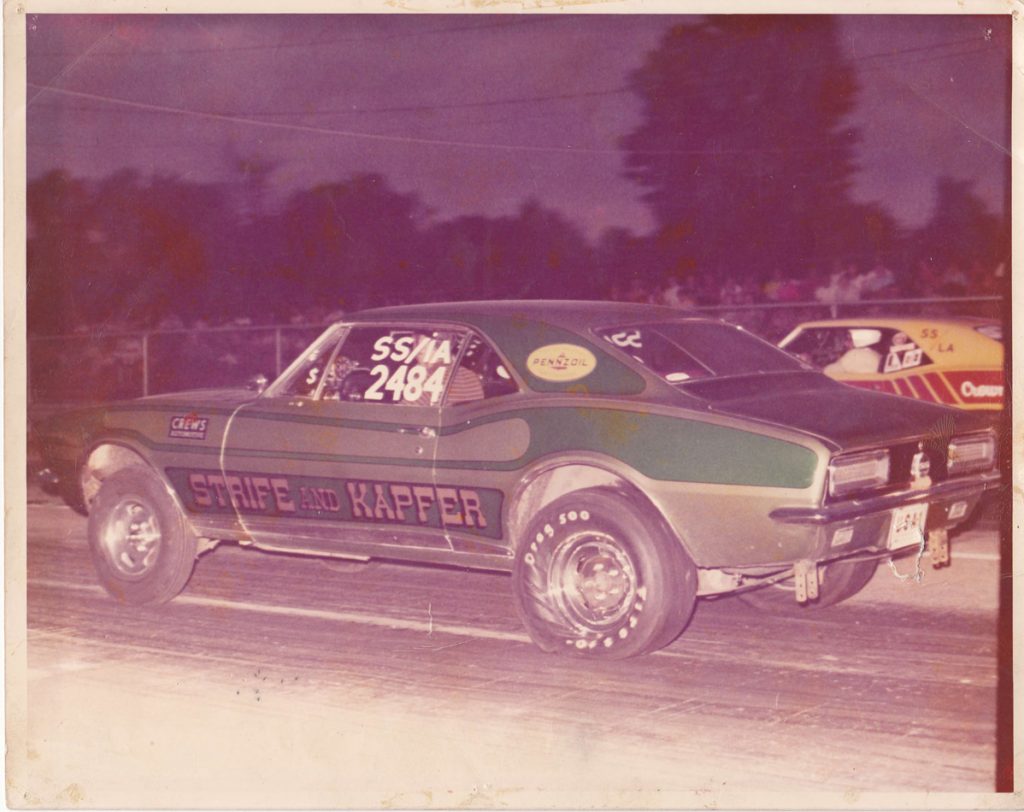 The Western Union Of "Spadafora-n-Kapfer" ran very well in the '69 season and both men posted wins at Utica Rome Speedway, as they would take turns doing the driving. The following year, however, Mario set his sights on a bride and sold the race car back to Alan Keys. Ray soon found himself a member of the "KEYS, DEMARCO, KAPFER N STRIFE" racing team, or as the announcer at the 1970 Summer Nationals said, "sounds more like a law firm than a race team" as they staged in their first heat.
Team Member Paul "Nutsy" Strife recalls, "We ran very well that year and people in the business started recognizing Ray's engine building skills. Experimentation came second nature to Ray and his quality control was unmatched."
As the 70's rolled in, Ray was building engines and doing innovative things like a custom radiator with a pass through hole, so they could change cams quickly. Running 2-speed power glides when the big boys were running turbo 350's and 400's, his concept of "keeping the engine warm" and his use of "boring plates." 2" solid steel plates (courtesy of Pettibone), that he would bolt to the block during the boring and honing process, to simulate the stress and changes in the cylinder bore when the actual heads were torqued down.
By 1972 Ray was driving the Johnson Brothers' Camaro and was also teamed up with the Benoit Brothers' new ride, a '67 Z-28.  An excellent driver in his own right, Ray made the trip to the winner's circle in both cars many times over. He was crowned "Track Champion" at Utica Rome Dragway in 1973 while campaigning in the "Super Stock" division.
"Engine by Kapfer" became a common site on cars like the Benoit Brothers' old ride "Black Belt," a 426 Hemi powered Plymouth, Dave Razzante's "Destructor", Billy Russell's "Magic Bus," as well as the race teams of Norm Jones, The Conkling Brothers,   and Dick Todd, to name just a few. I recall the first time I met Ray, he had just finished an engine for Ray "Flamin Raymond" Arcuri a friend from high school, who was itching to hit the drag strip, while his dad was itching to keep him off Penny-Street Road.
Ray began to meet and build friendships with the likes of Jere Stahl (Total Tuned Headers), Bill "Grumpy" Jenkins (a man Ray greatly admired), Roger Forbes another well-known engine builder from the area, and local racing legend Richie Evans.
"Ray was a master at degreeing camshafts," commented Rocco "Roc" Gerace, a friend and local protégée of Kapfer's, as he recalled putting a camshaft in Richie's race car many years ago. "I hung around Ray's shop when I first got interested in racing; he taught me a great deal about engines, he was the perfect mentor for a young guy starting out. He made racing affordable for me, Ray was one of the most giving and helpful people I have ever known," added Roc, as he laughed about the first engine he built with Rays Guidance, an L-88 427.  As I continued to reminisce with Paul and Roc, it became increasingly obvious that Ray had made a powerful impact (pun intended) on the local and national race scene, with not only his mechanical knowledge, but also with his ability to mentor in a very personable and friendly way.
I learned from brother Ron that in the mid 70's Ray's reputation as an engine builder had found its way to the Indycar circuit and he was approached by Indy Racing legend Mark Donahue. Donahue wanted Ray to join his team in the machine shop, but after a great deal of thought Ray decided against moving his family to New Jersey.
Ray and his engines were dominating forces until 1977 when Pettibone shut down their plant here in Rome, and Ray transferred to another plant in Phoenix, Arizona.
Raymond E. Kapfer, affectionately called Raymie by his loving wife of 33 years, passed away in May of 1996, at the very young age of 53. Yet his legend lives on in the record books and in the hearts and minds of the young men he mentored and the guys he raced with. He will always be remembered for being as passionate about building engines, as he was with sharing his knowledge of the craft. RIP
Words and photos by Joe Fusco Jr.