Devin Wojcik's Road To Indy
---
Sixteen year old high school junior Devin Wojcik is working hard to fulfill his dreams as an open wheel race car driver. Five years ago Devin started his career in go-karts, and now is competing in the USF-2000 championship series for ArmsUp Motorsports. Wojcik is paving his way toward the Verizon IndyCar Series.
We were able to get a great look into this young racer's road to Indy.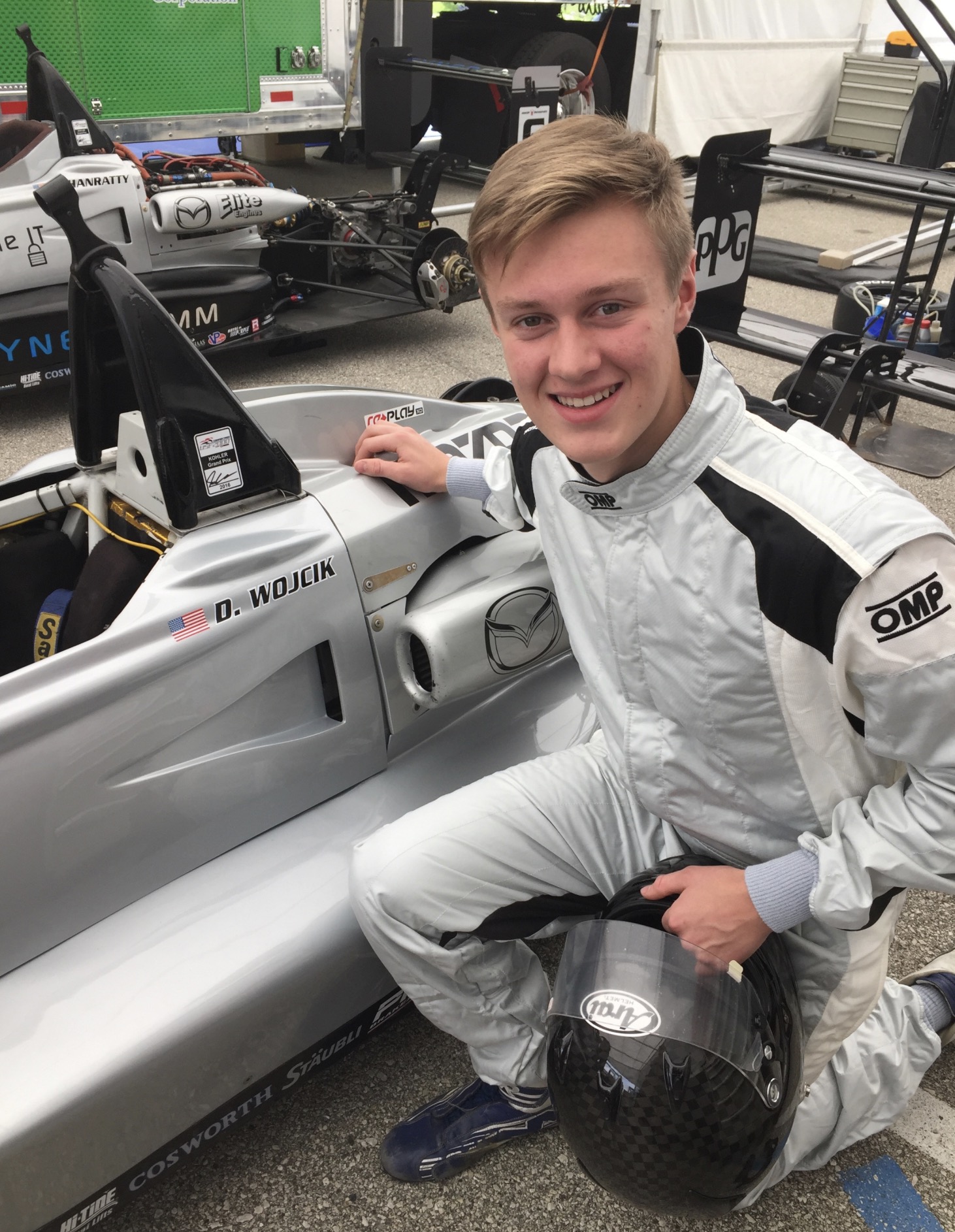 How and when did you start racing? I started racing go-karts when I was 11 years old.  I began Skip Barber Racing School when I was 14.  I raced in two Skip Barber Championships (2015 Winter Series and 2016 Summer Series).  Early in 2016 I started getting contacted by racing teams from all over.  USF-2000 teams, US-F4 teams, Asian F-4 teams, F1600 teams, and even a NASCAR development team.  I decided my heart was in open-wheel racing and because I was only 15 years old at the time, decided to stay in the U.S. to race so I could finish school at home.  I did a test day with ArmsUp Motorsports, a USF-2000 team and never looked back.  I did a "one off" race with ArmsUp at Road America (Wisconsin) in June 2016 and did pretty well (finishing 14th out of 24 cars) considering it was only my 2nd time in the car.  I signed with the ArmsUp Motorsports team this past fall to race with them in the Cooper Tires USF-2000 Championship Series Powered by Mazda. USF-2000 is the first 'step' on the Mazda Road to Indy, a driver-development program for the Verizon IndyCar Series.  I just completed my first race of the season, the Grand Prix of St. Petersburg, FL.  I finished 7th in the 2nd race (out of 22 cars).  It was a great feeling to bring home a top-10 finish in my first event of the season and prove to myself that I can hold my own in a very competitive field.
Who do you look up to in the sport of racing?  My racing heroes growing up were Aryton Senna and Michael Schumacher; I think they were some of the most talented drivers of all time.  Currently, I look up to Scott Dixon who is one of the most winning drivers in IndyCar and Josef Newgarden because he took a similar path to racing as I did, through go-karts and Skip Barber Racing School.  Also, they both seem to be really nice guys who have great attitudes and are good role models for younger drivers.  
What has been the biggest hurdle for you going from karts to cars?  When I first moved into cars at the Skip Barber Racing School, it was a pretty easy transition.  The cars are similar to Formula-Fords with low down-force wings.  The biggest learning curve for me has been moving from a Skip Barber car into the new Tatuus US-17 car in the USF-2000 Series.  This car is a lot bigger and heavier and more powerful with significantly more down-force.  My top speed in a go-kart was around 90 mph.  In the Skip Barber car I reached top speeds of 125 mph. The new US-17 car can reach speeds of 145 mph or more, which is pretty cool, but honestly, it doesn't seem that fast because the car is so stable.
What kind of training do you do, if any, to stay in race shape?  I have rowed on the crew team at my high school for the past three years and the training involved with rowing competitively is pretty intense.  We work-out daily even in the winter to prepare for the spring season.  Rowing is a great all-around strength training exercise and also provides excellent cardiovascular conditioning.  In addition to rowing, I work-out with a personal trainer from Pit-Fit (Indianapolis) on a motorsports specific training program that puts me in the gym six days a week.  I also practice my racing on my home Driving Simulator from RaceCraft1.  I train remotely (via Skype) with Kelly Jones of RaceCraft1 at least twice a week and try to drive on my own nearly every day.
Is it tough juggling school and your racing?  How do you manage it?  What grade are you in?  I am 16 years old and in 11th grade at Fayetteville-Manlius High School.  I'd say it's a challenge to juggle my school work and racing because I travel so much during the season.  I have a race at least once a month and do testing with the team in addition to that.  My teachers are pretty understanding and supportive of my racing.  They work with me when I return to school helping me get caught up on my work.  I'm fairly self-motivated to get my homework done while I'm away, doing it in the hotel, or airport and even on the plane ride to and from the race.  I am taking honors level and AP classes so the workload is pretty heavy, but academic success has always been important to me and I usually maintain an Honor Roll status every semester.  
Things I enjoy besides racing:  
I am a Boy Scout working on my 'Eagle' Rank.  I have been a member of Troop 152 since I was a Cub Scout in 1st grade.  I really enjoy the activities we do, including camping in the Adirondacks at Sabattis Scout Reservation every summer, hiking, canoeing, white-water rafting, and skiing.  I even had an opportunity to attend Philmont Scout Ranch in New Mexico with several scouts from our Longhouse Council.  I think scouting has helped me become more organized and a confident leader.  My Eagle Scout Project will be to build a utility shed for the Clear Path for Veterans organization here in Fayetteville.  Clear Path offers many services to veterans and their families and the shed I will be building will be used to store the dog training and agility equipment they use for their 'Dogs to Vets' program.  
I also like working on my truck.  My dad inherited a 1995 Ford Ranger from my grandfather when he died and my dad gave it to me for my 16th birthday.  I have done a lot of work on it, from gutting and re-doing the interior (headliner, carpets, seats, dash, doors, stereo system, etc.), to adding a lift-kit, specialty mufflers, bigger tires with cut-out fender flares, and a new exterior paint job.  
What kind of input do you give to your crew before and during a race?  Giving input to my crew is a new skill that I'm learning.  In Skip Barber all the cars were "spec" and we would do a random "draw" for each race, so you just had to learn how to drive what you got.  In the USF-2000 Series, we have brand new cars this year (Tatuus US-17), so the crew and I are both getting to know the car as we go along.  The biggest challenge has been learning how to tell the engineer what I am feeling in the car so he knows what adjustments to make to gain more speed.  Typically before a race, my driving coach and I will discuss strategy based on the data the engineer has given us from testing and/or qualifying.  During a race there is minimal conversation other than occasional input from my driving coach who also acts as my "spotter". After the race, we process a lot of data which has been collected from the on-board computer and video.
What was the biggest thing that you learned from the Skip Barber Driving Program?  The biggest thing I learned from the Skip Barber Racing School was improving my Race Craft.  There are instructors placed at every corner of the race track both during practice sessions and during races.  After each session, they return to the pits and offer turn-by-turn feedback on your driving.  I think this is what sets Skip Barber apart from some other racing schools.  The level of expertise that is available to you is amazing!  The instructors all have a variety of racing experiences, and one was even a previous Formula-1 driver!
What are your near goals and long distance goals in racing?  I would say my "near" goals are to have a great 'Rookie" season and improve my driving with each race.  I always aim high, so I'd say I'd like to achieve a "Top-5" finish in the championship this year.  Of course, that will be quite challenging because during the Pre-Season Series-wide Test, the top 15 drivers had fastest lap times less than 1 sec apart.  It will be an incredibly competitive field this year!  My "long distance" goal is to drive in the Verizon IndyCar Series and again-aiming high. I'd like to win a championship some day!
If you could give one piece of advice to a young racer what would it be?  My best advice to any young racer would be to "Never Give Up"!  You have to dream big, aim high, and don't doubt yourself.  Even when the odds seem like they're stacked against you, don't let anyone tell you that you can't achieve your dream.  Believe in yourself and WORK HARD to make it happen!  
To keep up with Devin's progress you can follow him at devinwojcikracing.com and the USF -2000 championship series at USF2000.com.
Words and photos by John Zackary