1961 Porsche 356B Cabriolet Super 90
---
101 years in business…Mark Schultz is the 4th generation business owner! The original business was started in 1916 by Mark's great, great grandfather, Jacob Schultz, who was a blacksmith. He built custom chassis, wagons and wheels in Utica.
Mark's grandfather, Walter Schultz, moved the business to Rome in 1940.  Walter was known as "Dutch", a nickname because of his resemblance to an infamous mobster from the 1920s and '30s, Dutch Schultz.  He embraced the resemblance and named the business Dutch's Body Shop, which was located on West Park Street.
Mark's friend, Lou Mangino knew Dutch very well. Years ago, Lou's father (Pat Mangino) owned Mangino Auto Supply on Erie Boulevard in Rome.  Dutch would frequently come there for paint supplies.  Lou described Dutch as a "gregarious and outgoing guy."  
Lou went on and told of a humorous story that kind of summed up Mark's grandfather…Dutch:  "In the '70s, on a hot summer day, with both doors of the business open, Dutch (and Mark, who was 7 or 8 years old) came to Mangino Auto Supply to pick up a paint order — drove right through the open doors, into the store, up to the counter, rolled the window down, made us deliver the paint order to the window and said to my father —'it's about time you put a drive through window in here!'"  Lou went on to say that "everyone loved Dutch, he would give you the shirt off his back.  He was that kind of guy."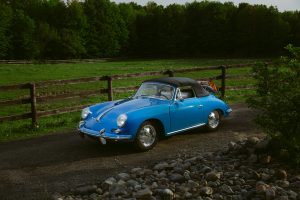 Eventually Mark's father, Bruce Schultz , took over the business.  Mark said, "years ago my father told me 'go work for a lot of people and come back and you will know a little bit more than if you only worked at the family business,'" and Mark did just that.
In 1999 he finally opened his own shop… Schultz Autoworks, at 1006 Thorn Street, Utica. The shop specializes in Porsche restoration and service.  They do work on other cars as well, but working on Porsche cars represents the bulk on the work.  "I am a sports car guy and I've always loved the car [Porsche]. I've owned muscle cars and still have a 1964 Olds Cutlass 442 that I bought when I was 15 years old, which was my first car; but I really love the Porsche styling." When he first saw a Porsche 356 as a kid in his father's shop, his father referred to it as an "upside down bathtub," a frequent nickname for the 356 model. Nowadays, those "Upside down bathtubs" can fetch well in excess of six figures to purchase.
Mark bought his 1961 Porsche 356B in 2002.  It was taken all apart and restored piece-by-piece, a process that took about 6 months.  Even though it only has 90 hp (Super 90), it is "quick and nimble to drive."  Mark continued, "it's kind of archaic compared to the cars of today, but it's the kind of car that every time you drive it, puts a smile on your face. You definitely get the gawk factor from people and it's just a fun car to drive."
Mark Schultz's –
1961 Porsche 356B Cabriolet Super 90
| | |
| --- | --- |
| Performance | 90 HP |
| Engine | 1.6 L, opposed 4-cyl, air cooled |
| Drivetrain | 4-speed, rear-wheel drive |
| 356B Production | 1960-1963 (production of all 356 models, 1948-1965) |
| | |
| Body | Steel built by Reutter company |
| Brakes | Drum, all 4-wheels |
| | |
So if you ever are in need of expert work on your Porsche, or anything else, go see Mark at Schultz Autoworks in Utica. He runs the shop with his cousin, Danny — and his two trusted and friendly four-legged assistants — Carrera and Cayenne!
Porsche 356
The production of the 356 started in 1948 and is considered the first car manufactured by Porsche.  The car was the work of Ferdinand "Ferry" Porsche, who was the son of the founder.  The car was largely based on the VW Beetle platform, and sourced initially with many mechanical parts from Volkswagen.  By the late 1950s, fewer and fewer parts came from VW.
The 356 was manufactured until 1965, and there were four different models.  Initially there was the 356 (pre-A), produced from 1948-55; the 356A, produced from 1955-59; the 356B, produced from 1959-63; and lastly the 356C, produced from 1963-65.
The engines throughout all the models were always air-cooled, initially 1100cc and as time went on, increased to 1600cc.  Even though the engines were small, the cars didn't weigh that much (1700-2296 lbs).  They were always quick and nimble to drive.
Words by Bob Sblendorio and photos by Chris Penree