Under the Helmet: Brett Hearn
---
Upstate NY is the home of Dirt Modified racing. These cars have been around a long time, tearing up 1/4 mile tracks to the biggest of all the Moody Mile.
Anybody that has been to one of these events will know that the competition is stiff. A lot of these guys have been doing it for a long time, through the good and the bad. Future Hall of Famer Brett "The Jet" Hearn is one of these guys that has been turning left since the early 70's. He has won a lot of races along the way and is still one of the top dogs today on the Super Dirtcar Series.
We had the privilege to sit down with Brett at Brewerton Speedway for an up close look at what has made Hearn one of the best ever to pilot a Dirt Modified.
AP: Good afternoon Brett, when were you first introduced to Big Block Modified racing?
BH: I was around 8-10 years old, it was around 1968.
AP: Who were the hot shoes at that time at Orange County Fair Speedway?
BH: Well Buzzie Reutimann, Frankie Schneider, Gary Balough, and during Eastern States weekend Will Cagle would come up from Florida, "He was Awesome". A lot of the legends raced there back then.
AP: Is it true you and your father worked on your first race car's engine in your family room?
BH: Yes we did, my dad reunited with a friend of his that was still racing at OCFS, we got some parts from him. We also got some engine parts from Charlie Sanders (a local junk yard owner). Sanders also raced at Orange County at the time, so dad took all of these parts and built the engine himself in our house.
AP: Where did you get your first car, and what class did you run?
BH: That friend of my dad's sold us his car because he was building a new one. We started out in the Sportsman class. This class ran small blocks 320ci. Ours was a Chevy.
AP: OCFS was your home track and the first track raced at in a dirt car. What was it about that track that helped you become the winningest driver, with now 302 wins?
BH: I was there for many years; the cars and setups evolved there as I was learning how to race. So it seems like it came naturally.
AP: Orange County is a dry slick track. Do you like dry slick race tracks?
BH:  I think that I am a little better on dry slick tracks when they have a decent amount of grip, compared to the really super slippery stuff. I think learning on tracks like Middletown and Nazareth has helped me adapt to the dry slick tracks of today.
AP: Early in your career who did you look up to as a crew chief, driver, or anybody else in the sport?
BH: I really admired Buzzie Reutimann's cars because they were so well done and the workmanship was awesome. One guy that I noticed early on was Sonny Strump. I said to myself when I build my car this is how I want it to look. His cars had a lot of detail. I remember to this day looking at the headers on his car (back then you could see them because they were exposed), but I noticed instead of studs to hold them on he used bolts and nuts. At the time, I was thinking that was really cool. I really admired that about Sonny's cars. Now on the other side of the coin, as a driver Gary Balough was my childhood hero. I loved the way he approached racing. My dad was friends with Ronnie and Tony Ferraiuolo, so I was fortunate enough to be able to hang out in their race shop as a kid. I was able to see how they approached their craft and always admired the thought and homework that they put into their race teams. So I patterned that part of my racing after those guys. They always had top notch stuff, but Gary was always in the shop building front axles and different pieces for the race cars. Those were the days before you could go to a speed shop and buy parts like that.
AP: So you were lucky enough to be able to hang out with guys like Billy O and Balough?
BH: Well once I started racing Gary and I got kind of friendly because I stopped by the shop a few times. I remember when I was racing in the Sportsman class, he would come out to the edge of the track and give me hand signals as I was making my way to the front, but the day I moved up to Big Blocks he stopped talking to me.
AP: Did he really? He knew you were going to be the guy to knock him off the top.
BH:  Yeah, he knew it was coming.
AP: What do you think is the biggest thing that has changed in Dirt Modified racing since you started?
BH: I think it is the fact that you don't build things anymore. If you build things in house nowadays it is kind of frowned upon. Back in the day that was the only way you could do was build it. There was a lot more room for creativity along with a lot more latitude on how you could build something. Now they want you to buy everything from one of the big builders. That is both good and bad, this way everybody is on an equal playing field because it is available to all racers, but it also takes away from us guys being more innovative.
AP: How do you feel about that? Would you rather be more hands on or are you okay with bolting on parts and going racing?
BH: I am still hands on. We still build our own stuff because we think we can build it just a little bit better. Nowadays the innovations are so small. So if we can build it a little better then that's what we do.
AP: Do these parts have to be approved like in NASCAR?
BH: Yes and no, if they see something that you made and didn't buy it, they will take a closer look at it but, that's about it.
AP: You have been on top for a long time in this sport. You have had some so-so seasons, but for the most part you have been one of the guys to beat on any given night. What do you think has helped you stay up front for so many years?
BH: I have a God given talent to drive. I learned that at an early age. Also, my hard work and commitment has helped me stay at the top of my game.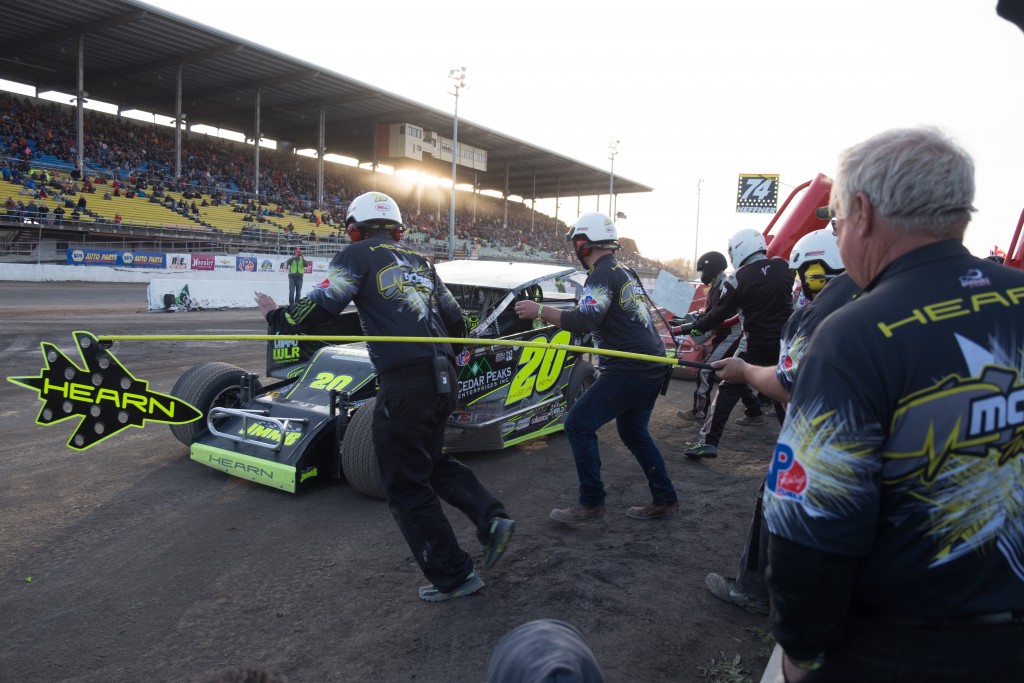 AP: Your nickname is Brett "The Corporate Jet". It seems that you helped bring corporate sponsors into Dirt Modified racing. You have always had good sponsors. How have you been able to get those companies and continue to do so today?
BH: I think it is our whole presentation, our look, our performance etc. When we go and meet with a potential sponsor we do not say can you help us? We say we can help you. We are not looking for donations, we are looking for companies that can benefit from what we do. We use to be more consumer based with Budweiser and Ground Round. Now we are business to business. That means businesses in the racing circle that we can help is where we are looking now.
AP: Do you use social media as a tool to help your sponsors and your race team?
BH: Oh yeah, for sure. It is huge, I don't think any other driver has 9,000 plus followers on their Facebook. I mean we can put a picture out there and hit 35,000 people in two days. So our sponsors are being seen by all of those followers.
AP: Out of all of your championships, does one stand out? And if so, why?
BH: No, I don't think so. I have always said that the championships are so much harder to win then races. A championship represents a huge body of work, not just a good week. They are so much harder to win. Most anybody can win on any given night, but to win a championship it shows the hard work and commitment throughout the season.
AP: What advice would you give to a young driver that would help them in their career?
BH: First off, be ready to make sacrifices in your personal life. I would tell them to be ready to miss a lot of weddings, parties, games, and days at the lake. If you want it bad enough be ready to miss all of those other things.
AP: Do you see the growing Crate Sportsman class helping Dirt Modified racing?
BH:  It certainly gets a lot of people into the sport of dirt racing. We have yet to see drivers move up and become successful Big Block drivers.
AP: Why do you think that is?  
BH: To begin with it is still a big step. Even if you are a real good Sportsman driver, it is very hard to compete with these Big Block drivers. Most of these guys have twenty or more years' experience. It's tough to break into. I remember a story of a driver I knew that went out to Indiana and started racing midgets. He started winning right away. So I said to him, "Man you are really good in those cars, what the difference?" He told me the difference is that I am racing against drivers with five years or less experience, not 25 years. So that just shows it is really hard to break into this sport with little seat time.
The Sportsman division is healthy for the sport, but the thing that scares me a little bit is to see the purses getting too big in that class. Meaning if it is real attractive to stay there, they are not going to move up. If they start paying $1,500-$3,500 to win a Sportsman race, guys are going to start asking "Do I want to move up and compete against those guys?" For $6,000-$7,500 when I stay here and have a good chance at winning these big races. So they can run for $3,500 to win and their engine cost $3,500. Why would they move up and have to spend $35,000 on a motor and no chance of winning? What do you think they are going to do? They are going to stay in the Sportsman class.
AP: When you finally hang up your helmet what do you plan on doing? Would you consider being a car owner, race promoter?
BH: I really don't know. I think the opportunities of being a promoter are slim. I would never rule that out, but it would have to be the right deal. I also wouldn't rule out doing something like driver search. Like getting a crop of young drivers into the sport with sponsors. I think there are a lot of untapped things out there that haven't been done.
AP: What about coaching?
BH: Yes, for sure. I have done that with a few drivers already. We have a contract right now to maintain a car for a driver that I race against, which is the first time I have ever done that. So there are a lot of opportunities out there. There are some people out there that do not have the knowledge or time to get up to speed, but they do have the money to get into the sport. All of this is not in the near future for me. I like to tell people that when I fall off the first league fantasy team then it's not really a conversation.
AP: This year being the last year for Super Dirt Week at Syracuse how do you think this will affect the sport, if any?
BH: It always amazes me on how many people focus so much on that race every year. Then there are other drivers that really dislike that race because it is so different from what we normally do on a weekly basis like the pit stops and other things that go along with that race. It will definitely leave a void for sure in dirt track racing. After 44 years of racing there it is a big deal. Can it be duplicated? No way. People love the idea of going there, both drivers and spectators.
AP: Do you guys still build special cars for there like they used too? And if you get a car that works well on the Mile can you run it for a few years?
BH: Our team does have cars built for the Mile, and yes you can run the same car there for a few years because it hasn't changed much.
AP: Final question. If you had not become a race car driver what do you think you would be doing for a career?
BH: Well if I was a garbage man I would be the driver. I guess I would be a driver of some kind, and be the best at whatever I was doing.

I would like to thank Brett Hearn for his time to sit down with me to answer a few questions. Also you can follow Brett Hearn on Facebook and visit bretthearn.com to keep track of his upcoming 2016 Dirtcar season.
-John Zachary