We Visit The North East Classic Car Museum
---
We, the inhabitants of Central NY, are very spoiled when it comes to activities or events to visit and experience. It bothers me greatly when people say there isn't anything to do around here. If we were to draw a circle an hours distance within our homes there are numerous and wonderful places to go.
I personally had never been to the Northeast Classic Car Museum in Norwich. Speaking honestly, I didn't even know it was about 100ft away from Route 12 South which so many of us have taken on family car trips down to Florida or other southern states. When I was presented with the opportunity to head down to the museum I immediately accepted. I arrived to the museum in a little under an hour drive. There is a row of parking available by the front entrance and plenty of space at the nearby lot directly across the street. Visitors to the museum are immediately greeted by warm and friendly staff members. Most of the individuals working here are volunteers who donate their time because of a love for automobiles. A few steps more past the front desk and we are at the double doors to enter into the Staley collection.
Throughout the museum are placards and displays, so visitors can gain more information about Mr. Staley and the vehicles themselves. George Staley grew up in the Central NY area on a dairy farm. He decided caring for cows was not his choice of lifelong career and enrolled in the New York Aviation School in Utica, NY. It was here that his passion for the mechanical began to blossom. Mr. Staley would continue onward through the years traveling across the globe to be involved in all things aeronautical. A culmination of this experience can be considered as working on the Enola Gay airplane which would drop the first atomic bomb. Of course there are many more tidbits which can be written here, but I just wanted to share a couple of highlights. Take time to read more about George when at the museum! You won't be sorry.
It's an understatement to say the Staley collection is impressive. The wide variety and eclectic mix of vehicles from multiple manufacturers throughout the facility is almost unbelievable to comprehend. This is in Central New York?! The collection begins with very early 20th century vehicles, with companies such as Franklin, Auburn, Stanley, Graham, and Marmon. Some of you might recognize a few names, but others may have not even been known to exist, but they do. Early automobile manufacturers would last a few years, or even a few months. The humble beginnings of transportation did not fare well for all companies. The stock market crash and Great Depression put the nail in the coffin for a few more and only the strongest would survive…for a year or two more. The emergence of major manufacturers such as Plymouth, Ford, Chevrolet, and Buick would come into play. Luxury companies like Cadillac, Packard, and Duesenberg allowed more ornate and featured boasting elements for more demanding automotive enthusiasts of the time.


Continuing onward through the museum we must choose the left path or the right path. For now let's go into the
"Fabulous Franklins" room. We can talk about the Post War collection in a little bit. When I say room, I mean warehouse sized. Did I mention this place is massive? Franklin was a manufacturer of the early 20th century and as I said earlier in the article would succumb like many others to the credit crisis and Great Depression. During their time of being in business a multitude of beautiful sedans and roadsters were created and enjoyed. A major feature of these vehicles is the air cooled engine. No doubt Mr. Staley was drawn to this vehicle due to the similarity in power plants of airplanes at the time.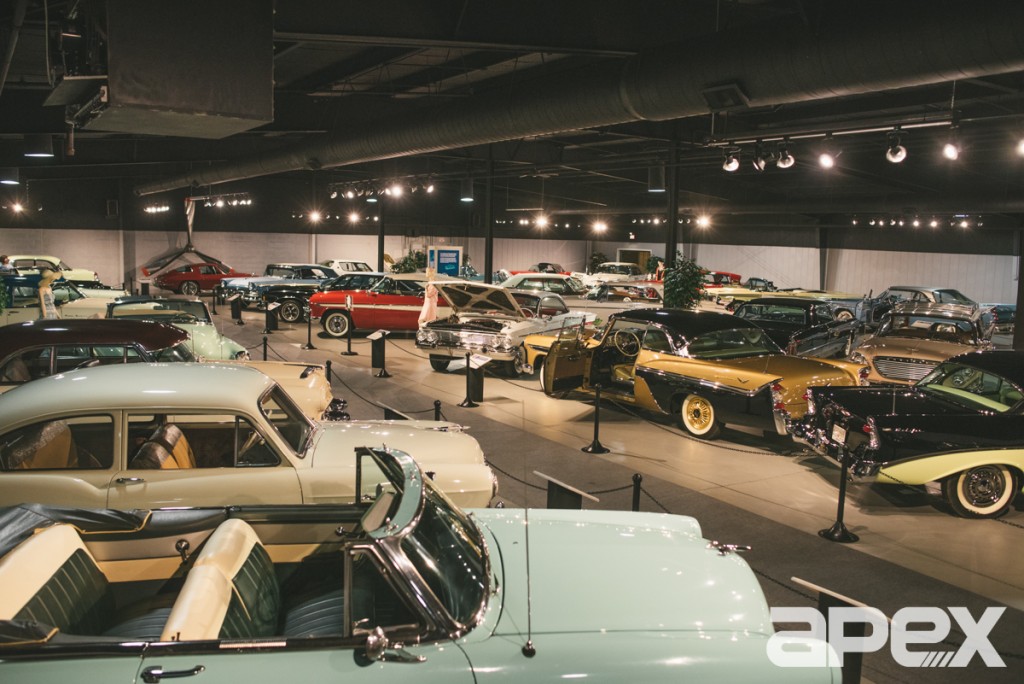 Now, had we chosen the left path we would be in the Post War collection room. This section is full of amazing, swooping fenders and afterburner taillights. Studebakers, Avanti, gorgeous Buicks, Chevy Bel Airs and the like. The heart and soul of growing up in 1950s America lives in this room.
Further past the Post War collection is a room dedicated to vehicles manufactured in the State of New York. I had no idea there were so many! A range of there being one or two cars made in total before the company went belly up, to companies assembling under a 100. Startups with hopes and dreams of becoming the next Ford or Chevrolet, but instead only lasting a few months. It's great to see that New York State is represented here by such vehicles.
The final main room within the museum is one which is a limited time exhibit. The vehicles within this room are swapped in and out after a few months. The caretakers of the facility decide on a theme for the room. The current theme being: Muscle Cars, Motorcycles and Memories. This is the first time motorcycles have been included in the exhibit and response has been incredibly positive. Previous themes have been fun subjects such as "Woody and Wagons", Tractors, and a topic which I feel is very creative: "Car Tunes". I wish I had known about the museum to check out that theme because it focused on cars which were mentioned lyrically in popular songs of the past.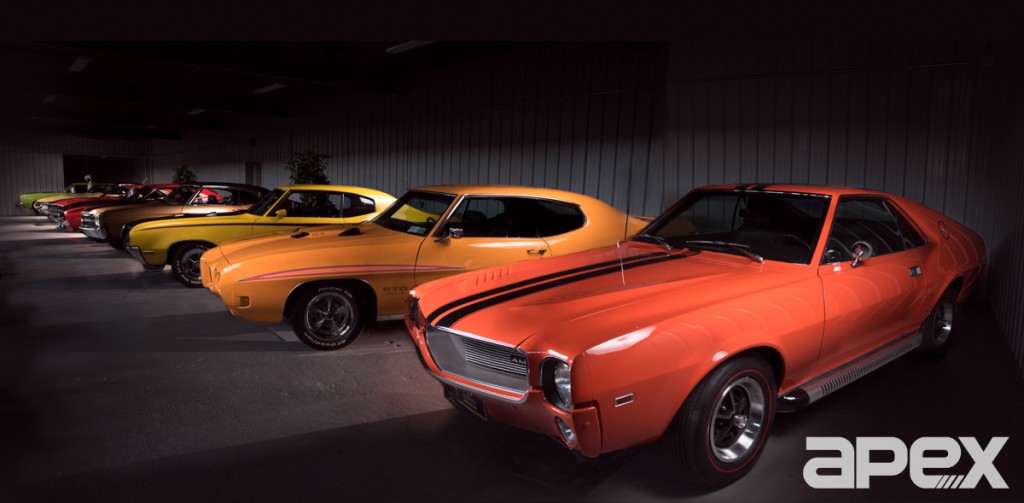 What I first noticed in this particular exhibit is the rainbow of colors. Lime greens, vibrant oranges, and shades of blue mixed in with reds and yellows. Each car in this room has its own machismo and charisma. With pristine condition cosmetics and engine bays, these cars are well cared for and it shows. It should be noted that most of the vehicles in this limited time exhibit are generously donated for the duration by local car collectors. We spent multiple hours in here photographing the cars for the magazine shoot and discussing the vehicle merits with the knowledgeable classic car museum staff. This room will not disappoint if you are a fan of muscle cars.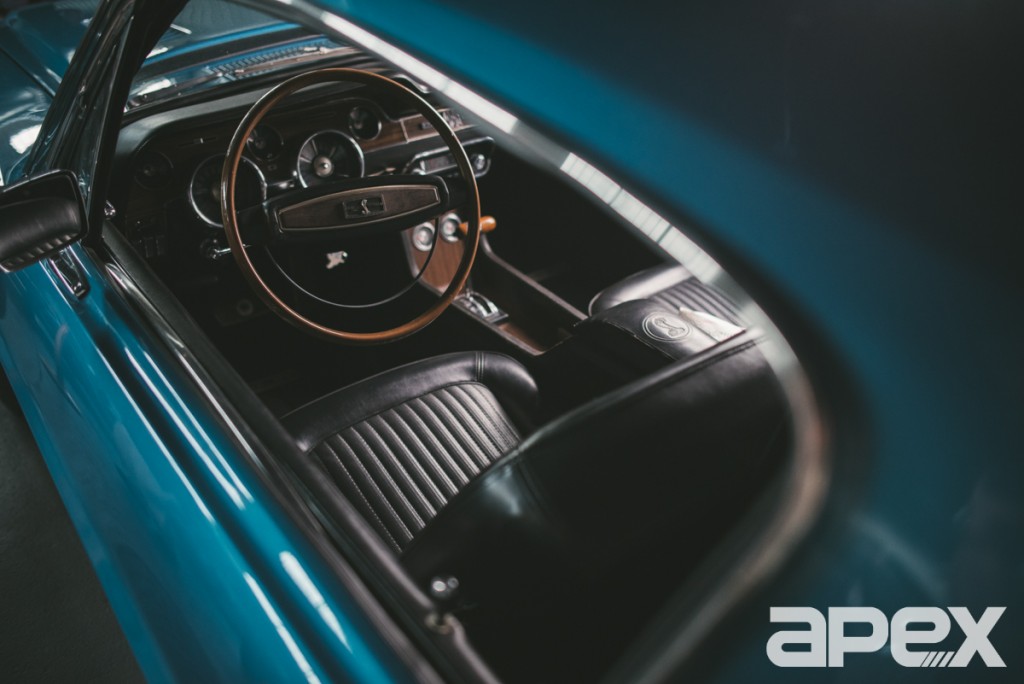 The museum caters to the wide variety of automotive enthusiasts. Visitors can choose to walk around with the staff for a guided tour of the entire facility (recommended) or walk around by yourself taking it all in and reading the placards on your own. Either way the experience will be exciting and fulfilling. There is something for everyone to see and remember fondly. Take advantage of the opportunity to check this place out! A quick drive through the scenic farmlands and villages with family or friends makes for a memorable afternoon.
Visit the North East Classic Car Museum at: 24 Rexford St, Norwich, NY 13411 
Or Online at: wwww.classiccarmuseum.org
Story By: Brian Coupe
Photos By: Thomas Sblendorio