A True Passion For The Car Scene
---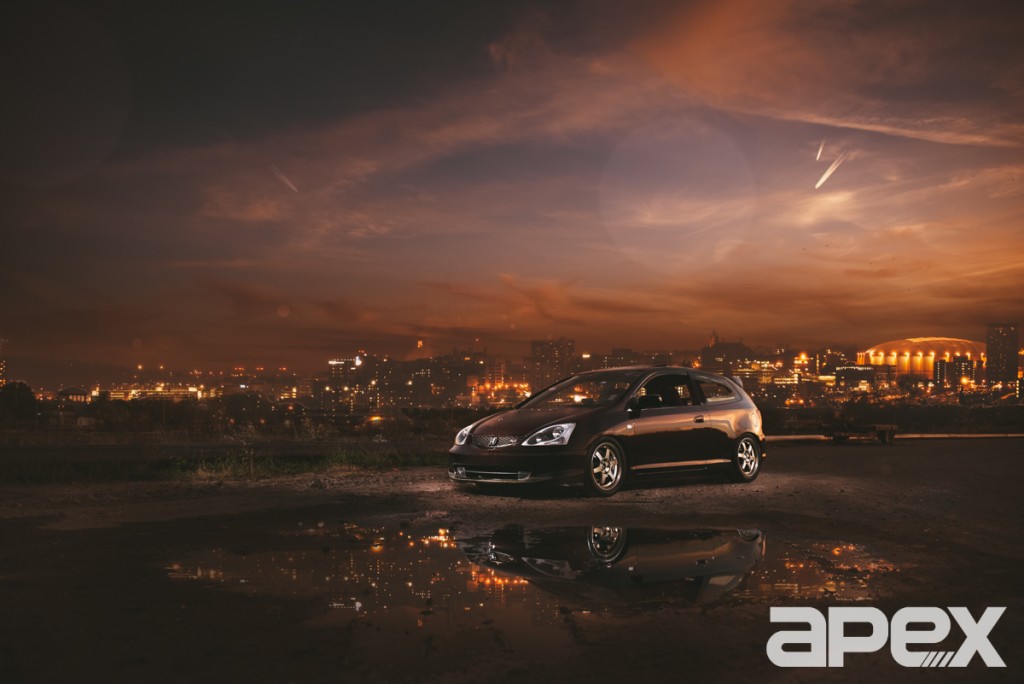 Standing out in today's Honda scene is not an easy task. Creating Central New York's premier import show isn't either. Chris Burkhart of Syracuse has managed to do both with his immaculate EP3 Honda Civic and the incredible Street Scene show held at Long Branch Park in Liverpool. The story of the car began ten years ago when Chris purchased the car as a lease turn-in.
With his heart set on finding a white EP3, Chris found the car at a near-by Honda dealership. After putting down a deposit, the dealership inexplicably sold the car out from under him. The search continued and Chris found another car he was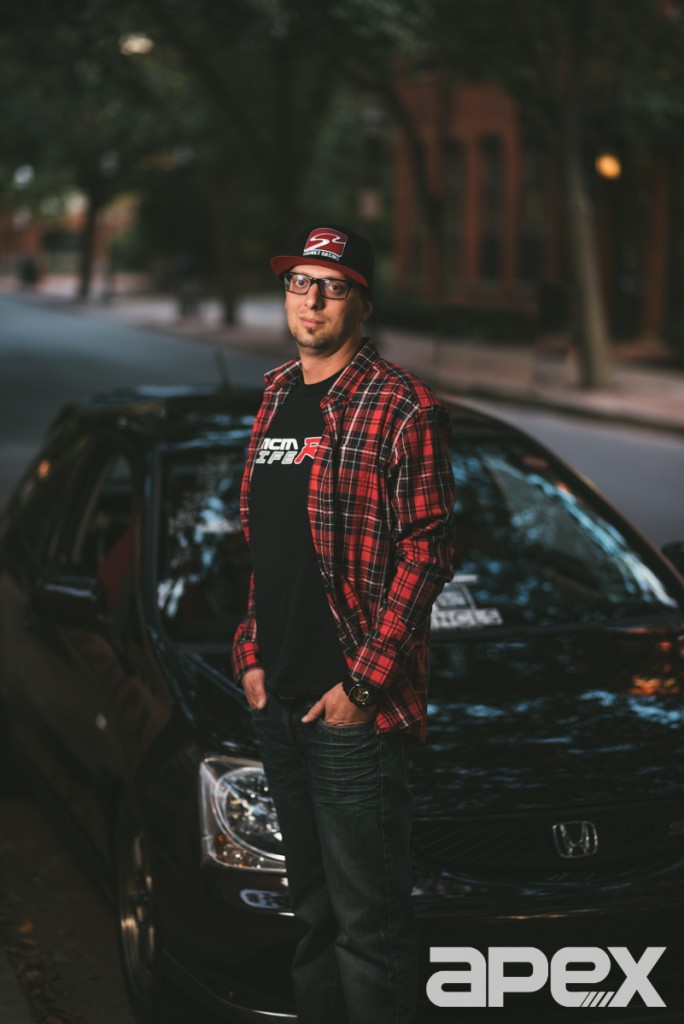 interested in, just to find out the car had been sold only hours before he arrived. Luckily, a silver '02 SI was traded in the same morning, and that was the start of the journey.
For the first few years, Chris had just been enjoying his fun and practical daily driver, but soon after the mod bug bit. He started with the usual initial modifications…a Tanabe exhaust and D2 coilovers. As things started to progress, it became obvious the stock K20a3 engine, powering the EP3 didn't cut it anymore. It was time to add some boost with a Jackson Racing supercharger with a 3.8" pulley, and 650cc RC injectors to provide the now necessary extra fueling. At this point the car was no longer a daily, and it was time to really take things to the next level.
In 2010 Chris began helping out at a body shop with his brother and started gaining the skills to transform the look of his Civic. The car was then painted in beautiful Root Beer Metallic, a factory color borrowed from the Honda Element SC. A few other exterior touches were added such as the Vis Racing carbon fiber front lip and Mugen style rear spoiler, also from Vis Racing.
Chris now had a car that was aggressive and fun to drive on country back roads and had the aesthetic appeal to back it up. In the following years he moved into a new house, which most importantly had a 30×48 garage space to work on his car. This is where the process of turning the engine bay into what is arguably the most impressive part of the build. A custom valve cover from Kokenda Kustoms was added and Chris started to delete any unsightly wires and hoses. There is absolutely no section of the engine bay that wasn't taken into consideration. After doing a full wire tuck and shaving the bay of any empty holes, Chris then went so far as to make his own custom brake lines. He then went on and replaced every nut and bolt with brand new OEM pieces. Finally, everything was cleaned and painted before the final installation.
In 2013 Chris' EP3 came out of the garage for the very first time since moving into his new house. It was time to start showing fellow enthusiasts all the hard work that had gone into the build at various shows, including Chris' own First Annual Street Scene show. The next year some final finishing touches were performed, such as having the supercharger sent out to be polished and adding a different valve cover, again from Kokenda Kustoms, only this time being a beautiful wood grain design. Around the same time, Chris began having troubles with the engine harness he had originally ordered, due to poor quality and customer service. The solution was the purchase of a wellbuilt Rywire harness that has been great ever since.
Fast-forward to the present, and more suspension upgrades were added along with some interior touches, including the custom Burberry headliner and suede Mugen steering wheel. The valve cover was changed again to the current graffiti design that will grab your attention even in a sea of well-built Hondas. It was also just recently that the 5 lug swap was done, and with the help of some friends, a set of immaculate Volk Racing TE37s wheels were purchased. The TE37s are a timeless, high quality forged wheel that you can never go wrong with. Chris' particular set measures 16×7" and are wrapped in super sticky Dunlop Direzza ZII Star Spec tires.
It should be clear by now that cars are more than just a hobby to Chris. Building a car to this level of perfection takes time, dedication, and a lot of skill. Lucky for us, the enthusiasts of Central NY, Chris wanted to bring together other people just like himself. After years of driving all over the Northeast going to car shows, he decided in the spring of 2012 it was time to put that same dedication he put into his own Honda build into holding a local meet. Many phone calls later, Chris had Quaker Steak and Lube on board willing to host the show, only to be rejected before anything was set in stone.
He persisted through the next winter with the planning to properly create the special event he was working so hard to hold. Chris knew from the start that the location of the event would play an important role in the overall atmosphere and success of the show, and eventually the search led him to Long Branch Park in Liverpool. It had the perfect, relaxing backdrop he was looking for. Armed with nothing more than a Facebook account to spread the word, and his minuscule amount of free time, Chris pulled off his dream of holding the first ever Street Scene in the summer of 2013, with over 200 cars in attendance.
The next two years the show grew exponentially, with over 700 cars attending in 2015. Chris says that the show cars came from all over, including Maryland, Illinois, North Carolina, and even Canada. It should also come as no surprise that Street Scene is the home of the Northeast EP3 meet, bringing in over 30 EP3 chassis Civics. In addition, it's all the little things at this show that make it such a joy to attend; for example, Chris' love for graffiti spawned the idea of the graffiti wall which is undoubtedly very entertaining to watch, and the idea of having the unique skateboard awards simply came from his love of skateboarding.
The planning for the show is a yearlong ordeal, with massive amounts of time and preparation to keep the show growing and keep us all coming back the each year wanting more. Chris says the days leading up to the show are extremely intense, "I'm normally running on little to no sleep, stressed out to the max knowing how much is on the line, but for some reason I keep doing it." Planning this truly impressive show is something Chris has never done in an effort to get rich. This is simply his passion and it has been executed to a level we should all aspire to. "I felt our local scene was lacking and that I shouldn't have to go out on a Friday or Saturday night to try and find other enthusiasts. We didn't have anything available to bring the newer generation car community together, so I stepped up to the plate"…and step up to the plate he did!
Story By: David Sblendorio
Photos By: Thomas Sblendorio
Street Scene Show Photos By: Jordan Polizzi