28th Annual Willys Reunion
---
Aurora, Ohio   May 21-22, 2021
Words & photos by Mike Mastracco

Jeep is such an iconic name like Coke, Ford, Xerox, it's been around since 1941, and recognized in most countries.  We all grew up with the Jeep brand, either we've owned a Jeep product, or a neighbor, relative or friend has owned one.
In the past, Jeeps were known for their rugged look, manners and of course their ride.  In the U.S. alone, Jeep sales were close to 1 million units in 2018 and again in 2019.  Many of us recognize the "Jeep" logo or the more recent logo where Jeep is spelled out above a grill that is encased by two circles that are to represent headlights.  Whatever logo you recognize, you know it's a Jeep.
Aurora, Ohio was host to the 28th annual Willys (Jeep) Reunion May 21-22, 2021.  I was given an invite from Dave, a friend, for the opportunity to attend this event and gladly accepted.  After about a five-and-a-half-hour drive, we arrived at our motel room which in turn will be a leisurely 15-minute drive to the Willys Reunion location.  After motel check in, we decided to dodge several lanes of traffic to cross over the busy raceway of State Route 14 for a few eats and a beer or two.  A short walk up the street led us to the "Hungry Moose" sports type bar and eatery, a very nice place indeed.  After filling up with some great food and cold beverages it was time to cross the NASCAR inspired road back to our motel.
Once the sun started to peek through our curtains it was time to get dressed and slide down to the breakfast area.  After coffee for starters, juice, cereal and such we headed to the resort area called The Bertram Inn & Conference Center.  On our trip there we saw many vintage vehicles in driveways, and on the side of buildings, from a 1960 El Camino, 1958-ish Ford truck, a low rider brightly painted VW Beatle and many more rarities.  It is always an enjoyable drive when the viewing involves vehicles from the past 70 or so years.


At the Annual Willys show there were vehicles from the mid 1940's to the early 1960's, while most were in the late 40's to the late 50's bracket.  All shows of this kind have unusual vehicles or rare limited production vehicles, this show was no exception.  One of the most memorable was a 1960 "274 Mule" a two cylinder 16 H.P. with a pull to start motor which the pull cord was on the opposite end of the vehicle where the motor was located.  A Military Mule or Mechanical Mule is a 4-wheel drive flat platform vehicle, gas powered that can carry up to 1,000 lbs. or so, and it was built for off road use.  The "Mule" was introduced in 1956.
There were many military vehicles there, each one different than the next.  These were either Willys MB or Ford GPW vehicles, both of these vehicles are commonly known as the Willys Jeep or just Jeep.  There was a wide assortment of Willys there including but not limited to a 1947 Empire Tractor made by Willys-Overland with a 60 H.P. Go-Devil motor.  This was a very rare find, only several seem to have survived the last 70 or so years.

What could be seen driving around during this event were a couple of Jeep Panel Delivery Trucks, also called Delivery Wagons, and a couple of unusual Jeep FC-170's (cab over pick up style vehicle with a bed).  I was able to see two rare Jeepsters (called early crossover vehicles or possibly the first SUV's) which were only produced from 1948-1950.  Several CJ2A's were being driven around the parking lot, also stake rack trucks, van type pick-up trucks, flatbed trucks, and a pick-up truck with a canopy for camping.  There were plenty of familiar looking "Jeeps" that started the all-purpose vehicle craze, M38's, CJ2A's, CJ3A's, CJV35's, with the newest vehicle there being a CJ5.

Friday evening, we were encouraged to stay for a pizza party with homemade ice cream for dessert.  Must have been 30 pizzas ordered with a variety of toppings, with soda and water for beverages.  One of the organizers of the event had a Power-Take-Off (PTO) on the back of his CJ Jeep.  This PTO was hooked to a pulley and a belt or two that powered a large wooden ice cream bucket as they are called.  While the Jeep was running at just above idle, the PTO rotated the belts and pulleys which turned the paddle to mix the ingredients for the final outcome of homemade ice cream for everyone to enjoy.
As with most events like this, there were vendors selling Jeep OEM parts, new as well as used parts, posters, mugs, clothing and a wide variety of sundries.  There was a food truck for our afternoon lunch that made a great BBQ sandwich, which also had drinks and sides available.  There were several take-a-ways such as Jeep souvenirs, goodie bags and such.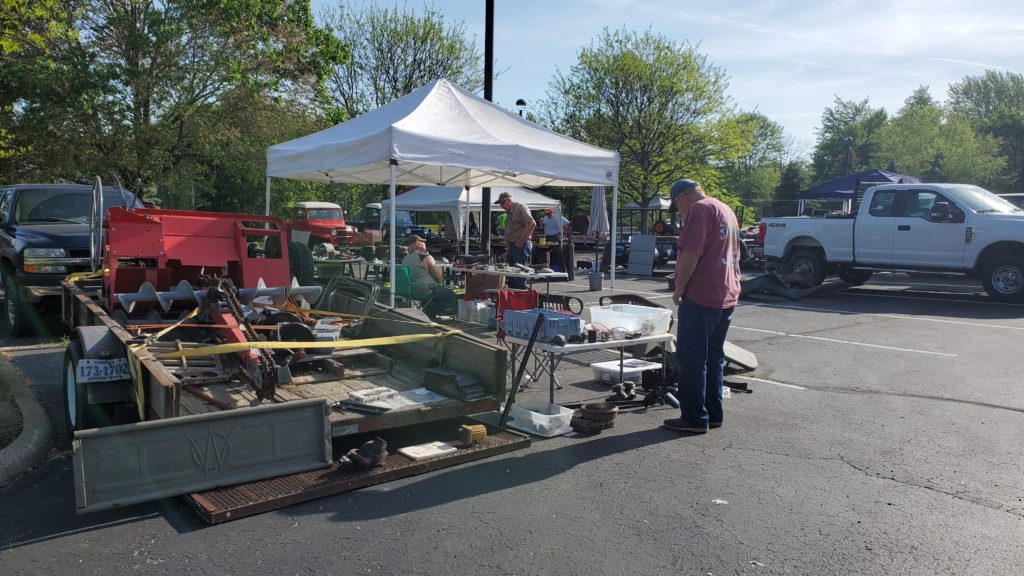 Many of these Jeeps were driven to the show, with some trailered to the parking lot then driven around the grounds.  It was great to see so many of them drive around the parking lot, they sounded so great, and these Jeeps looked so proud to strut their stuff 70 years or so after manufacture.  I even had a chat with a Military Jeep owner from small town south of Binghamton, NY.  Ohio, Pennsylvania, Indiana, West Virginia and Kentucky were some other states that were represented at this event.
It was a great weekend where being a previous Jeep CJ5 owner myself reminiscing about my times in the woods 4-wheeling, driving in 20-degree snowy weather with very little heat and a clothes dryer exhaust hose secured to my windshield for a defroster.  Thanks to Dave and his invite, without which I would have never enjoyed such a weekend with so many other Jeep enthusiasts.