Kaiser Darrin…The Crown Jewel
---
Words by Mike Mastracco and photos by Dalton Dobson:
   Kaiser Darrin, also known as the Kaiser Darrin 161 or in short terms as the "Darrin" was an American sports car designed by Howard "Dutch" Darrin and built by Kaiser Motors for the 1954 model year.  In this one year production run, a scantly 435 production Darrin's and six prototypes were built. This was the first American car equipped with a fiberglass body and doors that slid on tracks into the front fender wells.
The Darrin was conceived to compete head-to-head with European roadsters currently being imported to and sold in the United States in the post–World War II period.  Other domestic two-seat vehicles developed were the Ford Thunderbird and the Chevrolet Corvette.
The classic pictured here is owned by Carl Hering of Cayuga, NY.  This particular Darrin is the second he has owned and enjoyed. What drew Carl to this particular roadster is the color red.  Available Darrin colors at the time were Champagne (white), Yellow Satin, Pine Tint (green), and Red Sail. Red being the ultimate collector's color, as it is the rarest of the four colors as only 50 of these were ever produced.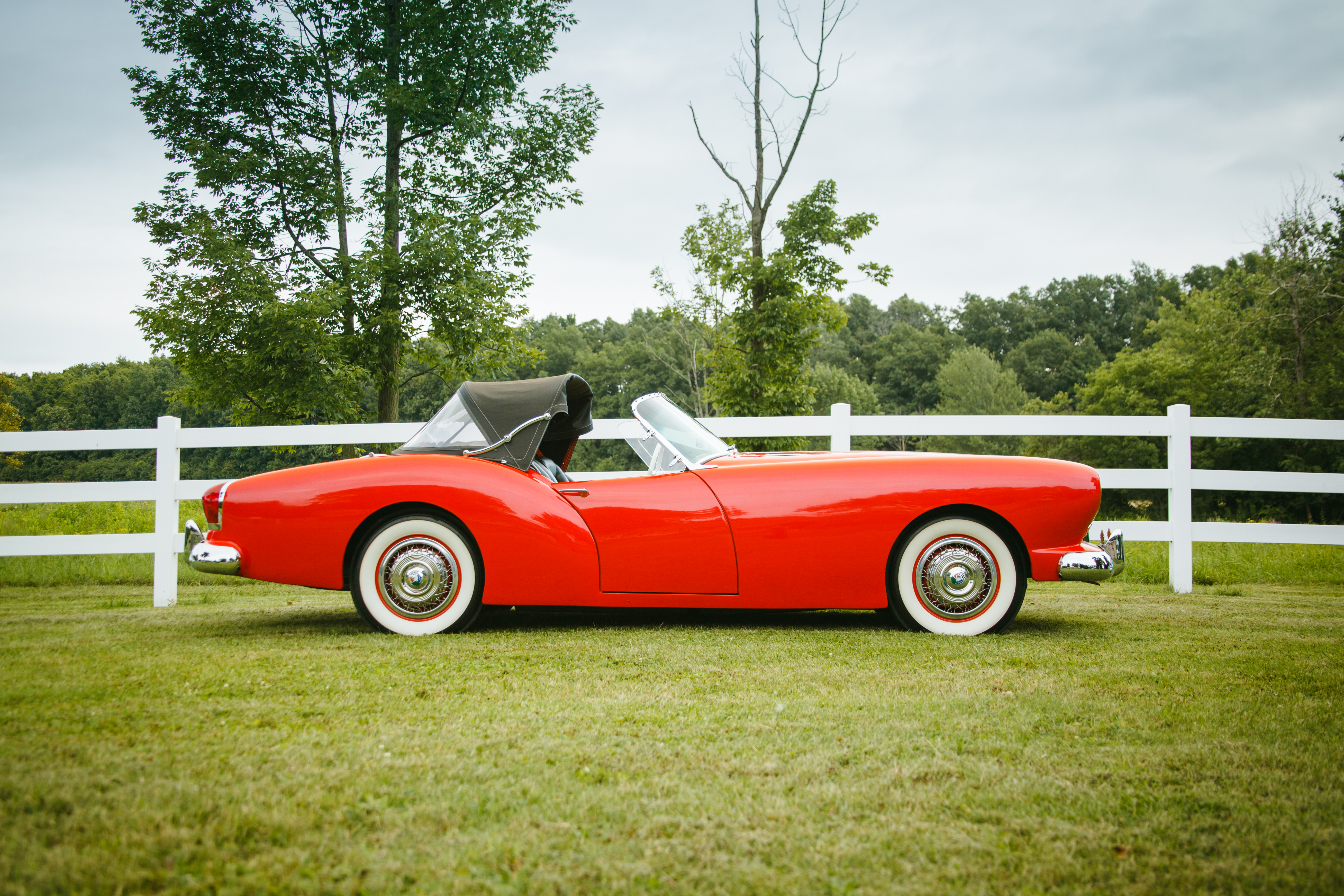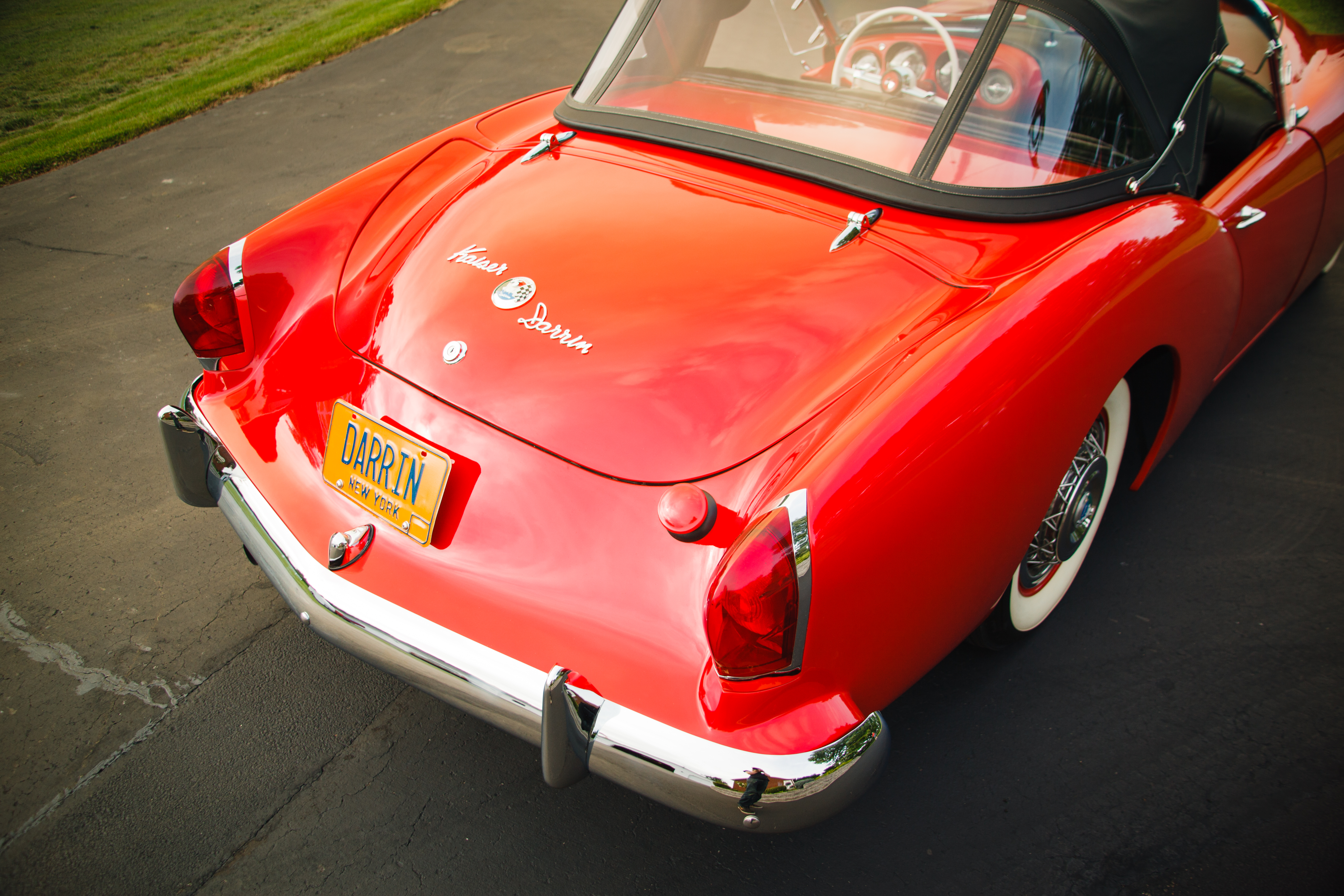 Carl learned to drive on the farm driving what his dad drove which were Kaisers and a Willys Jeep.  As a kid growing up he drove many Kaisers which stayed with him for years to come. Carl says he always liked older cars in his youth, and of course still does.  Carl's first car was a Kaiser Dragon, however he says if you are a Kaiser fan the car to have or the "Crown Jewel" was always the Kaiser Darrin. For Carl, that day came in the late 1970's when he found a Pine Tint Darrin in the Philadelphia area.  As much as he enjoyed this Pine Tint roadster it still was not red. In 1986 the unthinkable happened, Carl found a red Darrin in Western PA. Now this new automobile discovery put Carl in a tough predicament, a highly coveted red Darrin showed up for sale, but Carl wasn't sure if he would be able swing the purchase of the red Darrin and keep his Pine Tint Darrin.  This was a tough decision, but it had to be done in a timely manner. Ultimately Carl sold his Pine Green Darrin to make room for the Holy Grail, a red Kaiser Darrin.
Even though the Darrin was in nice condition it needed some fiberglass work to bring it up to what this car is worthy of.  Since ownership, Carl has done a frame off restoration, much of the work he completed himself. He started by taking the engine and transmission out, then the seats and much of the interior.  He also took off all the chrome along with all the accessories and attachments that enhanced the exterior and interior of the car. After all this he sent his Darrin to an expert in Buffalo, NY to touch up the fiberglass body as a refreshing was needed.  Once back, Carl was then ready to put his car back together, then a new top was in order to complete his project.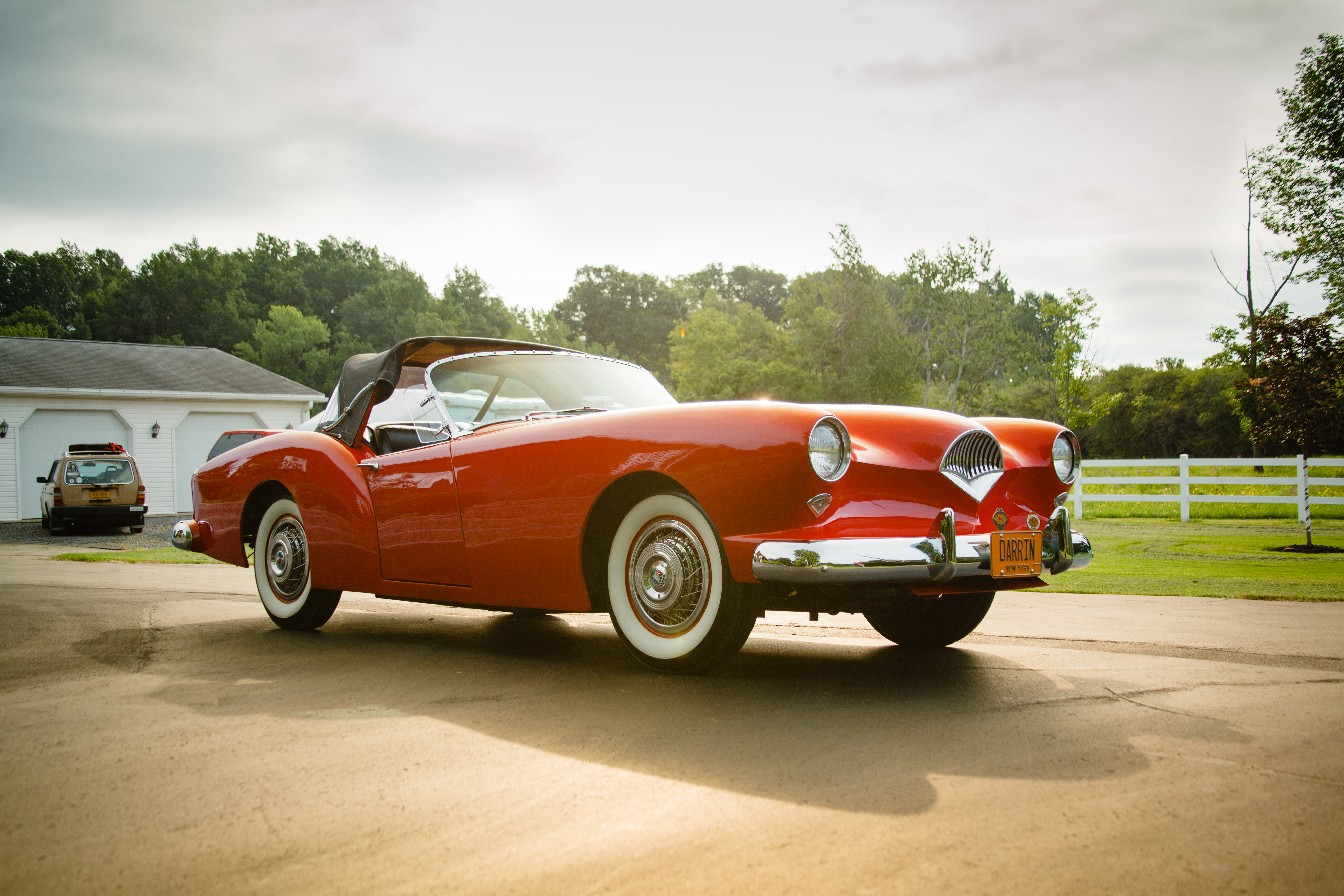 Carl's car weighs in at 2,150 lbs. and it is powered by a 161 cu in (2.6 L) F-head six cylinder producing 90 horsepower.  It has a 3-speed manual transmission with overdrive.
Howard "Dutch" Darrin the designer disliked conventional doors; he had taken out a patent on the sliding auto door concept in 1946.  To keep the door assembly as simple as possible, no side windows were built into them, instead of being hinged to open outward, these doors slid on tracks into the front fender wells behind the front wheels.  This entire front-end design on the whole considered by industry critics and writers as beautifully proportioned. Carl thinks so too.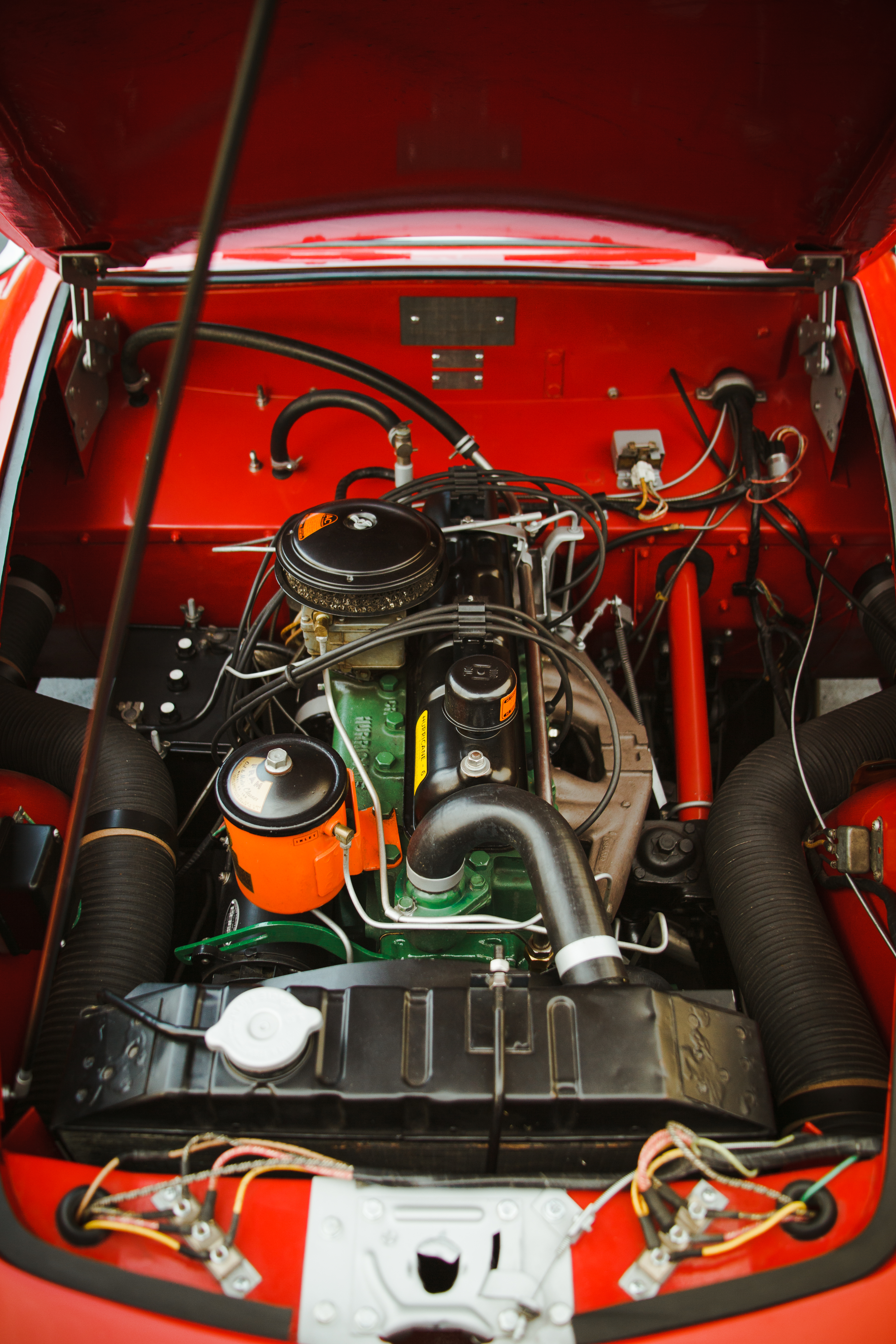 Carl has driven his red Darrin over four thousand miles since he has owned it.  He has entered the Darrin into Kaiser Frazer Owners Club national meets, the AACA Eastern Regional Fall Meet held in Hershey, PA, the Apex Invitational Fountain Elms show held in Utica, along with many local car shows within New York State.
Carl is a real Kaiser guy. He also owns a 1953 top of the line Kaiser Dragon.  The name Dragon came from the vinyl upholstery claimed to resemble dragon skin.  Another pride and joy is a 1952 Kaiser Manhattan Club Coupe which is only "1" of 263 made, and a 1951 Willys Jeepster.  Why a Jeepster? In 1953, Kaiser merged with Willys-Overland to form Willys Motors.
Carl is the Eastern Division Director of the "Kaiser Frazer Owners Club International" which includes the marques Kaiser, Henry J, and Willys.  The Eastern Division travels from the state of Maine to the state of Florida and all states in between. Each year the Kaiser Frazer Owners Club has a National Convention, meaning that every three years it is held in the Eastern Division which Carl oversees.  Carl has been known for traveling thousands of miles for a show or meet. His enjoyment comes from showing and more importantly driving his automobiles. For more information about Kaiser Frazer Owners Club International, visit their website at https://kfoci.com.
We at Apex Automotive Magazine wish Carl many more motoring miles in all his vehicles.