Dan Leone first caught the Honda bug in 1997 when his close friend and fellow Team MCM skateboard club member Chad introduced him to the scene. "I bought my first Honda in 1998, a Honda Civic EX coupe that that I still own to this day. I'll never part with it because it has so much sentimental value and brings back a lot of memories." Some of the parts of the coupe even made it into his black EH3 build.
When I asked Dan why he chose the EH3 as a canvas to build from he replied, "When I got into cars I didn't relate to domestic guys. Tuning imports was a completely new concept then (at least where I lived) and no one was into them. Everyone was talking crap about Hondas and it almost made me want to get into the scene even more. They are just a completely different approach to performance."
Before Dan owned this clean little hatch, it was his friend's car. His friend almost immediately stripped the car down and resprayed it from its OEM red color to its current black. The car was almost 100% perfect with the only major issue being a dent in the quarter panel that he fixed before the respray. Lacking the funds to modify the car, Dan's friend installed all the OEM parts back into the car and listed it for sale so he could fund his next project, a Honda S2000. Dan wanted the car badly and offered his friend a deal. He would put half down and pay him back over the next two years for the other half. Although there were plenty of people willing to buy the car in one whole shot, his buddy agreed to the terms because he knew how much the car meant to Dan. Dan kept his word and paid his friend back, and they are still great friends to this day.  
Wanting to keep the car clean and as factory looking as possible, Dan opted to restore the car to mostly OEM specs. However, many of the components were swapped to Japanese OEM specifications. So, while at first glance to a non-Honda enthusiast, this EH3 may look stock, it has plenty of work and passion behind it.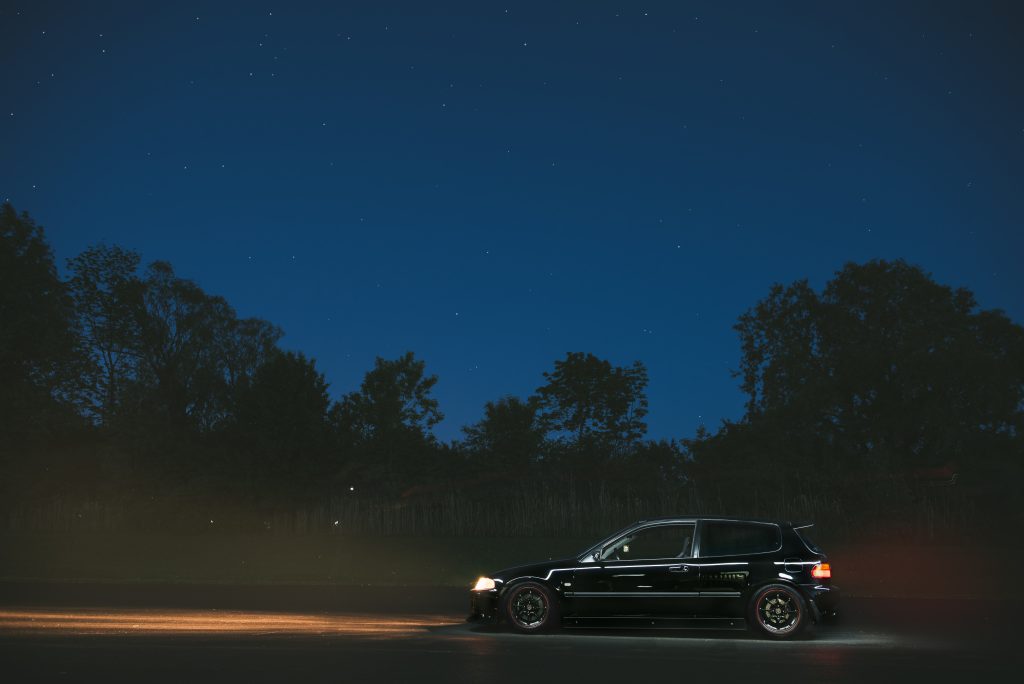 Now usually when you think of the word 'sports car' you almost always think of a coupe shape, so I asked Dan why he chose the more practical hatch version of the Honda Civic Si.
"I started off with coupes, but over time I liked the hatch because it was an underdog. The sheer fact it was a hatch and front wheel drive made it a total odd ball back in those days.
One thing I noticed right away with Dan's car is how clean it is. We live in a world of overly modified cars, huge wings, horrid body kits and plasti-dipped neon pink wheels – but Dan's super clean hatch seems to really stick out because of how tasteful it is. "Stance is everything. You can have great wheels, great mods and great paint but you need the correct stance with era specific wheels to really set your car apart and that's what I have done here. You should always try to pay respect to the cars homage and use era specific components to enhance the integrity of your build including subtle changes to make the car really stand out. I really love the body lines of the EH3 hatch. They still break my neck and I'm more apt to stop and look at a clean Honda hatch than a Ferrari. They just really do it for me personally."
Dan did most of the wrenching on his ride himself with the exception of the engine.  The current powerplant is a 200+hp B-Series that started life as a 1.8L and was punched out to a 2.1L. After a few tweaks to the engine Dan thinks power should be right around 230hp.
Currently this hatch is rocking a rear seat delete, a Recaro race bucket for the driver, US Integra type R front seat for the passenger, suspension, wheel and brake upgrades and even the roof liner has been removed to keep this naturally aspirated ride as light as possible.
Dan really enjoys going to the junk yard and finding all sorts of new parts for the car and is a self-admitted Honda hoarder. "Honda parts are getting out of control and the market is only getting crazier. I saw a set of Type-R OEM floor mats go for almost $900!."
One of Dan's favorite aspects of his car is the fact that he can swap out parts so easily if he gets bored. He currently has 4 sets of wheels and front bumpers that he will swap out when he gets sick of looking at a certain setup. He also likes going to meets and just plain driving the car, but admits that as he gets older, he has more responsibilities and it's hard to really be as active in the scene as he once was.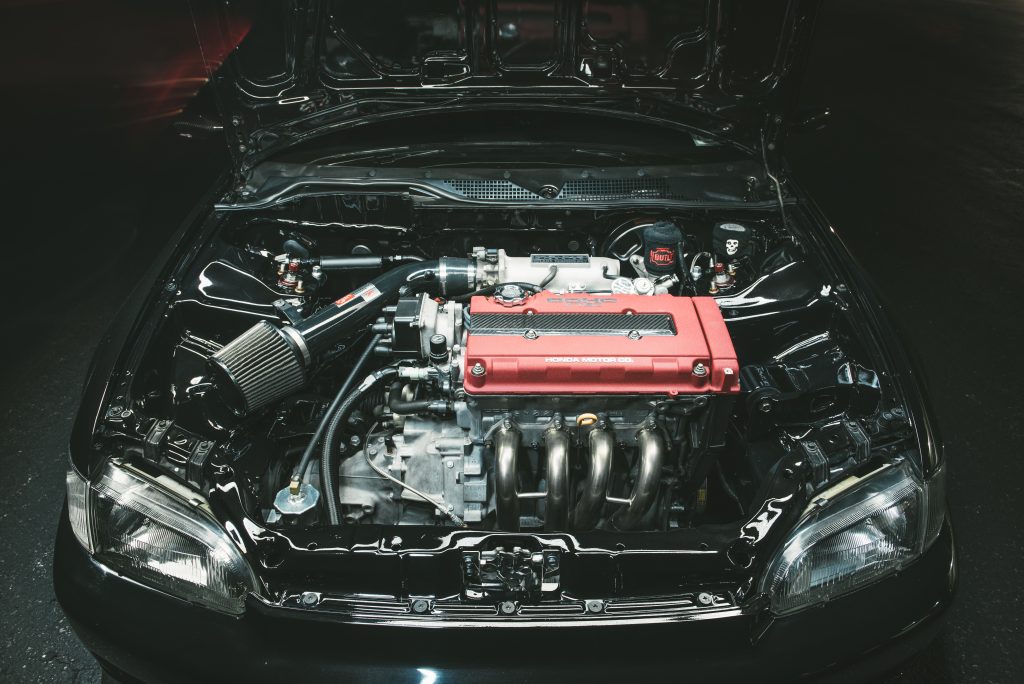 Dan plans on keeping this EH3 and eventually modifying his other ride, a 1994 Honda Civic DX hatchback. That will be more of a racecar that he will bring to SCCA events and compete with and not worry about the paint and other cosmetic issues as much.
We want to thank Dan for letting us check out his awesome little EH3 and can't wait to see what he does next!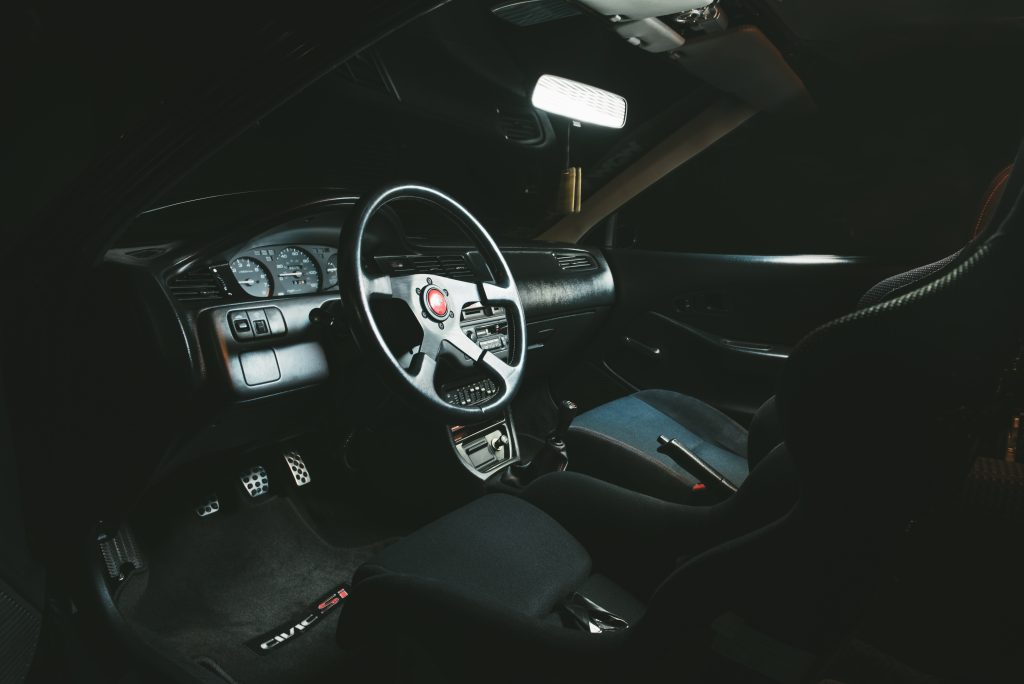 Words by Justin Palmer and photos by Thomas Sblendorio