Apex Automotive Magazine co-sponsored Corvette Cars & Coffee in Syracuse thanks to the support of Jeff Lyman, owner of Jeffrey's Auto Body.
There was a huge turnout of 100+ cars, mostly Corvettes, but not all. The weather was perfect, a beautiful sunny Saturday morning with temperatures in the mid-sixties. Upon arriving, my wife and I were warmly greeted by the president of the Syracuse Corvette Club, Jim Ennis, whose club has over 300 members from throughout Upstate NY.
A highlight of the show was the hourly raffle to win a ride in Jeff's crazy tricked 2015 Z06 Corvette. Just how crazy is this Z06?
720 hp on 100 octane racing fuel
Z07 track package
Michelin Cup 2 street legal slicks
Suspension highly capable to withstand 1.4 cornering G forces
Stops with ceramic Brembo brakes
The raffle winners were selected each hour and were treated to an energizing ride in Jeff's car. Unfortunately for us, nobody from the Apex crew won a ride.
Jeff races this car at the Watkins Glen Speedway under the guise of the Trackmasters program, an organization that provides high quality driver training and coaching. After talking with Jeff, this is the real deal in terms of really driving and pushing the limits of your car.
For those just starting with Trackmasters, there is a novice class. After much practice, coaching and dedication, you can move up through the different classes. Drivers are evaluated each step of the way and it's all about safety. If you are good enough, you can achieve the Open Class and drive solo on the track at Watkins Glen, which Jeff just recently achieved. It took 2 years, but now he can turn a lap at 2:04 at over 150 mph! Ok, where else can you legally drive over 150 mph?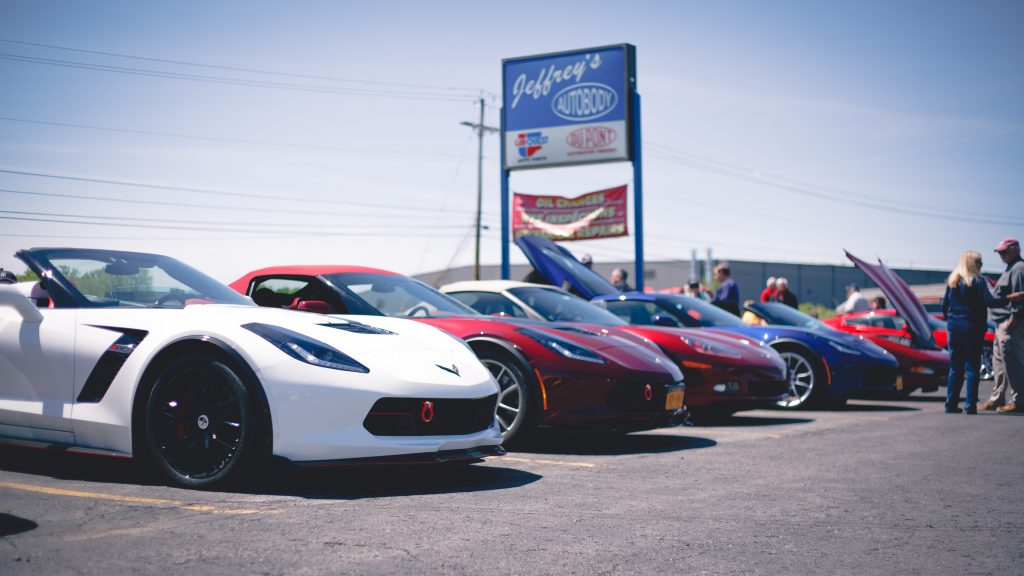 Jeffrey's Auto Body is a full spectrum repair shop that services over 1,000 cars per year and is a certified and recognized repair collision center for: GM, Ford, Hyundai, Chrysler, Fiat, Mopar, Nissan, Jeep, and Dodge…so check them out!
Words by Bob Sblendorio and photos by Dalton Dobson.