With over 200 go-kart victories and countless championships, Charlie Tibbitts is a driver's name to remember!  Charlie is only 12 years old and already has had an incredible racing career, and he is just getting started.  He has moved up this season, this time to the 602 Sportsman Division. Recently I had the pleasure of talking with Charlie and his proud parents, Chuck Tibbitts and Kim Scheri.
It all started when Charlie was just five years old and his dad, who had owned a race car for a while, asked his son if he wanted to race go-karts and his response was "I guess so…".  Charlie explained that his first year racing was "not too good" and he only won a few races.  As the years went on, however, he started to win races at many different tracks throughout New York State.  His dad, Chuck, pointed out that Charlie also won many "big" races like the King-of-Karting Series and the NY Dirt Kart Series.  In addition, he won the Northeast National at the Turkey Trot Speedway in Fort Edward, NY for three years in a row.  Charlie raced go-karts until he was ten, winning a lot of races and championships at many different tracks, adding that once he won $300 for a race and purchased a trampoline with the winnings.
The go-karts were fast, reaching top speeds of 60 mph, powered by engines that put out 20 hp.  His mom, Kim, said the go-karts were "a little scary at times" because of the speeds and the limited protection around the drivers.  She described a very scary crash on an asphalt track in Ballston Spa that happened when the wheels from another go-kart touched Charlie's.  The result was that his go-kart flipped over many times, but fortunately he was not injured.  
When Charlie turned 11, he moved up to the Xcel 600cc Modified series. The Xcel Modifieds are a scaled down version of a full-sized DIRT Modified car.  The cars are powered by a 600cc, 4-stroke motorcycle engine that puts out 110 hp. The cars weigh 900 lbs.  He raced at the I-88 Speedway in Afton, NY and at the Thunder Mountain Speedway in Lisle, NY.  His dad pointed out that, "He didn't race for points last year, but just to gain the experience and skills necessary to move up because his ultimate goal is to race in the Modified [big-block] Division someday."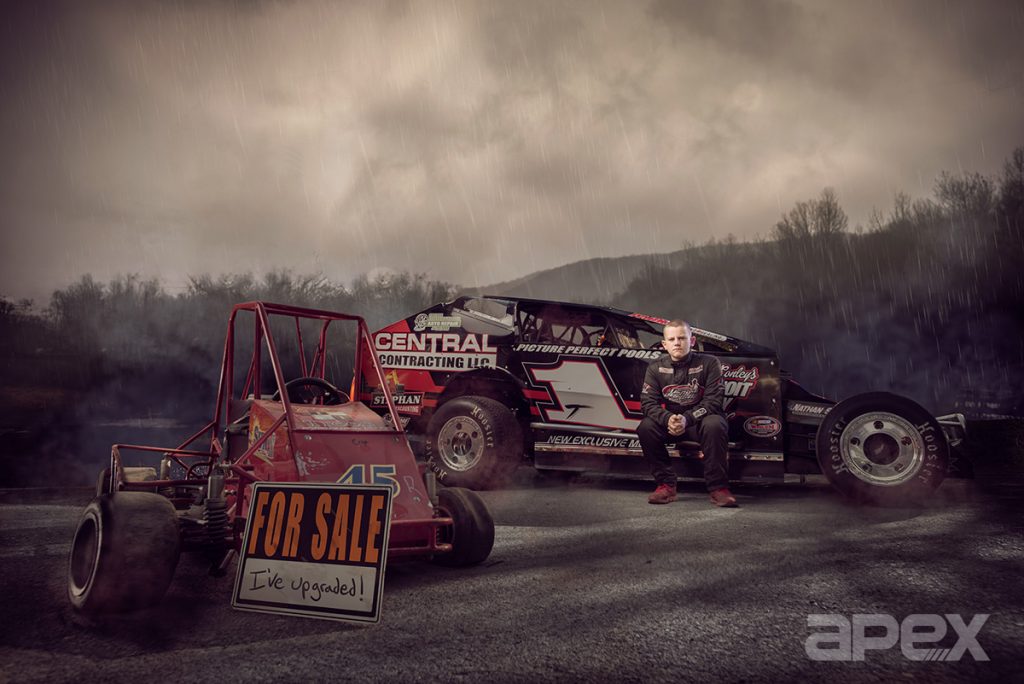 This year, at 12 years old and in 6th grade, Charlie is racing a 400 horsepower 602 Sportsman car at the Utica-Rome Speedway.  With only minimal experience driving the car (in a field near the shop), Charlie's first chance to really drive was opening night at the speedway.  Kim explained that he was very nervous that night, which made her very nervous too; "I wasn't used to seeing him so nervous because normally he is just so confident driving."  By the second week at the track, he was much more focused and less nervous.  She also explained that in some ways, even though the car is much more powerful and much faster, it has safety features that didn't exist in the go-kart series–such as a complete roll cage, the use of a HANS device (head restraint), and other safety features.
Charlie attends a school very close to the Utica-Rome Speedway.  He recently told some friends that he would be racing at the Speedway and now his friends want to come watch and cheer him on. In addition to racing, he is an accomplished wrestler, competing in wrestling competitions throughout the Northeast.  Just to name a few, Charlie is a two-time NYWAY State Champion, a NUWAY National Champion, a two-time Ohio Tournament of Champions place winner, an eight-time All-American and a four-time All-State.  He also mentioned that he would like to play modified football at school in the future.
Chuck explained that, for the most part, Charlie will be racing this season at the Utica-Rome Speedway in the 602 Sportsman Division.  The 602 Sportsman has a standard GM crate motor, which per the rules for that division, cannot be modified.  The purpose of utilizing a crate motor is to keep the overall cost of the car down…at least somewhat.  A crate motor costs $4,000, which is much less than the motors used in the Open Sportsman Division.  Even with that, it is very expensive to assemble and fully prepare a car for the race track, requiring sponsors to help defray some of the cost.  Chuck also went on to say that the 602 Sportsman is becoming very popular. The Utica-Rome Speedway has several cars in that division, which makes for some exciting racing.
So what does it take to put a race car and race team together?  Chuck explained that it requires many talented and highly skilled people that volunteer countless hours to make everything happen.  The team includes Mike Walton, Mason Olmstead, Brett Rounsville, Chris Tibbitts and others.  There is also the financial aspect of running a race team.  The cost of building Charlie's car was about $60,000 and there are about 18 sponsors that help with the cost.  Primary sponsors are Fastline Performance, Extreme Speed and Performance, and Land Designs Custom Graphics. If you would like to check out all the sponsors and follow the team activities, go to Charles Tibbitts Racing on Facebook.
Folks in the CNY area are very fortunate to have several race tracks available within a relatively short drive.  The drivers and teams compete every week in a display of some amazing talent and skill.  If you would like to see Charlie at the Utica-Rome Speedway (in Vernon, NY), racing is every Sunday evening.
Story: Bob Sblendorio
Photos: Thomas Sblendorio