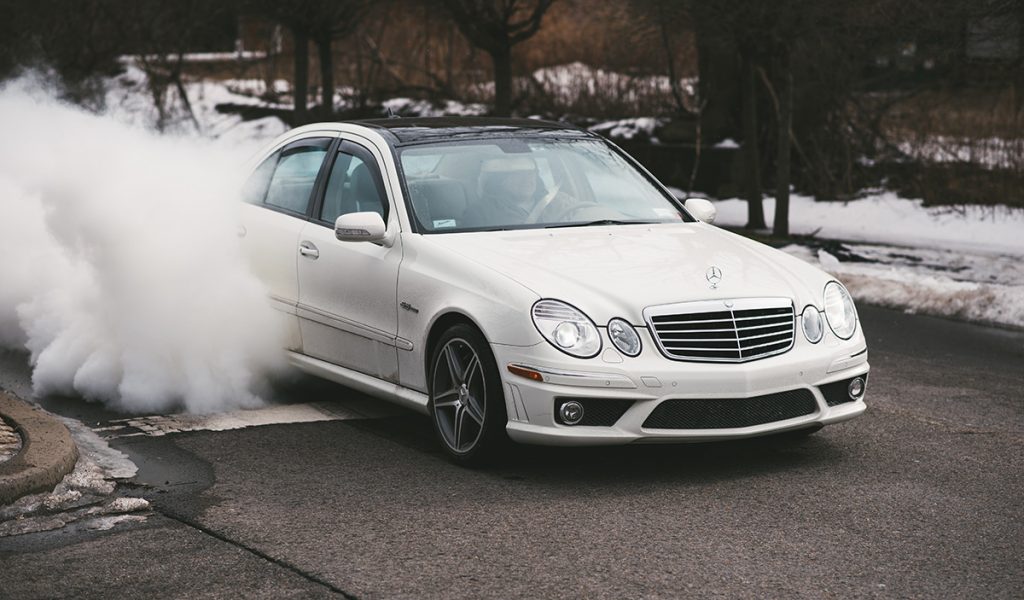 The 2007 Mercedes-Benz E63 AMG is a hidden gem sleeper sedan with super car power. You get all the amenities Mercedes has to offer along with a monster V8 under the hood.  It is built for speed and has a MSRP as much as a house when purchased new, but you can now have one of these bad boys for about the same price as a new sub-compact.  
At first glance, you may think this is just a plain old E-Class Mercedes. Once you give it a closer look, you get to see the many features that make you realize it's quite a bit more unique.  
On the outside, you notice its more aggressive styling compared to the base sedan. It has sporty 18" staggered 5-spoke wheels you can peek through to see its large drilled and slotted rotors. The lower half is fitted with a complete aerodynamic body kit which includes a trunk lid spoiler and smaller mirrors for less drag when you're on the Autobahn or heading to Starbucks. In addition to the menacing looks you'll get, you will also see a badge on each fender that notifies other drivers not to mess with you at a traffic light; 6.3 AMG.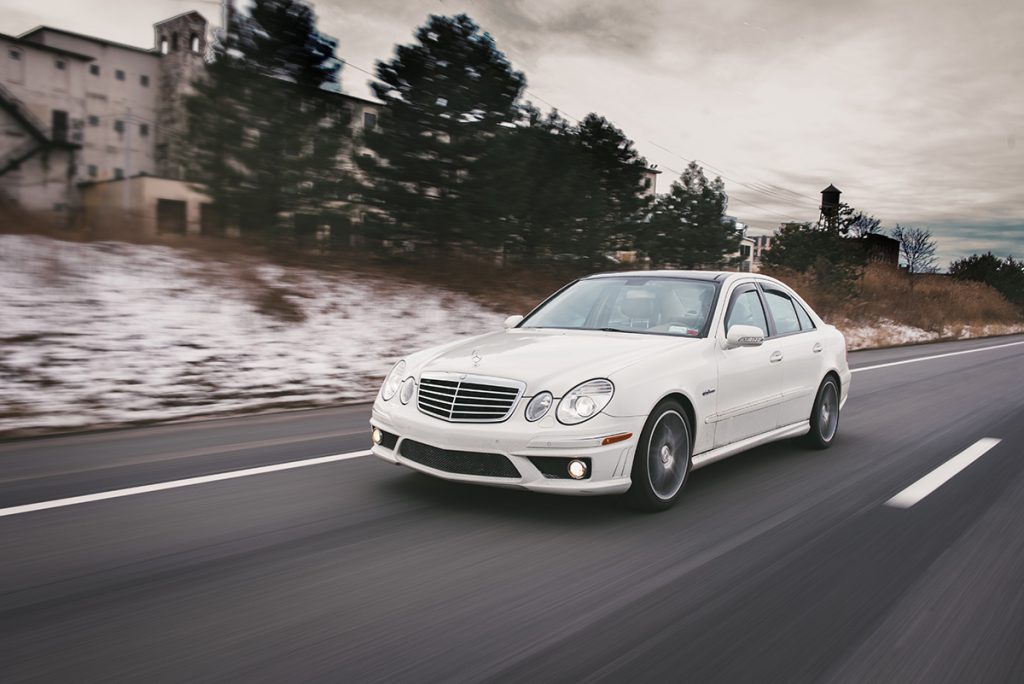 Okay, the 6.3 is referring to the engine, but under the hood is actually a 6.2L V8 that's hand built and makes 507hp/465ft lbs of torque. Why they did that, who knows, but at the same it doesn't matter.   Paired up with its buttery smooth 7-speed automatic transmission (with paddle shifters) it rockets this 4,000 pound sedan to 60 in 4.4 seconds. Its handling and ride are both excellent for its size thanks to its tuned Airmatic suspension, exclusive to this model. To top it off, it's also quite a rare car. In 2007, 1,353 sedans were imported to the United States. It was even available as a station wagon, but you'd be hard pressed to find one with only 67 of these made available to consumers. This sedan had a sticker price just shy of $95,000. If you check today it has a retail price right around $23,000. Hello, depreciation.
What can I say about the interior? It's a Mercedes-Benz through and through. It offers comfortable perforated leather seating along with every possible power option. Inside it is extremely quiet at any speed, until you hit the gas.
This particular car is owned by Grant Gilman of Sauquoit, NY.  He was in the market for something fast, practical, sporty, and priced to sell. Being familiar with anything Mercedes (as he owned a few in his day), he set out to find a pristine 2007 E63 with low miles. Unfortunately, he couldn't find one locally so he set out on the information super highway and located it in Tennessee. It was in the color he wanted with only 60,000 miles. Instead of heading to TN to check the car out, he had a 3rd party inspector look over the car and report back to him to save time. Satisfied with the results he purchased the car and had it shipped to NY.
What Grant likes most about the car is that it's a sleeper and practical enough that you can drive every day. He drives it all year round without checking the weather forecast. I don't think you can tell by the pictures, but this thing actually has snow tires on it.
The E63 has a lot of things going for it. It's fast, comfortable and now reasonably priced. On any given summer day you're likely to see a Corvette or Mustang, but I doubt you'll ever see an E63 around here, unless it's Grant's.
Story: Mike Potaczala
Photos: Thomas Sblendorio