The 2016 Volvo XC90 received its first full redesign since it made its debut back in 2003. It has retained all of the original safety features that Volvo is known for, while managing to bring a whole new level of luxury and refinement to the road.
From the outside, the XC90 is pristine from every angle; compared to the outgoing model it has a sportier, more aggressive design. I am impressed with its sleek looking front grill, LED headlamps, and optional 20" alloy multi-spoke wheels. I've always said that this was one of the nicest looking vehicles available to consumers.  If you look closely you can spot many cameras and sensors that have been strategically placed throughout the exterior. The sensors are designed for pedestrian and cyclist detection, as well as to provide a 360-degree view for backing up and to support the lane departure warning system.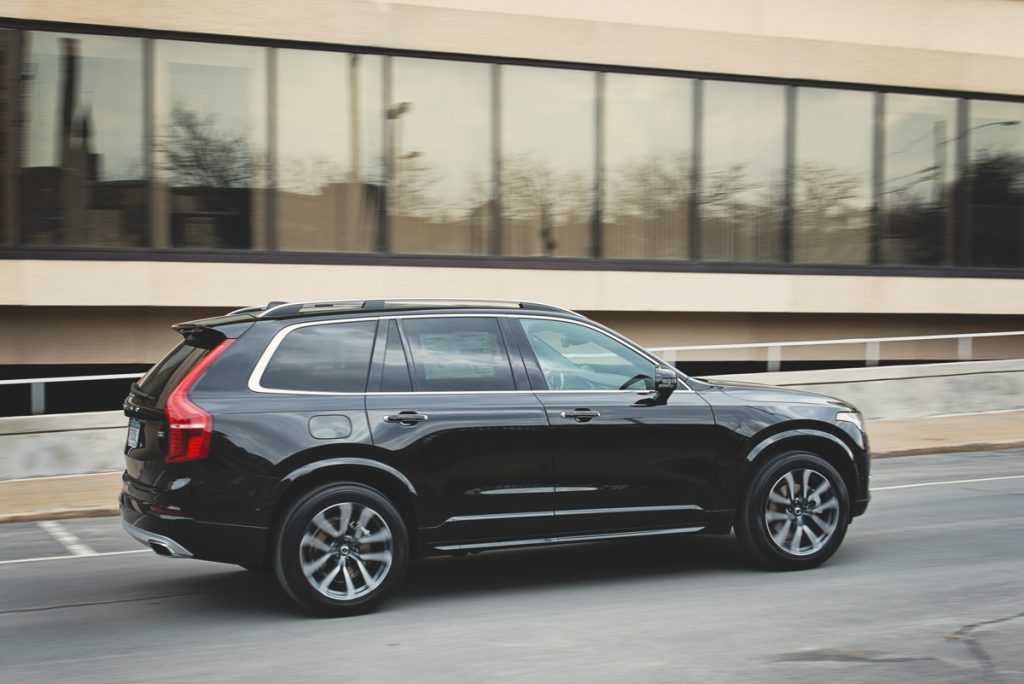 The XC90 is approximately 200 pounds lighter than its predecessor, weighing in at close to 4,400 pounds. It doesn't feel that heavy thanks to its all-new 2.0 liter in-line 4 cylinder twin charged engine; a standard feature available in this T6 AWD Momentum trim level. It has a supercharger and a direct-injection turbo which helps it produce 316 hp and 295 lb/ft torque, averaging about 24 mpg. It's no slouch when accelerating from a stop or overtaking a slow poke on the highway, either; however, this vehicle is no rocket by any means.  The base models get a 2.0 liter turbo-charged 4 cylinder that makes 250 hp and 258 lb/ft torque. Either engine is paired with an 8-speed automatic transmission. I found the shifts to be very smooth and it didn't appear as though it had an issue transitioning into the appropriate gear.
Driving the XC90 around town helps you to realize just how bad of a driver you actually are. As referenced earlier, the safety features ensure that you stay in your lane and at a safe distance from the car in front of you. If you go outside your boundaries there are lights and audio indicators to get your attention (a scenario that I experienced more than once while on my joyride). I found the ride to be firm, which I prefer, but there are five different settings available to adjust the suspension to fit your unique driving style.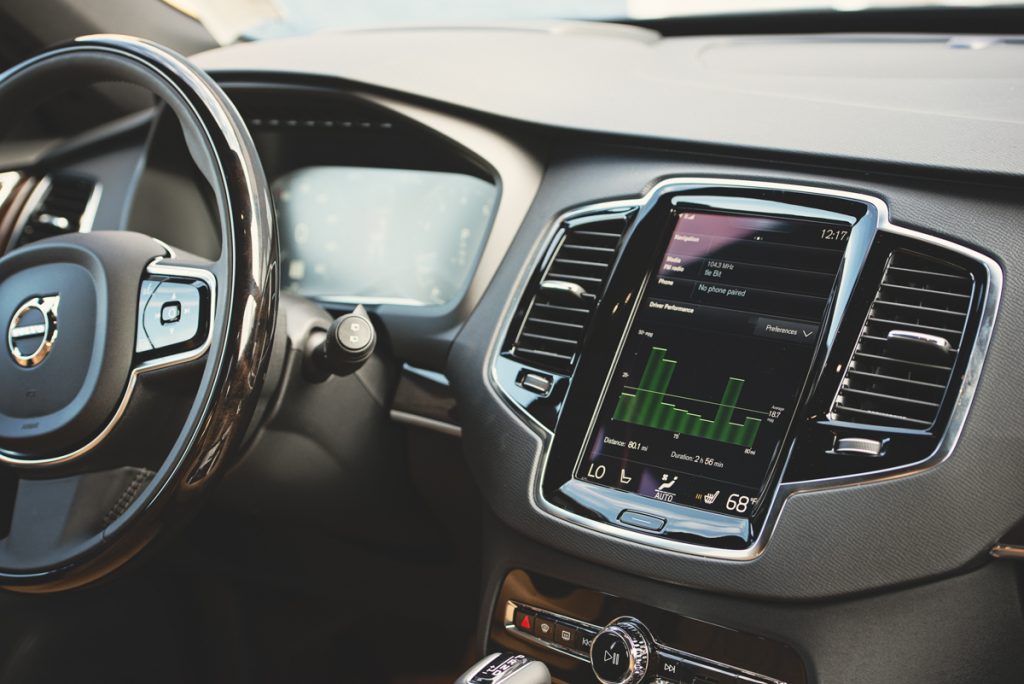 My favorite part of the XC90 was the practical and luxurious interior. It's definitely one of the most up-to-date models with respect to the technology features available. If you know how to navigate through a smart phone or tablet, then you won't have an issue using the 9" infotainment screen. You can shuffle through radio, temperature, navigation, and ride settings. You won't find many buttons cluttering the dash and only one diamond cut knob for the radio. The instrument panel is also an LCD screen that is very easy to read.  Everything inside feels nice to the touch with a high build quality.  You can barely hear the engine or any outside road noise. The heated and cooled leather seats are very comfortable, with seating for seven.  The Swedish flags sewn onto the seats and the child booster seat in the middle row are also nice bonus accent features. Had the weather permitted, I would have also put the dual panoramic moon roof to the test.
Just a reminder on its Volvo roots, this XC90 has also received the Insurance Institute for Highway Safety's (IIHS) top safety pick, getting the highest possible rating. It also received Motor Trend Magazine's SUV of the Year Award for 2016 (not that it means anything to us guys at APEX Auto Magazine).
Pricing starts at about $43,950 for the base model. Our T6 AWD Momentum trim came in at $59,030 with its bigger engine, AWD, technology and safety packages.
I would like to send a special thank you to Sales Manager Bob Narracci and the team from Alan Byer Foreign Auto of Utica, NY. If you're interested in Volvo, new or pre-owned, you can stop by their newly renovated dealership located at 5622 Horatio Street.
Story: Mike Potaczala
Photos: Jordan Polizzi