The Little Truck That Could
---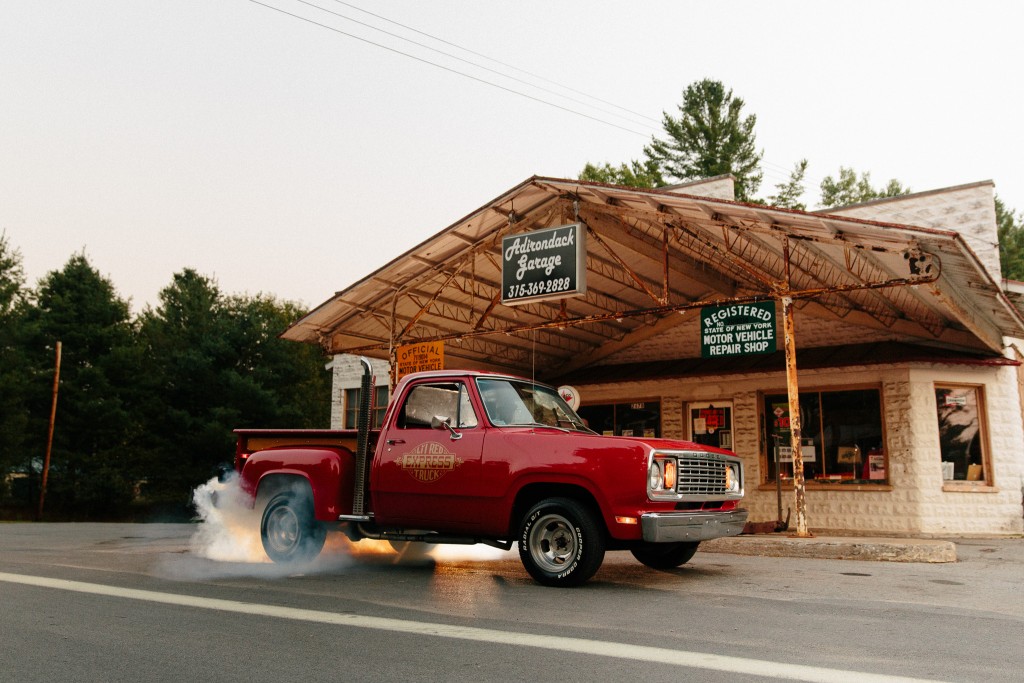 In the late 1970's America was going through a lot of changes. Strict government regulations slowly sucked the life out of the muscle car by forcing manufacturers to install primitive pollution control devices that really hurt the performance of otherwise potent power plants. By 1978 the muscle car had all but died. Dodge however, had a different game plan up its sleeve. While cars had been hit hard with regulations, commercial vehicles remained largely unaffected, at least at that point. They decided to create a very unique machine, the Dodge Little Red Express, a high performance take on their popular work truck. With a 225hp 360 cubic inch small block, a four barrel, a beefed up 727 transmission, hemi style mufflers, unique wooden bed inserts and dual stacked exhausts, this wasn't your grandfather's Dodge Ram. It was definitely a standout truck in its day, and believe it or not was the fastest American made production vehicle in 1978.
Seth Knoller's 1978 Dodge Little Red Express came into his life at the age of 6, when his dad purchased the truck and parked it. It was in an unfinished state and he didn't have the time to fully restore it. In 2007, when Seth was 19 and finally had enough time and cash, he decided it was time – the truck finally was ready to be restored.  "It was rough, but in less than 24 hours of taking it out of the garage, I had it running and drove it 75 miles to Old Forge; it hadn't been on the road since 1987."
Seth eventually went through the whole truck. Fortunately, he works as a professional painter at a local shop, and had plenty of experience taking on these types of projects. He restored the truck to original specifications. It's definitely the kind of vehicle that stands out in the crowd of otherwise mundane work trucks designed to do anything but look interesting. This truck was built with performance in mind and it looks the part. With big shiny smoke stacks, GR60x15 raised letter tires on 7 inch chrome wheels up front, and LR60x15 on 8 inch chrome wheels on the rear, there is no doubt that this truck is all about speed.
Upon start up, the small block snarls to life with a lopey idle and a true muscle car rumble. It sounds amazing and what's even more impressive is Seth says the exhaust is completely stock.
Although 225hp might seem meager compared to cars like the 2016 Hellcat with well in excess of 700hp straight off the factory line, you have to remember that these small blocks made torque and a healthy dose of it at around 300 ft/lbs.  In 1978 the Chevy Corvette was less that 200hp to put things in perspective and this little truck could roast its tires all day long. It was also extremely rare with only about 2,188 being built in 1978 and 5,118 in 1979.
The late 1970's may have been a bad era for American muscle, but there is no doubt that the Little Red Express is a true muscle machine.