Joshua and Joseph Amodio have always been hardworking individuals. From a very young age, they helped repair and maintain vehicles at their father's humble shop. They developed a passion for not only all things automotive, but doing things right the first time early on. "I found myself always fixing jobs that were not done correctly, or just very sloppy in general. I get satisfaction in knowing that I did the neatest job possible before I return a car to the customer, like it was my own car, and I know Josh is the same way", says Joseph.
Soon after graduating high school, Joseph decided to go to WyoTech, in Wyoming, to further his automotive experience. There, he was exposed to a variety of things he already knew quite a bit about from working in his father's shop, but also quickly expanded his skill-set into upholstery and body work. Believe it or not, the program was originally developed for prisoners many years ago, and still maintained strict codes and standards that students must adhere to in order to pass. This experience instilled even more of a drive for perfection in Joseph.
Joseph's brother, Joshua, who is a few years younger, would later go on and receive a degree in criminal justice. Joshua, however, never left the automotive passion behind. He was always working on cars with his brother and pushing the boundaries to learn new things.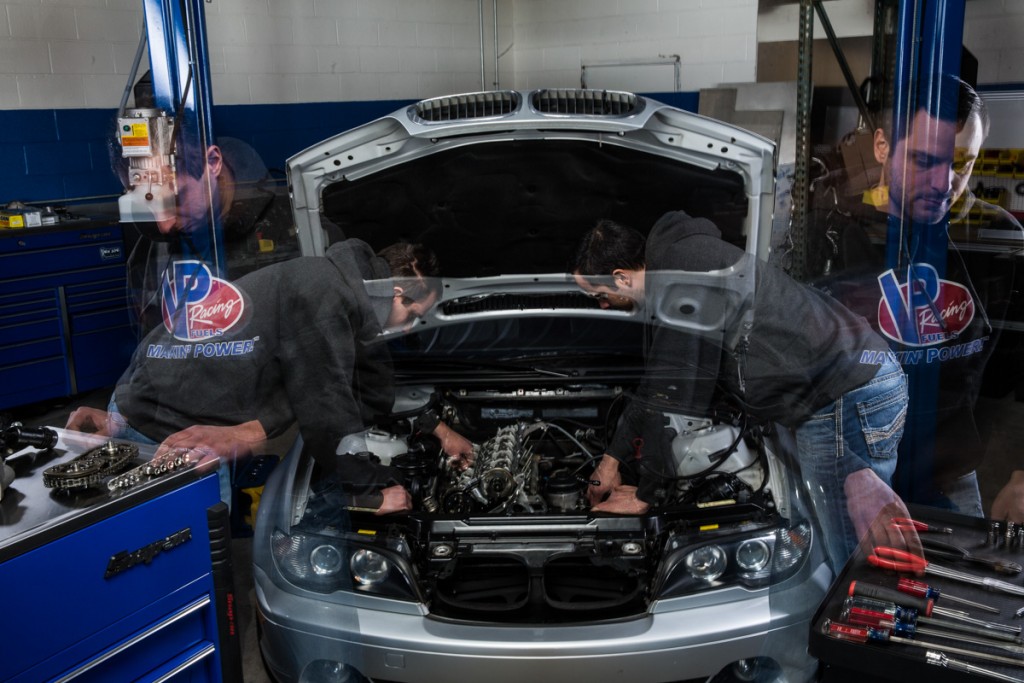 New Age Hotrods, as it stands today, all started from Joseph's 1993 BMW 318i and his brother's Fox body Mustang GT. In a quest to beat his younger brother's V8 powered muscle car power output, he decided it would be interesting to do a LS conversion on the car. At the time, no one was making LS conversion kits for BMWs. The BMW 's lightweight and nimble chassis, paired with the potent power and reliability of a GM LS engine, seemed like a perfect match.
Joseph was then working at Metal Parts Manufacturing (MPM) in Remsen, NY operating CNC and milling machines which gave him the experience of making parts. After three weeks of test fitting and fabricating parts, the brothers completed the swap. "The car was a rocket. It ran really well. Surprised a lot of corvette owners", laughed Joe.
At that point, they felt that they might be onto something and decided to launch New Age Hotrods. Joseph created a logo and a website and they started to build these LS conversion kits after they got home from their day jobs. "Lots of 12-13 hour days, but we did it. We really wanted this to work." And it did; they began to ship orders out all over the country and even the world.
Not long after things began to really pick up for the brothers, Joseph received an exciting career opportunity. He was offered a position with American Motor-Sports Group, Inc. He ended up on the road traveling and gaining experience in automotive motor-sports marketing while Joshua began working at a local dealership in the parts department. During this period, New Age Hotrods did not produce many parts. After a year on the road, Joseph came back full bore and got back into the groove of things.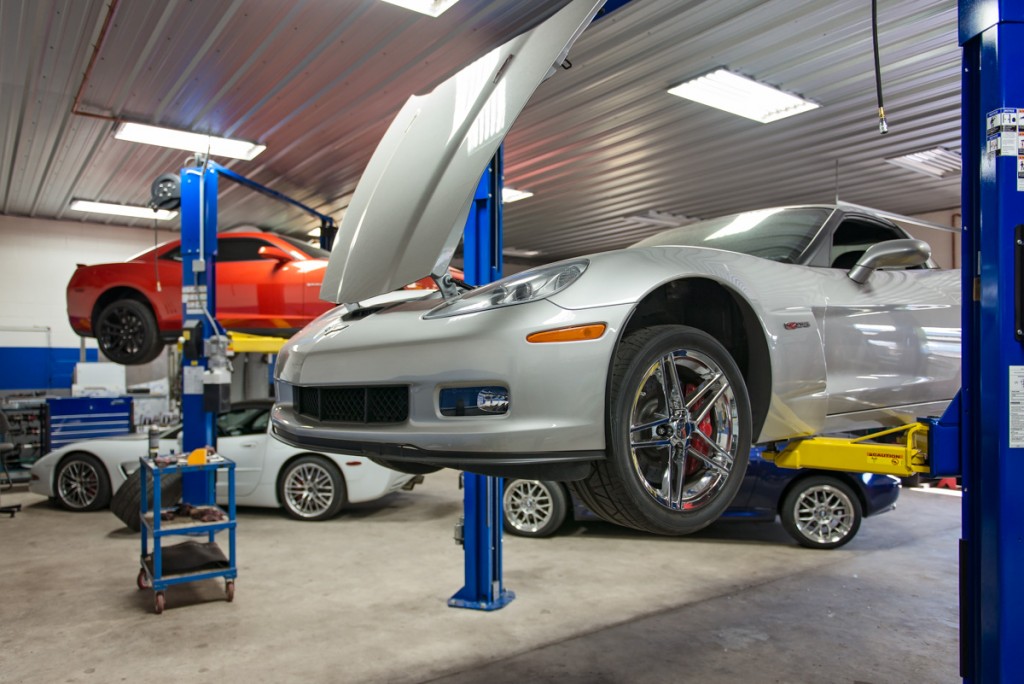 At that point, they were working out of their father's garage still making conversion kits, but servicing cars and working on custom builds became their main source of income.
One day, they received a phone call from Carl Nadeau, a French Canadian drift car driver, drift instructor, and automotive TV show personality well known in Canada. He happened to stumble across their website looking for a BMW LS conversion kit. Carl expressed his frustrations with the short wheelbase Pontiac Solstice they were racing at the time, and explained his interest in working with New Age Hotrods to do a LS conversion on a BMW drift car for him. The Amodio brothers immediately took Carl up on his offer and drove out to Canada to assist him and his race team. Over the next year, the combination of LS power and BMW handling proved to be a winning combination, as Carl continued to take victory after victory at each event.
After a year of working closely with Carl and his drift team and further developing and pushing the limits of their products, the Amodio brothers set out to open a brand new garage and expand their offerings in 2011.
Located off Commercial Drive (26 Garden Street, New York Mills, NY), the 7,800 sq ft building features four bays and lifts and a state-of-the-art Land and Sea DYNO-mite dynamometer. This isn't your average shop and one thing you notice right away is just how clean their work area is. Everything is brand new and organized. You could practically eat off the freshly polished floor.
Each of their blue tool boxes are neatly organized and clearly laid out. You get a real sense of OCD being around the shop and that's not a bad thing, especially when someone is working on your prized possession.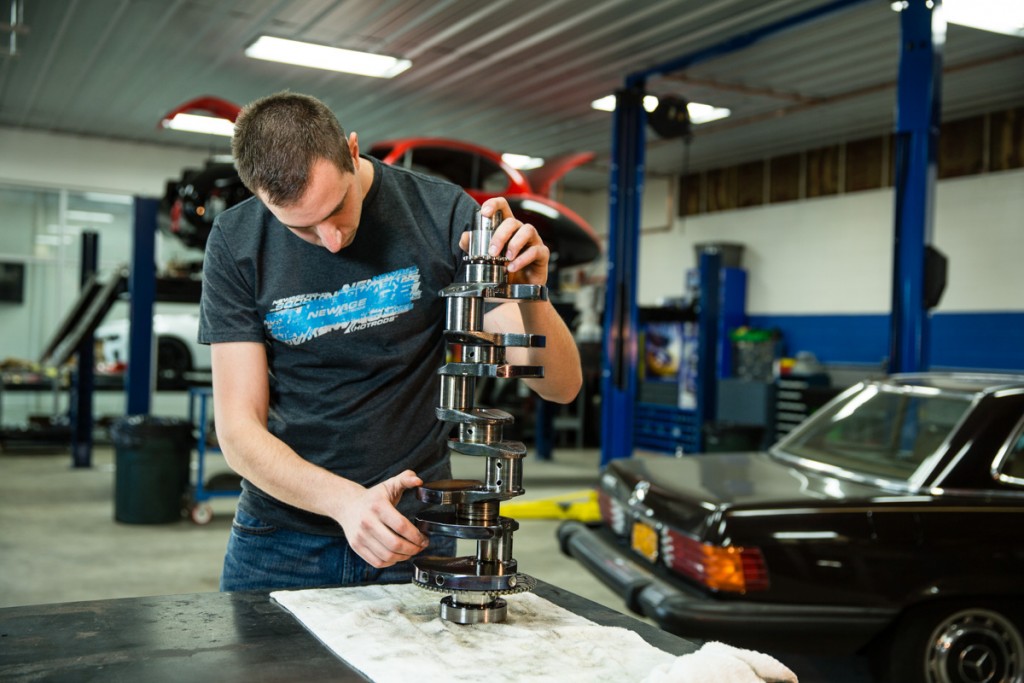 Stop in on any given workday, and you will see the bays filled with everything from Z06 Corvettes, Dodge Vipers, vintage sports cars, and high-end import luxury cars like Ferraris and Bugattis. It's clear that they love what they do and are proud of the shop they have built. "We can help with any customization needs and work with our clients on their build-or plan" says Joshua.  "Many choose to build their vehicles in phases and some want a whole build-out and do it all at once." They can l help assist customers decide what products best fit their needs and can either make the parts in-house or order quality parts that assure that job will be done right. "Nothing leaves our shop until it's 100% and we really pride ourselves on that", says Joshua.

One of the highlights of their building is definitely their incredible dyno cell. Their NASCAR proven DYNO-mite rear-wheel drive dynamometer is equipped with a massive venting system and is capable of simulating true to life driving dynamics. Many tuners will simply set the software to read at a colder temperature to give deceptive horsepower readings, but not these guys. They have their calibration software linked to the weather station and receive live in-the-moment updates to ensure the most accurate results. The eddy-current load bearing dyno can handle up to 2,000 hp and is running a 50,000 cfm fan. Those are impressive stats and you'll be hard pressed to find another shop in the northeast US with this caliber of equipment. When installing power adders like superchargers, pulleys, meth, and intake/exhaust systems, it is very important you can tune the car in the most real to life way — and nothing gets better than this.
"Tuning your car is only part of the performance puzzle", says Joshua, whether it's a supercharger, custom built exhaust, custom tune, headers, custom ground cam, engine swaps, electrical work, suspension upgrades, or even full-out ground-up builds, there is really nothing the brothers  haven't already done.
As a lifelong sports car fanatic myself, I was most impressed with their broad knowledge of vehicles. They manage collections that feature vintage Ferraris, Fiats, Mercedes, and Lamborghinis, but also service modern vehicles. It's amazing the range of clients they are working with. One day they might be installing a cam in a Camaro SS and the next starting a LS conversion on a vintage Jaguar Coupe.
One thing is very obvious, these guys are meticulous and the real deal. If you want someone with a ton of experience on practically every element of all things automotive and attention to detail is your thing, look no further.
I asked Joseph what he would say to a young person aspiring to work at a similar shop or even start their own. Joseph advised, "This is a very rewarding industry and I truly enjoy doing what I do every day. You have to work extremely hard and push yourself to learn new things, as this field is constantly advancing. You have to be dedicated. When we started, I was working 15-18 hour days every day. And some days I'm still here working into the night. Getting to this level wasn't easy. Pour your heart and soul into what you do, and you will get the type of clients you want to work with and let your work speak for itself. Just keep at it and don't settle for average."
If you have a question about what New Age Hotrods can do for your current or next custom build, or simply want more performance out of your early or late model domestic or high end import, you can check them out at www.nahrods.com.