Kenny Wallace Dirt Racing Experience
---
You never quite forget that first smell of race gas, mixed with the searing sound of a big block modified at full song and with a touch of burnt rubber.  I was all of 12 years old in 1995 when I watched Brett Hearn hold off Joe Plazek at the Moody Mile to win the Wheels 300; ironically the same year I won a go-kart in a drawing at the same event.  To put it lightly I was hooked on racing, and I had won the most incredible 5hp racing machine a typical 12-year-old kid from Camillus, NY could ever imagine.   As it turned out I also had the chance to sit in Billy Decker's Wheels sponsored car at a media event and steer it back into the hauler the day that I was presented my new kart.  You could say this made an impression on me, one that would last a lifetime.
Fast forward to 2015.  I now teach Technology and Engineering Education at Ithaca High School, and am 32 years old.  I have been to dirt races on and off throughout the years and to Oswego Speedway to see a weekly event here and there but had never competed in any form of organized motorsports.  Though I had always had an innate desire to drive a Dirt Modified, the stars had not yet aligned for me.  I didn't have the funds to start a race team, or the resources, but there was still plenty of desire to do it.  It just never materialized.
And along came the Kenny Wallace Dirt Driving Experience.  I had noticed a friend of mine liked the page on Facebook, and I was intrigued.  When I saw they would be making a stop at Rolling Wheels Raceway I was hooked, and after some digging on the website I decided I had to give it a shot.  It was the opportunity I had been waiting for since I was a kid.  Surely they had to be watered down versions of real race cars, I mean who would voluntarily hand me the keys to an 800hp tire shredding Big Block Modified?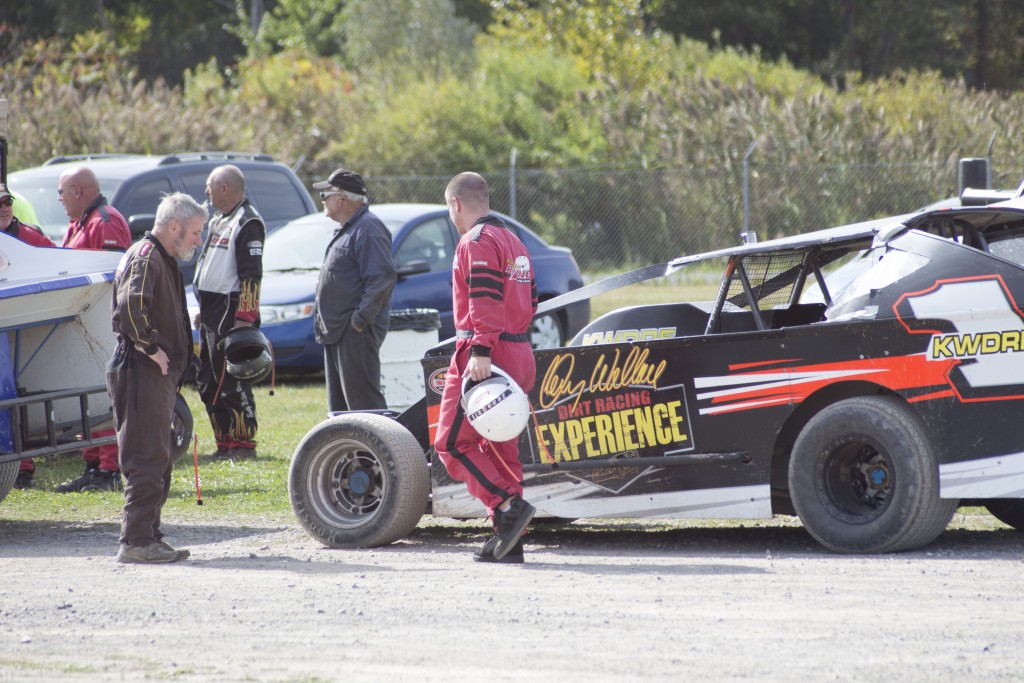 I arrived at Rolling Wheels Raceway on a beautiful late September day around 11am.  I was scheduled for the noon time slot, but wanted to get there early to see other cars and drivers on the track, and to make sure I was comfortably early to the drivers' meeting.  I was torn between excitement and pure nerves, the same exact feeling a starting pitcher gets before the first pitch of a big game.  I was quite familiar with this feeling, but at the same time I was a bit apprehensive about driving someone else's racecar around a 5/8ths mile dirt track.  What if a tire let go?  What if someone else came down/up the track on me and took me out?  These were thoughts that were quickly pushed out as soon as the 5 point harness clicked, and a vicious big block power plant snarled to life under me.  
After a quick instructional session covering the basics of dirt oval and five point harness operation, it was time to gear up and head to the cars. You can watch dirt modifieds race for the better part of 20 years and never pay any attention to how much of an acrobatic act it is to successfully get into one.  The word "tight" doesn't really do it justice; it is fairly similar in layout to the cockpit of a jet fighter, but tighter.  I tried grabbing nothing but roll bar on the way in and slithered into the machine the best I could and my 5'9, 190lb frame barely made it through the window and melted into the aluminum Kirkey racing seat.  I scanned the cockpit, familiarizing myself with the switches and gauge panel, while awkwardly beginning my first attempt at strapping down a 5 point harness.  The best way to describe the "office" of dirt modified pilot in two words, beautifully simple.  Oh yeah, and hot!        
I flipped the ignition to the on position, pushed the start button, and felt the big block V8 rumble to life underneath me.  I could feel the power resonate through the car as I gently blipped the throttle for the first time and eased the hand clutch back to get the car moving.  I was pleasantly surprised how well I was able to move the car around in the pits and it felt great to build confidence early.  They instructed me to kill the ignition as we waited for my turn to let it rip.  I sat there strapped into this car, listening to the on track radio transmissions and patiently waiting to launch.  I was a racecar driver, right then, even sitting still.  I was doing it.  
When I was called to hit the track I tried to remember everything I was told.  Get it rolling in low gear, check.  Let go of the hand clutch, check.  Bang it into high gear and roll on the throttle, check.  And like that, I was on the backstretch at Rolling Wheels, strapped into a big block modified and struggling to learn as much as I possibly could in 15 short laps.  The first few circuits melted into each other, honestly I was feeling out the steering and throttle inputs and trying to find my limits.  To date, the most powerful thing I had ever driven with confidence had been my 300whp turbo Lancer Evolution with a fairly pronounced turbo lag and silky smooth power delivery.  In contrast, this big block mod was delivering power like a sledgehammer in my teeth, and on dirt.  A violent relentless amount of power that instantly demanded respect with any amount of throttle.  
As I started to build confidence and corner speed, I began to look further down the straightaways and stay in the throttle longer.  I would guess that by maybe lap 5-6 I was running the car at some level of proficiency, even finding the rev limit on occasion at the end of the straightaways.  The first time I bobbled coming out of a corner caught my attention, but I was quick to gently get back into the throttle and the car straightened right out.  It felt as though I was steering the car with the throttle, feeling the stagger and suspension pull me to the inside of the track every time I grabbed some loud pedal.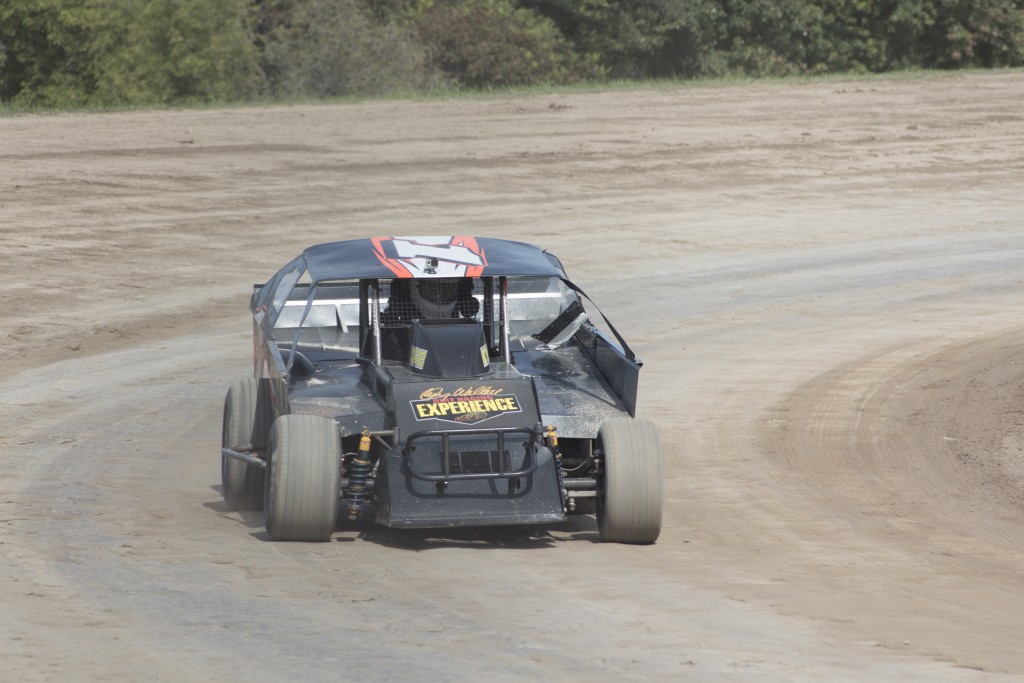 The checkered flag came way too fast.  I thought instantly of my three fans in the stands and as I rolled past them on the front stretch I popped the car out of gear with some degree of skill and gave them a quick three rev salute before I gently rolled it back into the pits, like I knew what I was doing.  And it didn't quite hit me until I rolled to a stop, but I had just fulfilled one of my wildest childhood dreams.    
To schedule your own test drive, visit dirtracewithkenny.com for tracks/dates.
-Bill Sauve